City Bank of Sydney 1869 10 Pound Unissued Specimen Note MVR# 2c about Unc
---
A scarce and attractive heirloom from one of Sydney's strongest banks.
The City Bank of Sydney was formed in 1863, merged into the Australian Joint Stock Bank in 1916, then merged again into the Bank of New South Wales in 1931, and finally merged into Westpac Banking Corporation in 1982.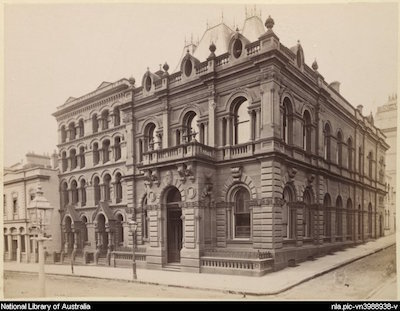 The financial strength of the bank was demonstrated during the Australian banking crisis of 1893, when it was one of only a handful of Australian banking institutions that did not suspend trading. The bank's notes were backed by NSW government legislation, and they were regarded as being instrumental in NSW working through the stagnant trade and commerce of that period.
The head office of the City Bank of Sydney was on Pitt Street, on the location where Martin Place now is. At the time, the building was described as being "one of the architectural gems of Sydney".
Despite the fact it included a number of architectural innovations to minimize the risk of fire, the building burned to the ground on October 2nd, 1890. The fire in fact consumed the whole block bounded by Moore, Pitt and Castlereagh Streets - it was described as being "...the most disastrous fire ever known in Australia." The fire was thought to have started in a Pitt Street printery, it burned all day and into the following day - between 150 and 200 firemen fought the blaze.
A newspaper article covering the event noted that more than a few of those firemen "obtained liquor" from some of the affected premises, and and "...became so intoxicated that they were not only useless but a hindrance to the other men at work. Superintendent Bear dealt with them rigorously whenever a case came under his notice but unfortunately, many of them escaped his observance and did much damage to the adjoining properties by reckless use of the hose. The crowd also interfered so much with the work of the firemen that it was considered advisable to call out the Permanent Artillery, and the men were drawn up across the street, and kept back the too curious spectators until permanent barricades could be erected."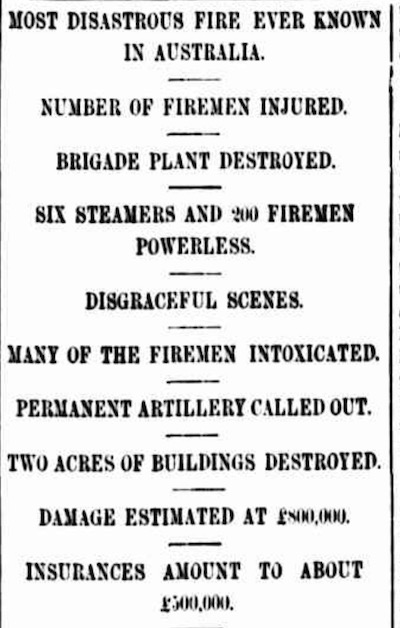 An interesting post-script to that story is that the stone facade of the Bank was purchased by Charles Hoskins (an iron and steel manufacturer), who removed it stone by stone to his building site on The Boulevarde in Strathfield, where it was re-assembled to form the front part of his personal residence. The building has changed hands several times over the years since then and is now part of the Primary School Campus of Santa Sabina College for girls.
The City Bank of Sydney is regarded as being one of the strongest banks to do business in Australia's largest city.
This specimen note remains a scarce and attractive heirloom of its momentous history.
SKU: 207840
---
Standard Shipping
- $9.00
Signature is required on delivery
---
Express Shipping
- $15.00
Signature is required on delivery
---
Free pick-up from store
- $0.00
You're welcome to collect your order from our office (Shop 22; 27-35 William Street; Fremantle; 6160) during normal office hours. Please make sure to check we're open before you head on in!
| | |
| --- | --- |
| SKU | 207840 |
| Shipping Weight | 0.0500kg |
| Shipping Width | 0.215m |
| Shipping Height | 0.001m |
| Shipping Length | 0.140m |
| Assembled Length | 0.140m |
| Assembled Height | 0.001m |
| Assembled Width | 0.215m |
We unconditionally guarantee the authenticity, title and grade of every item we sell. The tax invoices we supply ensure that you have these guarantees in writing.
Please review our Website Terms and Conditions for a complete explanation of the guarantees we provide.
All items ship within 24 hours of confirmed payment being received.
Please review our Website Terms and Conditions for a complete explanation of our availability guarantee.
All orders are delivered via trackable and insured mail at a flat rate of $9 for orders within Australia, and $25 internationally.
Australia Post Parcel Post within Australia can take up to 1 week to arrive, while EMS / ECI international mail can take up to 3 weeks.
Urgent orders can be sent via Australia Post Express Mail at special request.
Please review our Website Terms and Conditions for a complete explanation of our delivery guarantee.
Be The First To Review This Product!
Help other Sterling & Currency users shop smarter by writing reviews for products you have purchased.