The Dardanelles Overprint Notes - Real Currency in Gallipoli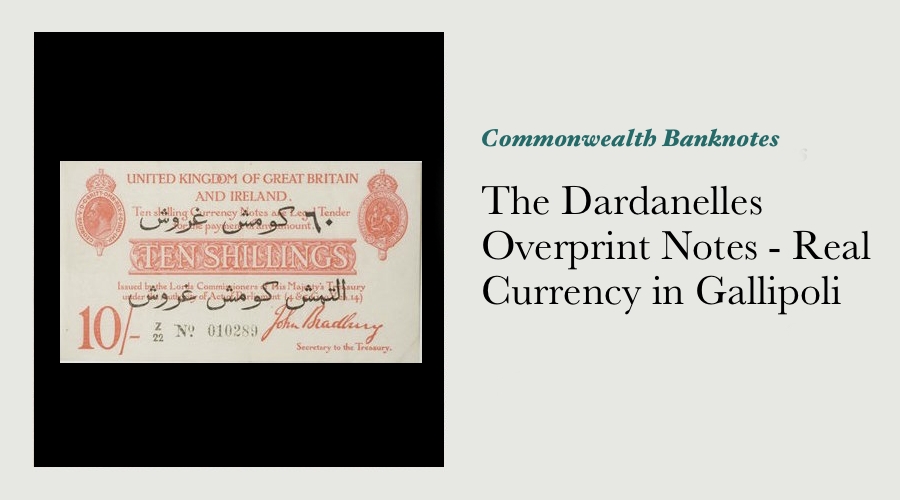 The Dardanelles Overprints are a series of British banknotes (ten shillings and one pound) over-printed in Ottoman Turkish and issued for use by Allied soldiers serving at Gallipoli between May and June 1915.
As there were no Allied military canteens on the Dardanelles, these notes were issued to the troops so they were able to buy items from the locals.
The "host" notes are the standard "Bradbury" one pound and ten shilling notes that were in circulation in the United Kingdom at that time.
These banknotes were only the second series of notes issued by the British Treasury and were produced in October 1914, on specially prepared watermarked paper.
The ten-shilling notes were overprinted with two lines of Turkish text, the first line reads: "60 silver piastres", while the second line reads "Sixty silver piastres".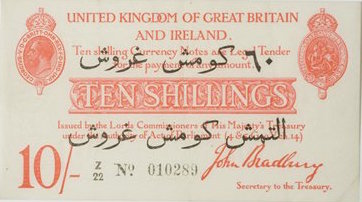 There's an excellent article on the Australian Numismatic Society website that covers much of the background to these historic notes:
According to Haim Langelban, in a publication by the Association of Banknotes, Coins and Medal Collectors in Israel, the notes were issued one day after ANZAC soldiers landed in Gallipoli, (that is, from April 26, 1915).
One unforeseen complication that prevented these notes from being used actually at Gallipoli was that the Allied soldiers were actually not able to make contact with any Turkish merchants due to the slight problem of the machine guns that were in front of them!
Other anecdotal reports from Allied soldiers that served at Gallipoli state that the notes were circulated more in Palestine once the Allied soldiers had moved there.
It's also thought that most of these notes were handled by senior officers - the average soldier at that time earned six shillings per week, so their pay-packet wouldn't have consisted of the relatively high denominations of ten shillings and one pound.
Very few of these notes remain available to collectors, due to their heavy usage and frail paper, most of those that do remain in existence are heavily creased and often have tears or sections missing.
---
---