After 87 Years - New Research Into the 1930 Penny Has Been Published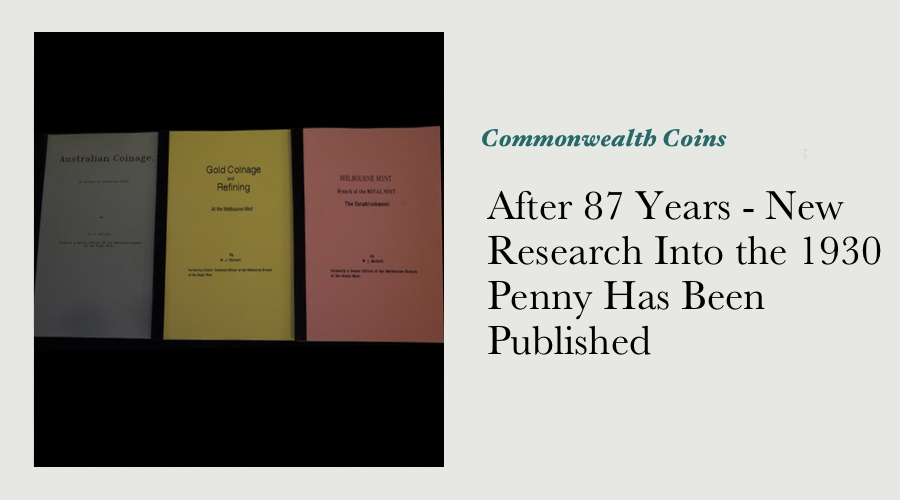 The 2017 Annual Year Book for the Australasian Coin & Banknote Magazine contained a great deal of interesting information for Australian numismatists, however the one article that really caught my eye was that written by Fred Lever on the 1930 penny.
It contained a range of fresh research, built on the shoulders of the work done by Bill Mullett several decades earlier.
Bill Mullett was a former employee of the Melbourne and Royal Australian Mints, after he retired he spent some years researching and writing about the history of the Melbourne Mint, as well as a number of the coins it produced. His three publications are titled: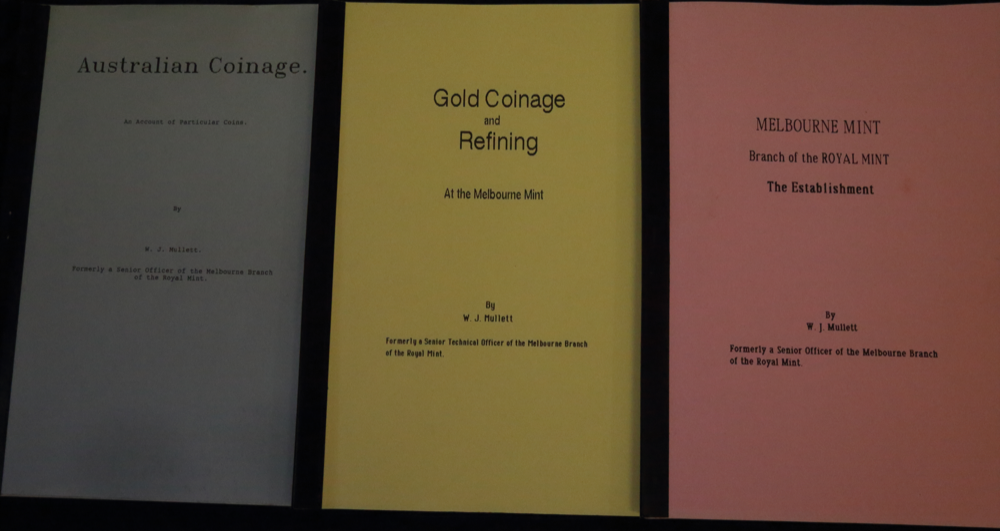 1991 - "Australian Coinage - An Account of Particular Coins"
1992 - "Gold coinage and Refining at the Melbourne Mint"
1992 - "Melbourne Mint, Branch of the Royal Mint : The Establishment"
From what I've been able to discern, Bill didn't circulate a great deal with the numismatic community, and as a result his work isn't as widely known as it should be. Add in the fact that he self-published his writing, and you can understand why his writing has flown under the radar for the past two decades.
The reality is, although Bill's writing is not exactly approachable, it is a truly rare source of detailed technical information obtained from primary sources - information like this is very rarely available. Mullett appears to have written about the Melbourne Mint's operations as he accessed the primary documents he was looking through, as opposed to compiling research in order to write on a specific subject.
This writing style makes Mullett's first publication "Australian Coinage" particularly hard-going. When compiling my article on the 1931 Dropped 1 Indian Obverse penny, I actually needed to prepare a timeline of events in order to make sense of the situation in the Mint at that time. The effort was well worth it, as Mullett's research unearthed facts simply unavailable elsewhere.
The first major point that Mullett determined regarding Australia's most famous rare coin - the 1930 penny - is that it was struck on at least 2 different dates. There's nothing unusual at all about an annual mintage being split into different production runs, however 13th August 1930 is the first confirmed date of manufacture, and what is more interesting is that the second confirmed date of manufacture is 13th August 1931 - exactly 12 months later, in the calendar year after the date on the reverse of the coin.
I'd suggest that there'd be very few Australian coin collectors that would be aware of the fact some, if not most, of the 1930 pennies we come across today were struck in 1931.
Fred's article goes on to discuss Mullett's comments regarding the different obverse and reverse dies used to strike this historic coin, and to draw conclusions on what this means for collectors. Fred's article shows conclusively that there are 4 different varieties of 1930 penny, rather than just the two that have been acknowledged to date:
Table 3 - Present 1930 Varieties
| | | | | |
| --- | --- | --- | --- | --- |
| REV | V1 | V2 | V3 | V4 |
| F dot | N | Y | N | N |
| 3/2 date | Y | Y | N | N |
| OBV | | | | |
| Ind | Y | Y | Y | |
| Eng | | | | Y |
Each of the die varieties can be related to the reverse and obverse dies used to strike these historic coins, which is just an incredible step forward in our knowledge of Australia's most popular rare coin.
If you haven't seen the article yet, it contains a range of images showing the characteristics of each die variety.
We know from the dies used which coins were struck on which dates, so anyone that owns one of these rare and historic coins will be keen to check just which die pair their coin was struck from.
This research also has implications for authentication - it is not enough just to rely on checking for one die combination when authenticating coins, from now on it will be necessary to check for the 3 different die pairs.
This emerging news shows that even close to 9 decades after these coins were struck, we're still learning more about them.
Our Other Articles About the 1930 Penny:
We've written several other articles that cover different aspects of the 1930 penny:
One of the very first questions that a new collector of Australian pre-decimal coins asks is: "Why is the 1930 penny Australia's most well-known rare coin?" Click this link to read our article that provides a good overview of Australia's most well-known rare coin.
One question that many novice collectors want to know is: "Why Is The 1930 Penny So Popular?" Click this link to read our article that explains just why it has remained popular ever since it was first discovered between 1940 and 1944.
One of the great mysteries that puzzles the average Australian coin collector is: "Why Is The 1930 penny So Rare?"Click this link to read our article that explains why so few of them were made during the darkest days of the Great Depression.
Many collectors know that a quick way of determining whether a 1930 penny is genuine or not is to check the obverse (heads side) and see if it is the English or London obverse type. The trouble is, there are 3 genuine 1930 pennies with the English obverse known to exist. Click this link to read our article and learn why this incredibly rare variety was struck, and how to identify them.
---
---