Australian Coinage During WWII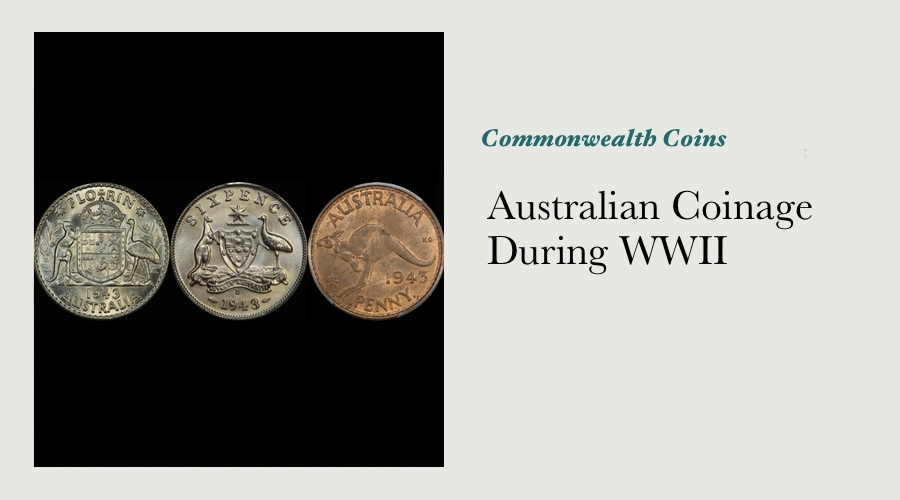 World War II began with the German invasion of Poland on September 3rd, 1939, and ended with the Japanese surrender on August 15, 1945.
Almost a million Australians served in the Second World War - they fought in campaigns against Germany and Italy in Europe; the Mediterranean and North Africa, as well as against Japan in south-east Asia and other parts of the Pacific.
General Eisenhower decided that the US campaign in the Pacific was to be directed from Australia, and so close to a million US military personnel were based at various locations throughout Eastern Australia between 1942 and 1945.
This number was at least 10% of the Australian population at the time - the arrival of the American forces here had a significant impact on many aspects of daily life in Australia, not least on the coins used in everyday life.
Coins were already in very short supply across the country at the outset of WWII, due to the scarcity of skilled labour and raw materials, and the limits on manufacturing capacity the war imposed.
The US servicemen were paid in cash, so this scarcity of coinage was exacerbated in areas where they were based. The US top brass was keenly aware of the potential impact on the morale of their troops if they didn't get paid.
Production of coinage during this period scaled up very quickly as a result - the chart above shows that the number of coins struck for circulation in Australia in 1943 was more than ten times the number struck in 1939.
The Australian branch mints were simply not able to cope with this increase in demand, so the production of Australia's coins was outsourced to mints as far afield as Bombay, San Francisco and Denver.
A complete set of Australian copper and silver coins across this seven-year period contains 63 different coins struck across five different mints. Experienced numismatists will tell you that their rarity, strike quality and even patina were all significantly impacted by the rigours imposed by the war. They remain a tangible reminder of the conditions that Australians endured during that challenging time.
Australian Coins Struck During World War II (1939 - 1945)
| | | | | | | |
| --- | --- | --- | --- | --- | --- | --- |
| | Florin | Shilling | Sixpence | Threepence | Penny | Halfpenny |
| 1939 | Melbourne | Melbourne | Melbourne | Melbourne | Melbourne | Melbourne |
| 1939 Kangaroo | | | | | | Melbourne |
| 1940 | Melbourne | Melbourne | Melbourne | Melbourne | Melbourne | Melbourne |
| 1940 K.G | | | | | Perth | |
| 1941 | Melbourne | Melbourne | Melbourne | Melbourne | Melbourne | Melbourne |
| 1941 K.G | | | | | Perth | |
| 1941 Y. | | | | | Perth | |
| 1942 | Melbourne | Melbourne | Melbourne | Melbourne | | Melbourne |
| 1942D | | | Denver | Denver | | |
| 1942S | San Francisco | San Francisco | San Francisco | San Francisco | | |
| 1942 Y. | | | | | Perth | Perth |
| 1942 I | | | | | Bombay | Bombay |
| 1943 | Melbourne | Melbourne | | Melbourne | Melbourne | Melbourne |
| 1943D | | | Denver | Denver | | |
| 1943S | San Francisco | San Francisco | San Francisco | San Francisco | | |
| 1943 Y. | | | | | Perth | |
| 1943 I | | | | | Bombay | Bombay |
| 1944 | Melbourne | Melbourne | | | | Melbourne |
| 1944S | San Francisco | San Francisco | San Francisco | San Francisco | | |
| 1944 Y. | | | | | Perth | |
| 1945 | Melbourne | | Melbourne | | | |
| 1945 Y. | | | | | Perth | Perth |
| Totals | 10 | 9 | 10 | 10 | 13 | 11 |
| Overall Total | 63 | | | | | |
---
---
---
Leave a comment