The 1954 Australian Royal Visit Florin - Struck With An Expectation of a Positive Future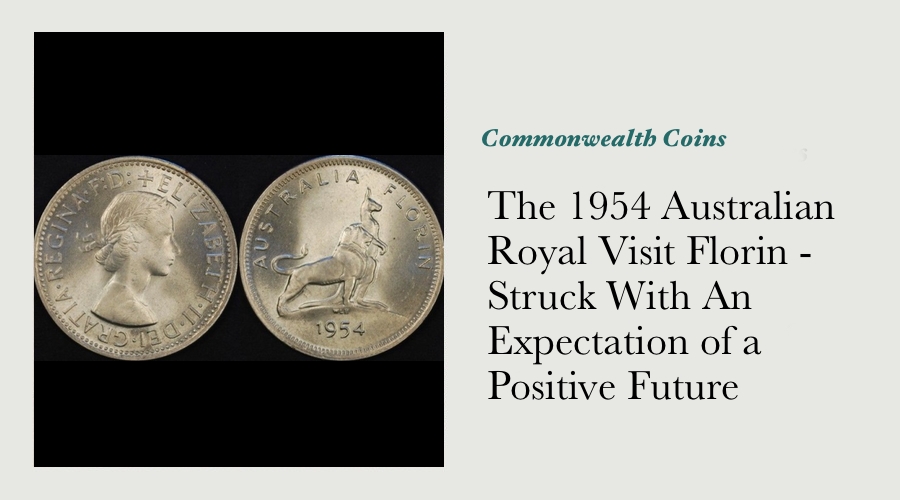 On February 3rd 1954, the newly crowned Queen became the first reigning monarch to step ashore on Australian soil when the royal barge tied up at Farm Cove in Sydney.
The Queen's Royal Visit to Australia was part of a wider tour of the Commonwealth following her coronation in 1953.
The Royal Visit was eagerly anticipated - the young Queen was dressed in the latest fashions from Europe, and promised new hope for Britain and the Commonwealth.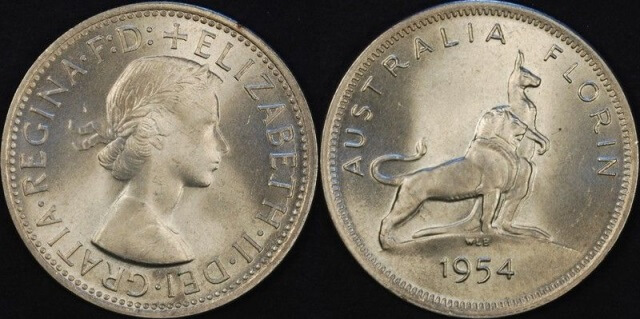 Television was not yet available in Australia, so people travelled, sometimes over hundreds of miles, to catch a fleeting glimpse of Her Royal Highness.
The royal couple visited all state and territory capitals (excluding Darwin) - a staggering three-quarters of the Australian population turned out to see her.
Speak with most Australians that were alive at the time, and it becomes clear that the Queen's visit left a lasting impression on all who took part or were a spectator. How can this be?
The vast majority of Australians favoured the constitutional monarchy in 1954, so the event was very much a collective experience that dominated all aspects of daily life at the time.
The monarch continues to be the living embodiment of Australia's British heritage, the young and modern queen offered unbridled hope and promise for the future of the Commonwealth.
The Royal Visit florin clearly struck a chord with the general public of the day – literally thousands of these coins have been hoarded by families right around the country to this day.
The reverse design captures the expectation for the future, with the kangaroo and lion both looking strong, proud and alert to all that is in front of them.
Although there are still many of these coins still in existence, the vast majority have not been stored correctly, and so are at best scuffed, marked and with lustre.
Very few were preserved with real care, and so this coin is in fact quite scarce in high grade.
---
---