2010 Numismatic Auction & Trade Show Review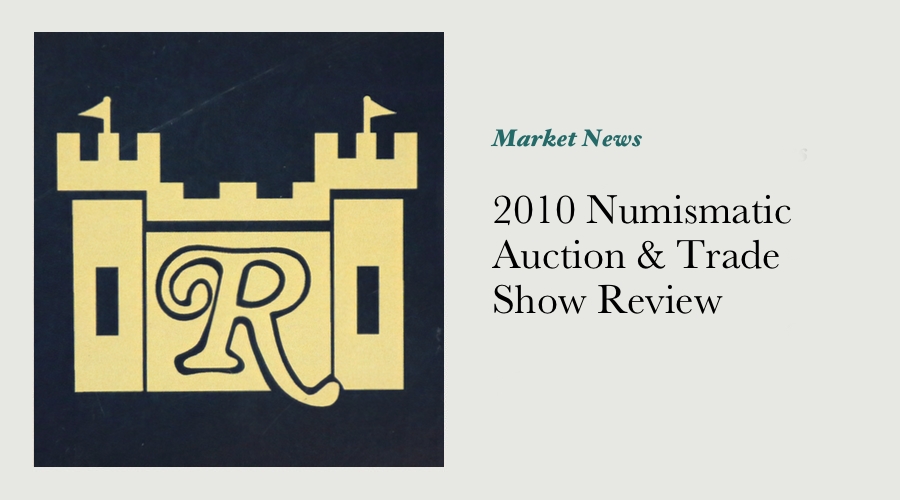 It's been some time since we reviewed the auction & trade show activity in Australia's numismatic market - no less than three major auctions and one major trade show have been held since our last review, the last auction for 2010 is coming up in a week or so.
The auctions that've been held in recent months are:
Roxbury's (Brisbane) - October 9th, 2010
Status International (Sydney) - October 22nd, 2010
Downie's (Melbourne) - October 26th, 2010
The most recent trade show we had was in Canberra on November 6th & 7th, 2010, while the last auction for the year will be held in Sydney by Noble Numismatics from November 23rd, 2010.
I hope it's a fair comment that it isn't easy for any one business in the trade to unearth an array of fresh material that's in demand with a broad base of collectors - although there's certainly been some impressive individual coins and notes come up over the past few months at auction, there hasn't been such an amazing range that collectors and dealers have mortgaged their houses in order not to miss out.
It's an interesting function of the present market that we're seeing neither unrestrained buying nor forced selling - the balance between demand and supply seems to be reasonably balanced. There seems to be a trend away from a broad mass of collectors chasing "type" material to a more focused demand for select items in superior condition. This seems to be the case for every sector of the market - regardless of whether we're talking about notes or coins; gold; silver or copper, decimal or pre-decimal.
A New Normal?
It's par for the course that any one auction contains a range of prices - some strong, a few bargains and the majority ranging between a fair wholesale and a fair retail price. I could point to a range of individual results in each market segment and each auction that'd show that solid retail demand remains present for scarce and rare coins and notes that are well graded and priced. There's no doubt that a few bargains have snuck through for those collectors or dealers prepared to track them down, however there certainly isn't anything unusual in that - that happens in auctions held during the strongest of times.
While it'd certainly be helpful if catalogue values reflected where the market is actually at, it's fair to say that we seem to have reached a level in the market that although different to how the market traded prior to around 2007, is holding steady for the time being. In economic circles a change such as this is known as a "new normal", a new level of activity that doesn't show any signs of being influenced by outside factors any time soon.
A couple of the more notable transactions in recent auctions are:
Status International
1920 Dot above bottom scroll London die - VG with obverseThe scratches SOLD at A$2,100 + 16.5% buyer's premium
£1 Collins-Allen Emergency Issue "Rainbow" Pound Fine SOLD at A$28,000 + 16.5% buyer's premium
Harold Holt's 1966 Decimal Specimen Coombs-Wilson Banknote album SOLD at A$141,000 + 16.5% buyer's premium
Roxbury's
Several rare pre-decimal notes not often seen in top condition got away
Pre-Decimal proofs from the QEII period in all grades with a high clearance rate
Downies
1855 Half Sovereign VG condition passed in
1813 HOLEY DOLLAR VG / Fine condition also passed in
1st & last prefix decimal paper notes EF - A UNC condition - very high clearance rate
The result for the 1920 London DAB penny confirms to me that there is a very fertile market for penny varieties - the hammer price of $2,100 was well above the auctioneer's estimate, and sure took everyone in the room by surprise - a major "What The?" moment for that auction!
The fact that the Rainbow Pound made the money that it did, and that a number of other pre-decimal notes of high value sold in both the Roxbury's and Downie's auctions shows that although buyers of pre-decimal notes may be selective at present, there are indeed buyers out there for rare and historic notes that offer value for money.
The market for QEII pre-decimal proofs continues to remain quite active, particularly when compared to years past. Prices may not have lifted significantly yet, however liquidity certainly has and this is surely a sign of things to come. The advent of independent grading by PCGS in this product market has clearly had a role to play in reviving broad collector interest in this segment.
That two truly historic coins such as an 1855 half sovereign and a Holey Dollar can be passed in at auction, more pointedly at prices that offered reasonable money to a collector interested in adding one of those items to their collection, shows us that auction results can often hinge on who is present on the day - both of the coins I'm referring to in the Downie sale were honest and problem free - sure, they weren't in impeccable condition (if they had been there would have been an extra zero on the end of the estimate!), however they were value for money and once sold won't be seen again for some time. Sometimes an auction result can just come down to simple luck!
I have to say that I was surprised at the level of demand for the 1st and last prefix paper decimal notes that were in the Downie auction. Although the major price catalogues here in Australia now identify which serials were used on the first and last notes printed for each signature combination and type, I've not seen much evidence to date that they were being pursued keenly by more than a modest number of collectors. The most recent Downie auction was something of a flag for me however - even though the notes were "only" graded anywhere between EF and A UNC, the clearance rate for them was far higher than I expected. Not only that, but there was competition for the lots from a range of sources. Although I'm not yet convinced that there is yet an enduring and sustainable market for these notes at the price levels the catalogues show them to be at, on the back of these results I'm open to the possibility that one day there could well be!
The Role That Gold & Silver Could Play In Driving The Market
Gold and silver prices have surged ahead in recent weeks - results have been muted by the strength in our Aussie dollar relative to the greenback, however silver has traded north of A$27 / oz for much of the past week, while gold seems to be holding well above A$1,400 / oz. While the gold price has been around 10% stronger in A$ terms in recent years, the market for gold and silver "physical" is as active now as it's ever been, particularly for silver. As I've said before, I don't see this market cycle ending until there's been a "blow off". Regardless of what market we're talking about, demand during those phases tends to be so strong that the values of a lot of related products get carried along with the euphoria of the ride. I can see a situation where strong demand for physical gold and silver coins sees a concurrent rise in demand for quasi-numismatic coins, leading eventually in a rise (perhaps temporary) in demand for numismatic coins. This has happened in the past as sure as night followed day, and there's no reason to presume it won't happen again. If the prices of gold and silver rise strongly in the coming year, all commentary regarding buyers being selective in the items that they select will be quaintly obsolete!
The Canberra ANDA Trade Show in 2010
ANDA first held a trade show in Canberra in 2006 - that was quite an active fair, although perhaps not on the scale as we've seen at any of the other major ANDA shows in Australia, Perth included. Despite that, the weekend's trading on Saturday got off to a great start when the Royal Australian Mint launched their 2011 product range before the doors opened. It was great to have the Mint in attendance on their local turf, the portable press cranked out mintmark dollars all day and kept many of the punters happy. The queue was a mile long (OK, perhaps 20 meters!) for most of the day, showing that this product is a mainstay for a multitude of collectors around the country. Trade was very active on Saturday, however attendance and activity fell short of what most people would've expected for the Sunday. It may be that almost everyone (collectors and dealers included) did much of what they set out to do on Saturday, as faces weren't too long on Sunday, despite the door prizes were pretty much being given away to whoever was in front of the presenter!
Noble Numismatics Auction November 2010
Noble Numismatics has been a force in the Australian coin and note market over several decades for a number of reasons, not the least being their capability of bringing buyers and sellers together from around the world. It's hard to get a feel for just how an auction will go simply from a catalogue, however at this stage I'd have to say that this auction looks like it should be reasonably active - if only for the fact it'll take a full 3-4 days to complete! There are a number of major collections included, albeit somewhat specialised in nature. The descriptions and images of some of the key items in the bread and butter segments of Australian coins and notes indicates that collectors are going to be treated to a seldom-seen opportunity to acquire a rarity for their collection. I can see some sovereigns, pennies, florins and banknotes that all have the potential to please a number of buyers if they're as attractive as the estimates and lot descriptions make them out to be, however the proof will be in the pudding. One thing I know will be true - everyone in the trade will be there, just in case. That is as good an indication as any that the numismatic market in Australia is alive and well, "new normal" be damned!
---
---