2012 Melbourne ANDA Show Wrap Up and Noble Sale 100 Preview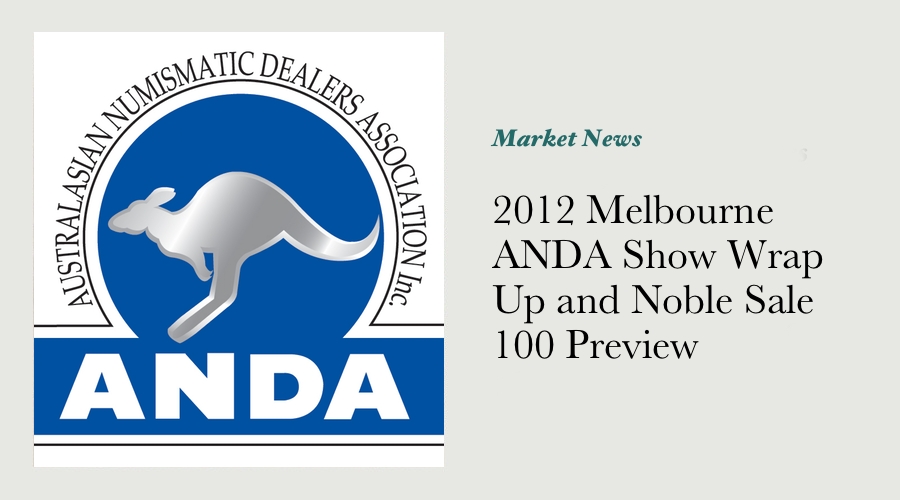 For a coin dealer, there's nothing better than setting up a stand at a popular show, having it fully kitted out with great stock, and awaiting the arrival of hordes of collectors.
Sean and I started off the 2012 Melbourne show, suitably attired (with several layers of clothing) and adequately caffeinated, and the opening hours certainly were busy. We were able to meet a number of new clients, helped a few nice items find new homes, and touched base with a few vendors looking for some help in disposing of their collections. This is the bread and butter of the average coin show - that said, the 2012 ANDA Melbourne show probably wasn't as busy as we would've liked it to be.
Many of the people attending these shows are punters from the general public looking to get information on the value of the coins and notes that they have, not necessarily because they want to sell, but because they're looking to see how much treasure they're sitting on or because they're keen to jump at an opportunity to sell if they can nab a quick profit.
There were no doubt a number of keen collectors in court as well - I held a seminar on both days, one creatively titled "Trading Coins for Wealth", and it was really well attended on the Saturday afternoon - there were at least 30 people in the room keen to hear what I had to say. There weren't quite as many present on Sunday (I started with a grand audience of one!), however the feedback on both days was positive.
The content of the seminar isn't yet quite in the order I believe it needs to be, every time I present it I'm learning more adjustments that are needed to improve it. That said, I also believe that it's getting closer to the point where it'll be a great resource for new collectors that are keen to learn how the most successful collectors go about their business. I have to say thanks to those people that have been guinea pigs and have attended them so far, keep in mind this is a work in progress and the end result is going to be worth it!
The ANDA Committee had a couple of meetings over the course of the weekend to discuss plans on the steps we can take to improve the value that the ANDA shows offer, keep your eyes peeled for a few announcements about our ideas on the shows to be held in 2013 - they're quite exciting!
Noble Numismatics Sale # 100
Noble Numismatics will be holding their hundredth numismatic auction in Australia later this month (just a few short weeks away actually), and this is shaping up to be a true milestone event. There can be no doubting that Noble's have been at the forefront of the Australian numismatic industry since coming onto the scene in the 1970's - they've handled many Australian, world and ancient rarities several times over, and have a depth of numismatic expertise that is hard to match.
Jim Noble and his team have more than a few highlights lined up for this significant occasion - a major collection of Commonwealth coins that is fresh to the market (having been put together in the 1970's by a dedicated collector), some superb Australian half sovereigns, an incredible array of pre-federation banknotes, some foreign coin and note rarities that haven't been on the market in years, as well as the usual bread and butter fare that the Nobe auctions are known for.
The market has been active the past few months since the last Noble sale, and although some sections of the market are clearly in an adjustment phase, I have little doubt that the auction rooms will be filled with bidders, both from within the trade as well as collectors of all stripes. Just what level they'll be prepared to go to is the sixty million dollar question!
Make sure you cast an eye over their online catalogue, and keep in mind that if you'd like representation at the auction, we can review the lots, authenticate and grade them, and execute your bids at a modest commission rate. Don't hesitate to email us if you'd like to discuss this further.
---
---