A Perfect Storm of Desirability, Quality and Provenance In The Rare Coin Market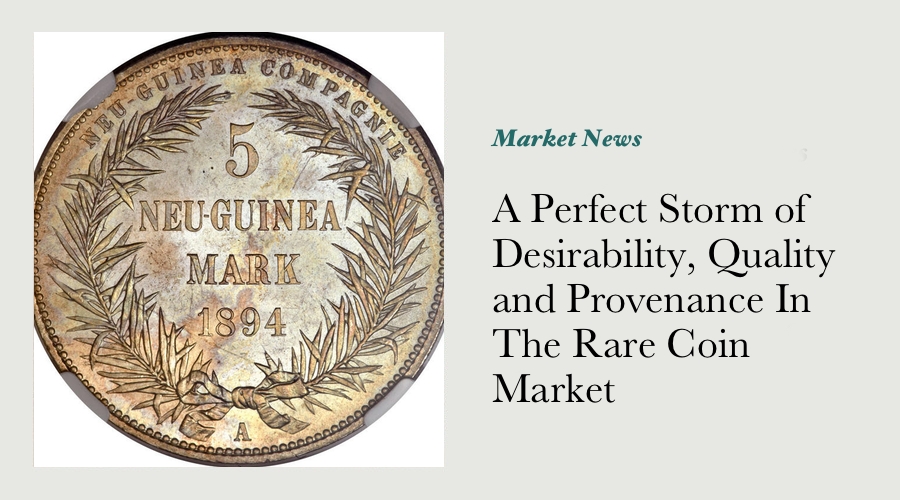 Every now and then there is a perfect example of what motivates the average coin collector - what a meteorologist may (or may not) call a "perfect storm". This expression, popularised by the Warner Bros movie of the same name, (it starred George Clooney, Mark Wahlberg and Diane Lane), is used to describe a hypothetical hurricane that happens to hit at a region's most vulnerable area, resulting in the worst possible damage by a hurricane of its magnitude.
"a rare combination of circumstances will aggravate a situation drastically."
All of this is a long-winded introduction to an event witnessed in the world coin market in the past few weeks, whereby an 1894 proof German New Guinea Five Mark realized a price no less than six times the current Krause catalogue value via an auction in New York. Although anyone with anything approaching an active interest in world coins will readily confirm that the Krause Standard Catalogues of World Coins aren't always accurate, this price is still around 3 times what I've seen this coin sell for domestically in recent times.
For those of you that aren't already familiar with them, the German New Guinea coins struck for circulation through the German section of North East New Guinea between 1894 and around 1914 are rated as being among the most beautiful in the world. They are a perennial coin, always in demand with world coin collectors right around the globe, and have always been of peripheral interest to Australian collectors due to New Guinea's proximity to Australia, and the fact that the Australian Naval & Military Expeditionary Force (AN&MEF) were the lads that brought German occupation of New Guinea to an end.
Louis Elaisberg is another name that some numismatists will be familiar with - in the minds of many, "the Eliasberg collection is the finest group of United States coins ever sold at auction. This is considered the most desirable pedigree for any coin to have, as it is a virtual guarantee that a coin is choice, original and appealing."
The particular example handled by Stacks of New York last month had been independently graded by PCGS as being PR66 - the highest assessment made of any of the 12 similar coins observed by them.
So, to cap off, here we have what is arguably the finest known example of one of the most popular, historic and desirable silver coins ever struck anywhere in the world, appearing at a well-publicized auction with what is arguably "the most desirable pedigree for any coin to have." With that information now at hand, do you still think that six times catalogue value is a wild result? I'd suggest not - it's more a clear indication of a numismatic perfect storm - precisely what happens when history, rarity, desirability, quality and provenance all combine together to ensure a vendor gets due recognition from their peers for purchasing a superb coin.
As market obvservers, us dealers often exhort our clients to buy as good quality coins as their budget will allow, this auction result surely has to be concrete example of why we do that. You may not have any interest in the coinage of German New Guinea, you may not care less about a coin with a provenance to an American collector that you may never hear of again, however no matter what you collect, there is absolutely no doubt that you'd do well to pay heed to the premiums earned by wise collectors that've carefully collected top quality items that are historic, in excellent condition and are tied to the most well-known collectors in their field.
---
---