ANDA Brisbane Show & Roxbury's Sale 75 - The Fun Begins!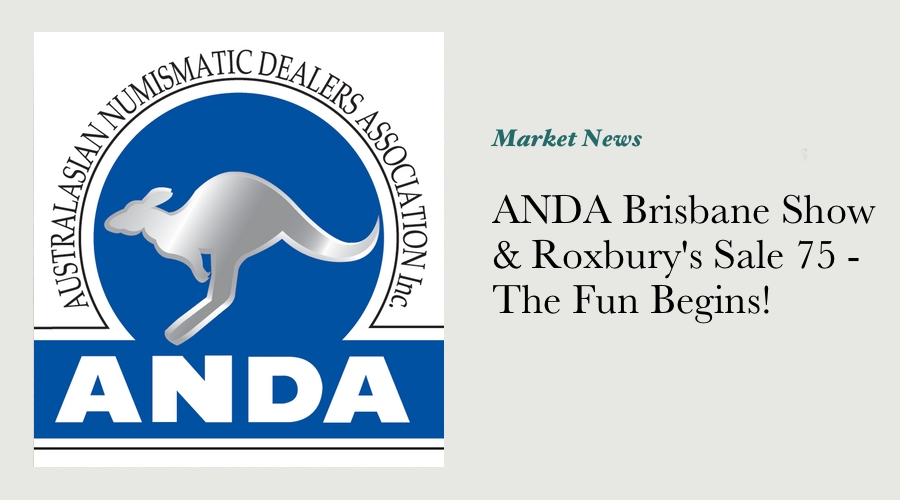 The 3rd week in May is one of the biggest (if not the biggest!) weeks in the Australian numismatic calendar - it's when ANDA has it's annual trade show in Brisbane, and is preceded by the Roxbury's auction.
I'll be heading off to the Roxbury's auction in a short while, and have fingers crossed that I'll find more than a few things of interest. The show starts tomorrow, and if the front cover advertisement for the Brisbane Antiques Show across the cover of a glossy magazine is any guide as to how busy we'll be (it's held at the same location as the ANDA show), then the 2009 show is shaping up to be pretty busy.
Roxbury has close to 900 lots under the hammer this afternoon, including everything ranging from an attractive 1813 dump to Pre-Federation notes, to specimen notes to bulk lots of pennies.
The quality of the Roxbury's catalogue has really lifted up another level with extremely clear, full-colour images now a major part of the content - this should do much to elicit bids from a broader range of collectors than in the past. There are some key date Commonwealth coins included, as well as a range of other dates in excellent condition. There are several 1930 pennies, a range of 1923 halfpennies, as well as modern issues, world notes and world coins.
The banknote section includes a range of rare and high value pre-decimal notes, so it will be interesting to see how they fare in the current climate, as well as an extremely rare set of Type II decimal specimen notes - you could count on the fingers of one hand how often complete sets of this specimen have turned up in recent years (you would in fact have fingers to spare!). Some nice stars, first prefixes and error notes are also included, it remains to be seen if bargain hunters will carry the day or if activity north of the border is a little stronger than in previous auctions this past month or so.
Activity at trade shows such as the ANDA show this weekend can always be impossible to predict, as someone that's effectively worked in the retail industry for the past 15 years, I can say that all the wise retailer does is turn up with as much appropriate stock as possible, get ready to smile a lot and talk to people, and deal with whatever happens. Weather, competing events, the economy and any number of other extraneous factors can all come into play to determine whether people will buy or sell at a show like this, so I've resolved that it's better to be ready for anything than to go into an event with a dour attitude.
The Perth ANDA show was a blockbuster sales-wise for more than a few dealers, so we'll wait to see how the weekend pans out.
---
---