ANDA's 2011 Melbourne Trade Show - Signs of Life Despite Terrible Coffee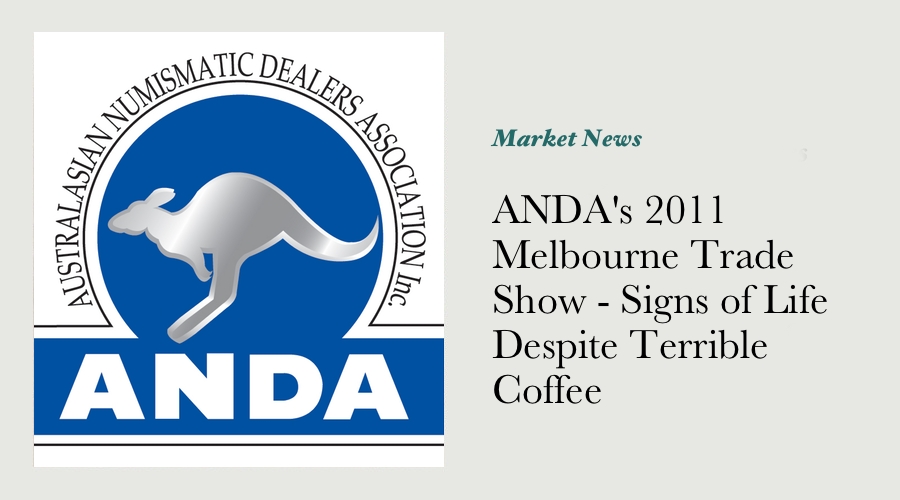 It's been a week since the 2011 ANDA Rare Coin & Banknote trade show in Melbourne, and much to the surprise of of most of those that attended, there were more than a few signs of life on show.
While we all know that if you sit within cooee of a Melburnian and they'll say that Melbourne quite clearly and unequivocally has the best coffee in the country. While that may well be the case and at the risk of quite accurately being painted as a coffee snob, I wasn't the only one surprised to say that the black liquid on offer at the show was well short of that standard. The horror! I would've thought there'd be a state inquisition into the scandal however the locals didn't seem to particularly mind. We bravely soldiered on.
We actually started our weekend off on Friday evening with a "Market Update" seminar for our clients - although a number of people had confirmed they'd come along, we had just two people turn up! We were assured by half of the audience that there were serious traffic bottlenecks on Melbourne's streets that night, so we'll chalk the disparity in attendance figures up to that rather than as a reflection of the content provided.
Everyone that attended (ie both of them!) appreciated the information provided however - we'll be sending out a PDF copy of the slides over our email newsletter list shortly, and will look to record the presentation as a screen cast, then post it online in the next week or so.
It's rewarding to see people gaining value from our observations of the market - I believe there's a good appetite for this kind of information (ie reasonably independent observations on how the market is travelling and how to best go about collecting), so keep your eyes peeled for news on when we visit your part of the world.
Attendance by collectors on the Saturday of the show was very active - we don't have news on the actual attendance figures yet, but numbers certainly seemed to be up on last year. The number of dealers in attendance had risen significantly as well, a clear indication that even in quiet times dealers see the merit in being at ANDA's shows.
The feedback I got from (nearly all) of the dealers that were there were that sales on Saturday was good - not champagne and lobster thermidor for lunch good, but good nonetheless. Sunday was quieter, however not so much that it ruined the weekend. We were able to buy a bit from other dealers and from a few collectors looking to swap or liquidate, you can see them in our online store under "Latest Acquisitions".
I also viewed the stock in Downie's Auction 308 during the day on Friday, as I had a shoulder reconstruction two weeks ago I wasn't confident I'd be able to get myself in and out of the sling without doing myself an injury, so I returned home before it started and left some mail bids on the items I was interested in. Although I didn't get everything I was after, I did manage to get a good quantity of the material I was after. The folks I've spoken to since the auction ended said that it was a little quieter than normal, which seems odd in the context of the activity at the show. No complaints from me however, it'll be interesting to see the final prices realised to see just what the damage was.
All in all, I'm confident the week's activity shows that there are signs of life in the numismatic market at the moment, despite the terrible coffee!
---
---