Australia's Numismatic Roadshow for May 2015 - 4 Auctions and a Trade Show In 1 Week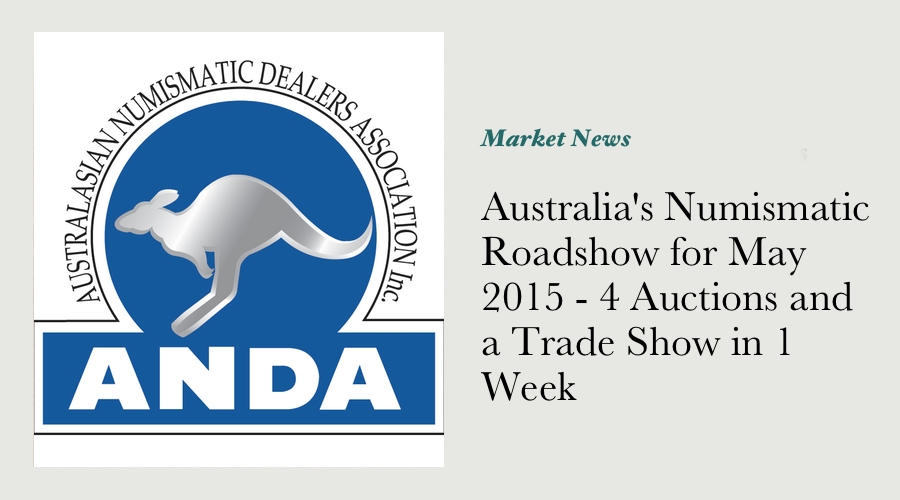 Three of Australia's rare coin auction houses have exceeded themselves this month, and have opted to schedule their auctions within 14 days of each other. While this makes for an exciting week, it does bode a challenge in terms of scheduling flights, viewing times and lodging bids!
For the life of me I can't understand why the auction houses do this - having two (let alone three) auctions essentially one after the other can only harm attendance and bidding, so I would've thought they'd each choose a time when potential customers are likely to have some loose change in their pockets!
I reckon this scheduling might have something to do with each auction house wanting to get a last burst of business activity in before the end of the financial year - these auctions are being held mid to late May, all the paperwork will (or at least should!) be wrapped up by the end of June, which is perfect timing from an accountant's point of view.
To give you an idea of just how hectic the coming week will be, here's the schedule:
Status International Auction 315 (Sydney) - Thursday May 21st
Roxbury's Auction Auction 94 (Brisbane) - Friday May 22nd
ANDA Show (Brisbane) - Saturday May 23rd & Sunday May 24th
Downie's 319A The Royal Australian Mint Master Collection (Melbourne) - Tuesday May 26th
Downie's Auction 319B (Melbourne) - Wednesday May 27th
Here's a blow by blow overview of each sale:
Status International Auction 315 (Sydney) - Thursday May 21st
Status has a good range of ex-shipwreck coins in this sale, some of these coins haven't been seen for some years, and should prove popular. There are lots of predecimal coins and proofs included, as well as tradesman's tokens, and a decent range of pre-federation proof and specimen banknotes.
The Status International auctions very much reward buyers that take the time to "view", that is, those buyers that physically check the items they're looking to buy will be well in front of those that don't. That's no reflection on Status specifically, other than to say their auctions contain a whole lot of material, there can be some great hidden gems that don't leap out unless you hunt them down. The lack of any really heavyweight numismatic items in this auction probably reflects the fact it's hard going in that segment of the market at present. Status 315 includes very few items with a pre-sale estimate higher than $10,000.
Roxbury's Auction Auction 94 (Brisbane) - Friday May 22nd
The catalogue for Roxbury's 94th sale has been available the longest of the 3 auctions being discussed, so has probably been percolating in the minds of collectors and dealers the longest as a result. It includes the standard array of bulk and general decimal coins, as well as a good range of Australian predecimal coins and proofs in varying grades. I reckon treasures await here, and that there are traps for the unwary. Bidding online these days is all the rage with collectors, however there really is no substitute for physically checking the items for sale, no matter who is offering it.
Roxbury's has a few less British and world coins in this sale, still enough for collectors to check them keenly though. This sale includes many higher value British Commonwealth banknotes in it - these are popular at a price, it'll be interesting to see if many of these get away.
There is a decent range of gold sovereigns and halves in this sale - again, I'd say that treasures await here, and that there are traps for the unwary. Roxbury's average lot value in this sale has certainly been pushed up by the number of "rarities" that are included. There are some predecimal proof coins from the George V period, a few 1930 pennies, and some "esoteric" restrikes that are really of curiosity value only. There are many decimal notes of every stripe included, which show me this is a popular series with collectors at the moment. There are notes issued for circulation, notes in folders, stars and 11 specimens to boot.
There are no less than 45 different prefederation notes included in this sale - there are black and white printer's proofs, unissued (colour) specimens and some issued notes as well. This is a lot of inventory for this segment of the market, so eyes will be peeled to see what the liquidity is like here. Some of the estimates look a little rich for mine, so it'll be interesting to see how they fare. There is also a very good range of predecimal notes included - the stated grades on some of the notes is quite high, rest assured I'll be checking them all. Predecimal notes may have come down in value in recent years, however really good notes are just as hard to come by as they always have.
ANDA Show (Brisbane) - Saturday May 23rd & Sunday May 24th
ANDA's Brisbane show was long the largest show in terms of dealer participation and collector attendance. That divergence has eased off in recent years, however it remains an active show for sure. While the Royal Australian Mint won't be attending this show, collectors in Perth were dead keen to get hold of the $1 P Mintmark dollar coins, so I expect they'll draw in a lot of keen collectors. It'll be interesting to see if or how much the scheduling of the 3 auctions impacts on the show - attendance should remain steady, if nothing else.
Downie's 319A - The Royal Australian Mint Master Collection
When the Royal Australian Mint (RAM) announced they'd be auctioning coins that'd been previously held in their archival collection, it's fair to say there was a degree of surprise within the collecting community. Part of what is referred to as "The National Coin Collection" (NCC) is on display to the general public via the exhibition gallery at the RAM, however this gallery really only features a tiny fraction of the coins that are included in the collection. The stated purpose of the NCC is to "...ensure that a representative record of Australian coinage is collected and preserved for the future." The disposal of any coins by at all by the RAM might seem to fly in the face of that, however it turns out that the coins being sold were from the "Master Collection", coins that "were not produced for sale – rather, they were produced as a quality standard to inform the level of production."
Judging by the range of coins included in this sale, and thus in The Royal Australian Mint Master Collection, it looks like a policy to retain coins for such a purpose was not in place until the mid 1980's, and that the practice was phased out between 2006 and 2014. I reckon there'd be a few slightly disappointed collectors out there once they hear that news, as I expect there would have been a lot of interest in each of the coins dated 1966, as well as the other scarce coins struck for circulation before 1975.
The coins set aside in the Master Collection are from the following dates and denominations:
| Denomination | Date Range | | Denomination | Date Range |
| --- | --- | --- | --- | --- |
| 1¢ | 1990-2006 | | $10 | 1990-2011 |
| 2¢ | 1989-2006 | | $25 | 2007-2012 |
| 5¢ | 1990-2010 | | $50 | 2002-2004 |
| 10¢ | 1990-2010 | | $100 | 1995-2012 |
| 20¢ | 1990-2010 | | $150 | 1995-2006 |
| 50¢ | 1990-2010 | | $200 | 1986-2006 |
| $1 | 1995-2011 | | $500 | 2013-2014 |
| $2 | 1990-2010 | | $3000 | 2012 |
| $5 | 1995-2011 | | Spanish Coins | |
As you can see, the coins being offered are comprehensive for the period over which they were struck.
The market for top quality decimal coins that have been independently graded by PCGS is very strong - it's nothing for "condition rarities" of what might otherwise be regarded as common decimal coins to sell for many hundreds of dollars, and as these coins are described by the CEO of the RAM as being "the greatest amongst equals", we could see some very strong prices indeed!
I believe each of the most dedicated decimal coin collectors will be steadfastly preparing their own strategies to get what they want - there will be some coins they'll just keep their card up for, and they'll be strategically selecting certain coins over others.
This is shaping up to be a really exciting sale, one that could set the tone for the market for circulating decimal coins for years to come.
Downie's Auction 319B (Melbourne) - Tuesday May 26th & Wednesday May 27th
Following the sale of the Master Collection, Downie's are holding their own standard auction of numismatic material. Downie's auctions are known for offering a good range of error and variety coins this sale is no exception. Interestingly, there are more pre-decimal errors in this sale than decimal, collectors active in this area really have more than a few items to have a crack at. There is a very deep range of decimal non-circulating legal tender coins (NCLT) in this sale (think the packaged proof coins and sets that the RAM makes these days), a market that remains reasonably active at present.
There is a decent range of proclamation coins in this sale, a few better than average buts are included. It's hard for me to estimate what the Aussie gold coins are like without viewing them, however I will say it looks like the quantity of sovereigns and halves here is limited. The range of pre-decimal proof coins available definitely looks to be worth viewing - there is a mix of PCGS and raw coins included. There is a good array of predecimal coins up for sale, these will need to be viewed also.
In the banknotes, there are a few Pre-Federation proofs and a few unissued specimen notes, nothing particularly exceptional however. There is a good number of pre-decimal notes available, these will need to be viewed to vet for quality. A Type I presentation specimen banknote set is on the block, now there's been a few transactions for comparable sets at lower price levels, it'll be good to see what interest there is in it now they're really "on the market".
There are more than a few standard decimal banknotes included in this sale, and the world coins included are also interesting.
All in all, the weeks' activity will be exciting for any, I don't see any of the events other than the Roxbury's sale as really giving us a guide as to where the market is moving, however activity in the Master Collection will give us an accessible idea of just where the market for circulating decimal coins is at right now.
---
---