Downie 320 and Noble 110 Numismatic Auction Results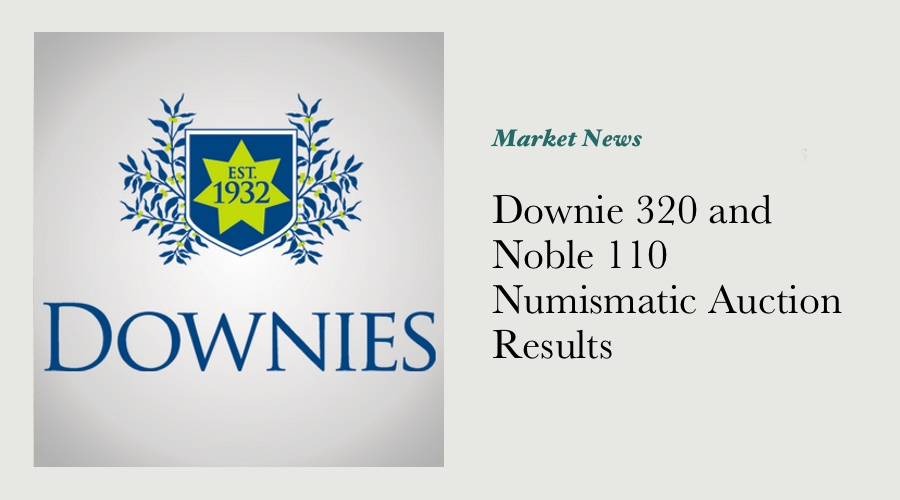 As seems to be the way with the Australian numismatic market at the moment, the last round of auction activity for 2015 took place across the space of a few weeks in mid to late November.
Downie's held their 320th auction in Box Hill, and Noble's held their 110th auction in the State Library of NSW. I'd regard both as a success - the clearance rates were as solid as one would want or expect from an auction in any stage of the market, and there were a few bargains and strong prices along the way.
Downie's Auction 320
Auction Turnover: $965,595
Lots Sold: 3056 / 3530
Clearance Rate: 87.31%
Average Lot Value: $316
Lots Greater Than $10,000 Sold: 7
Most Valuable Lot Sold: 1855 Sydney Half Sovereign
Although Downie's turnover for this auction was a little lower than that of their previous sale, it remains solid. The question of whether the new venue is affecting attendance is yet to be definitively answered, and while I know some dealers aren't attending due to the "hassle" involved with viewing, and the "difficulty" of getting to the venue, even if those challenges are only perceived, they will still be a factor. It doesn't take more than a few dealers to push prices up - those dealers may not even spend hugely themselves, but they can ensure successful bidders (either in the room or on the phone etc), pay more for the lots they win.
The room wasn't exactly full in the sessions that I attended, there were perhaps no more than a dozen people (collectors and dealers combined) in the main Australian coin and note sessions. That clearly didn't stop prices getting to the levels they did. The interesting thing about the atmosphere of the Downie auction was that it was much like one feels in a competitive poker game - everyone keeps to themselves, and is aware of everyone else in the room. There wasn't exactly a lot of collegiality going on! The kind of bidder that attends sessions like these is fairly circumspect, and doesn't travel to socialise!
It's interesting that each of the 6 higher value lots sold were coins, and that 3 of those lots were 1930 pennies. A reasonable Dump, a Type II Adelaide Pound and an 1855 Sydney half sovereign rounded out the other 3 items. Activity in the Australian gold, QEII proof and Commonwealth coin areas was steady, without setting records. Not much gets past a crowd like this, most of the coins that had been heavily under-estimated brought the right money. Anything with colour was chased, as well as the raw items that were likely to "grade" well.
I thought the 1922/21 overdate threepences brought solid money for what they were, while the Star Newspaper presentation box and another Centenary florin in a Perth Foy's bag made very solid prices of about $5,000 and $1,700 respectively.
The pre-decimal note session held a lot more interest to me personally, I see this as being a great area of value at the moment, although the pickings in this particular auction were admittedly fairly slim. Sales figures were fairly unremarkable - there was a fresh example of a scarcer Treasury series 10/- note offered, it did get away, however didn't bring close to the estimate. An attractive R55 did exceed estimate, but brought a fraction what it would have just a few short years ago.
I didn't stick around for the British coin sessions the next day, these included a fresh collection of English hammered and milled coins. This market is incredibly strong in the UK at present, the items in the Downie sale were all historic and attractive. The highlights of this session were a gold James I Unite, a Pontefract Shilling and a truly impressive silver Oxford Pound - this last coin made more than $19,000 nett against a $7,500 estimate.
Noble Numismatics Auction 110:
Special Note - Summarised prices realised figures for this auction haven't been published yet, I'll update this article as soon as they are.
The atmosphere in the room at the Noble sale was quite different, lots of camaraderie and fellowship between collectors that clearly know each other well. More noise, due to more bodies in the room.
The earlier sessions for mine were fairly unremarkable, however I thought the proclamation coins in the evening session were fairly well contested, right across the board from high quality items, to coins that had been heavily circulated. Ditto from gold right through to the copper.
The first two Holey Dollars were passed in, despite the fact the first had a provenance that could be traced back to the late 1800's, and the second came from the collection of one of Australia's most respected numismatists of the past half century, Tom Hanley. A heavily circulated Holey Dollar, with the perplexing T KNIGHT counterstamp did sell however. This auction contained no less than 9 1813 Dumps, the majority of which sold. If vendors are finally prepared to meet the market (as this sale seems to have shown), we'll see an improvement in liquidity here.
The Adelaide Pounds didn't fare quite as well, however that was most likely due to the estimates more than the health of the market necessarily. The gold coins were a fairly dry affair, the clearance rates weren't flash, reflecting the quality of the coins on offer. Good coins did sell well however, with interest coming from a few new quarters.
The area of Australian pre-decimal specimen, pattern and proofs really has a number of traps for collectors that aren't sharp. The stakes certainly aren't small either, particularly when the difference in value between one attribution and another is measured in the thousands of dollars - one divergent opinion can have an incredible impact on resale value, and even the ability to resell at all. There are certain diagnostic tests that need to be met if a coin is to be designated a specimen, pattern or a proof, and I don't reckon all of the coins in that session met them. Aside from that, values for less than FDC coins have certainly come back considerably.
There was no such concern at all when it came to the lot that included the four unofficial pattern Swan / Goose dollars. The last of these to come up at auction made about $22,000 about 2 years ago - the lot in this sale, which admittedly included a proof, specimen and lead trial strike as well as the gold proof, made a shave over $38,000. I was sitting behind the successful bidder, and didn't see any signs of them slowing up at all.
The English gold, silver and copper sessions were as strong as I've seen them. In these days of live internet bidding, dealers and specialised collectors from across the world can bid just as if they're there. There were some impressive English proofs in this sale, very seldom seen Down Under. They all drew spirited bids, as did anything else that was decent! The world notes were fairly strong, with plenty of bids from right around the room.
The evening session kicked off with the pre-federation notes, the figures here showed that the market is still suffering from a lack of new collectors keen to dip their toes. The few notes that did sell didn't make strong prices, I think the lots that were passed in were simply estimated above the range that the market has shown to be reasonable in recent months. When I think of the really extended time that lapses in between auctions, I'm reminded of how important it is to get the estimates (and more to the point, reserves), right from the outset. The predecimal notes on offer were pretty lean, despite the advertised lot descriptions, to my mind there wasn't a huge amount of quality material on offer.
I believe accurately graded and keenly-priced predecimal notes offer great value at the moment - they're historic, scarce if not rare, and priced at a fraction of what they were 5-10 years ago. Anyone with an interest in this series is picking up some real value at the moment. I'd preface all of that by saying that grade is all important - natural notes are strongly preferred, and quality always rules supreme.
There was a wide range of notes, specimens and art proofs related to the Hay Internment note series offered up, and in the main they got away. That is a very specialised market, and I expect they won't be seen again for many years. Sales of the specimen notes were patchy, if not soft. I believe there's so little interest in these historic items at the moment that the old ratios of value (of certain notes in relation to others) have been forgotten, if only for the time being. This leaves great value for collectors that know their stuff, who knows how long this phase of the market will last! Star replacement notes were patchy and soft also - some truly great notes got away at bargain prices, while other material was estimated well above market, and remained unsold.
It'll be at least another 2-3 months before the next series of auctions start to get underway, and it'll be interesting to see whether that passage of time softens up the "strong" vendors that are holding out at the moment. Time will tell.
---
---