Downie's Auction 318 - The End of An Era?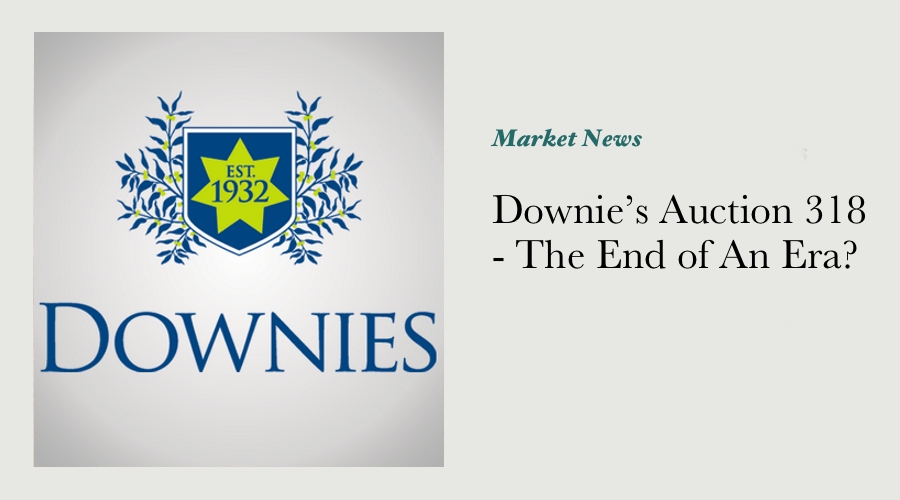 The most recent auction held by Downies in Melbourne I understand was the last one to be managed by Chris Meallin - a long-time senior staffer at Downie's. Chris has been the face of Downie's numismatic auctions for many years, and it will be interesting to see how his position is covered in the coming months and years.
Chris is apparently heading into retirement, however as collectors always collect, and dealers tend to always deal, I don't expect he'll be spending his days on the porch completin crosswords from hereon in. He has many years in him left, just how much we see of him in the Australian numismatic trade remains to be seen.
The auction itself was a reasonable way to see out a man who has handled many of Australia's rarest coins and notes, reasonable in the current market at least.
Total turnover looks to have come in at sixpence less than $600,000 ($594,195), at a relatively healthy clearance rate of 83.45%, and an average lot value of about $283.
Not all of the items in a Downie's auction is strictly numismatic - you'll find antique watches and jewellery, die-cast toys and cigarette cards, as well as medallions and militaria.
A lot of those markets, while important to the folks that collect in them, are not exactly mainstream, so I'm going to pass over them to cover the more "vanilla" numismatic areas.
The decimal coins (boxed sets and such) seem to have traded within the range that they have within recent months - prices don't appear to have been great, however that market continues to tick over. I did see that an Uncirculated 1966 wavy baseline 20 cent did make a $3,100 hammer price, leaving a nett price of $3,696.75 - pretty much bang on retail value. That is an indication of healthy demand, no doubt.
The half sovereigns appear to have sold OK, although there didn't appear to be many screamers there. The sovereigns are another story - this session included some rare dates across the board. Results here were patchy - the 1872/1 overdate Shield sovereign brought a healthy price for a coin in the grade described, while the latter date Melbourne Shields were quiet in relation to it. Someone may well have scored themselves a few bargains there!
In the predecimal coin session, the run of the mill copper and silver coins didn't appear to include too many high grade examples. The price that a choice 1940 shilling made indicates that it was a particularly nice coin however. 1923 halfpennies continue to be soft, based on this auction result anyway.
I was surprised to see the 1930 penny passed in - it was described as being Very Fine and had an estimate of $25,000. That is an exceptionally light estimate if the coin was graded correctly - the fact that it didnt' sell either indicates that we all have rocks in our heads and nobody took an interest in this incredibly rare and enduring coin on the day, or the condition of the coin wasn't in line with the expectations of those in the room.
The pre federation notes were quiet, however at least they mostly sold. It says something about the market at present that this is seen to be pleasing! The pre decimal notes appeared to be patchy - there were sales of both higher grade and lower grade notes, however sales were also patchy on both levels, not a result we can draw too much from.
In the decimal notes however, an Uncirculated pair of 1966 $1 notes made well over $10,000 - solely because of their condition, as well as the fact they had rare and appealing serial numbers. One of the notes was a "million" serial note (the serials ran ABC 100000, the preceding note ran ABC 999999). A curiosity no doubt, and a strong result against a $7,500 presale estimate.
Overall I believe the result for this auction was in line with the type of material it included, particularly when we consider it was the 3rd or 4th major numismatic sale in the space of a few weeks.
Onto Noble Numismatics in Sydney in a few week's time!
---
---