IAG Auction 68 - A Solid Result Given the Markets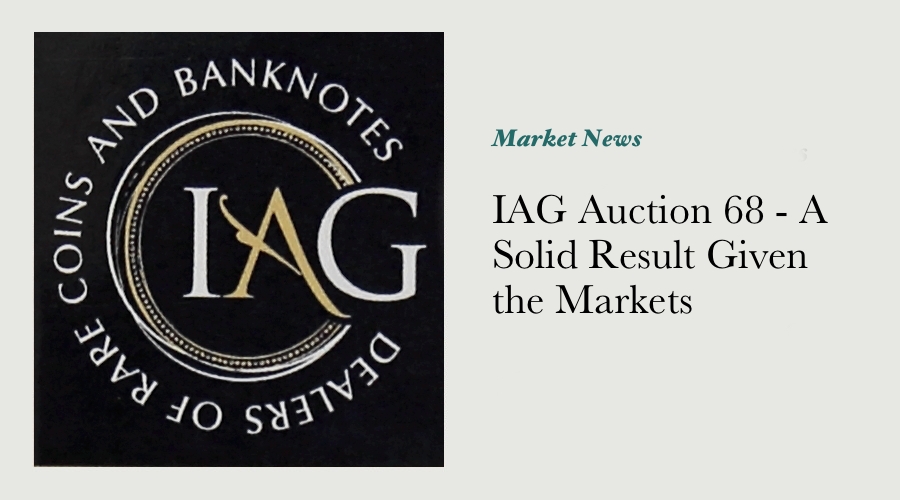 The weekend just gone saw the IAG Auction conducted on the Gold Coast, and although prices across the board weren't universally euphoric, I have to say I thought they were solid given what's going on in the world's financial markets at the moment.
I've counted that there were at least 8 items that sold for more than $50,000 hammer, and that in fact the highlight of the sale in terms of dollar value (the £1,000 specimen banknote from 1923) made a $1,036,850 nett price. Going on the interim prices realized which have been posted online today, I'd be surprised if the clearance rate was lower than the low 90's (ie 92% or less). That results such as these can be obtained in a market where there are rising levels of financial uncertainty is comforting indeed.
The first highlight to come up was the Bank of NSW £10 note, graded as good Fine and a fresh arrival to the market - it made just shy of $77,000. An UNC R21, long a bell-weather of the upper end of the pre-decimal note market, made around $52,000 as opposed to a $50,000 catalogue value. Other key items in the pre-decimal note series also made similarly strong figures.
In what has to be a new record for a decimal variety / error note, a $1 note that had the serial numbers printed on it twice made $11,883 nett. The Holey Dollar and Type I Adelaide Pound both sold, and sold for solid prices. The Mule halfpenny hasn't found a new home just yet, while the rarer Kookaburra pennies (Types 3 and 7) did get away for more than their current catalogue values. The better Commonwealth coins sold well, as did the pre-decimal proof coins. Perhaps the most astonishing result for mine was the $21,436 nett paid for a 1978 Australian 50¢ muled with a Fijian 50¢ reverse! This coin had a reserve of $5,000, and also has to be some kind of record for a single decimal coin.
Keep in mind that the quality of the material on offer probably had a lot to do with the results that were obtained, but it does show that there are still plenty of folks out there with confidence in the value that rare and historic coins & notes have in the financially turbulent times such as these we are in.
---
---