IAG Auction 71 - The Big Guns Are Out!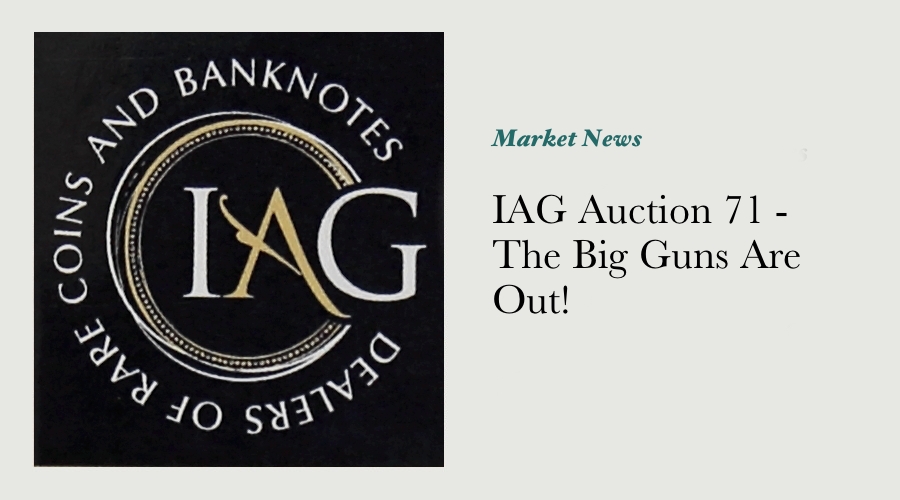 It's an overcast late afternoon here in Surfer's Paradise, I'm in town for the next IAG numismatic auction, number 71. This sale has the potential to be one of the most important auctions of 2010 (depending on how IAG 72 turns out I guess) - it's the first for the calendar year with a signficiant quantity of rarities, and comes at a time when some dealers are still feeling some heat as a result of changed retail conditions post-GFC.
IAG 71 isn't dominated by quality or rarities in any one market segment - there are some attractive world, ancient & British coins, an unparalelled range of pre-Federation banknotes, a sound selection of pre-decimal notes, numerous Commonwealth coins in top grade, a smattering of Australian gold and some bulk lots for those of us that like to root around in dusty cardboard boxes for that elusive rarity.
The highlight of the note section for my mind is lot 155 - a "Rainbow Pound" in superior Very Fine condition. For those that don't collect paper money, rainbow pounds were an emergency response by the Commonwealth Government during WWI to a dire shortage of paper money. They weren't accompanied by other denominations of the same type, were only issued for a very short period of time, and the small quantity that was issued for circulation were inevitably heavily used. It's always astonishing to see a key rarity in high grade, this rainbow pound is no exception. Any collector active at the moment that's keen on a complete type set of Australian pre-decimal notes will chase chase this note for sure, so long as they have the readies available!
Lot 209 is a Cerutty Collins £50 note - undoubtedly more valuable than the rainbow pound, although many (most or nearly all?) pre-decimal note collectors don't even consider high denominations such as this as part of the scope of their collection, so rare are they. It is another incredible rarity that the catalogue realistically acknowledges may not be seen again for many years.
I make no bones of the fat that I'm a sucker for historic items that have a strong social / human connection. Lot 244, being a bound album of Type I decimal specimen banknotes clearly fits that bill. Not only does this album include some of the very first Australian decimal notes printed prior to the introduction of decimal currency in 1966, it includes some doodling / artwork and a written message from several people that played an integral role in the design and conception of these notes. Some say that people that buy collectibles really don't own them at all, we're merely custodians for later generations, that statement surely applies to incredible rarities such as this.
Lot 302 is a Holey Dollar that caught my eye - it isn't the best preserved coin available to collectors by any means, but it is problem-free, affordable and has a direct link to a NSW merchant of the period. It features a counterstamp on the obverse that states simply "T KNIGHT" - during my years at Monetarium, my learned colleague Barrie Winsor did some research into this enigmatic chap, and although the facts aren't conclusive, all available evidence points towards this counterstamp being attributed to a jeweller in Balmain. Further research is something that any keen amateur historian can explore further, regardless of that a buyer of this coin at around or below the estimate would have to be satisfied indeed. Australia's first coin is tough to come by in any grade, we could count on one hand the number available in recent years that command less than a six figure sum. Other drool-inducing items in this section of the sale include a milled Taylor shilling, a uniface 1937 florin and a prof 1937 crown - all in superb condition and incredibly rare.
Collectors of Commonwealth coins will have a field day with the coins in this section of the sale - there are more than a few coins here that have been conservatively graded indeed, and the estimates show that they've been priced to sell. We won't know until the day just how this section of the sale will perform, but with the quality on offer and the estimates as a guide, I expect there to be plenty of bidding cards being waved in the air.
IAG always offer a great range of errors and varieties, both coins and notes, and there should be enough double-sided coins, brockages and misprints to keep these dedicated buyers satisfied.
Bring on the sale I say, there's nothing like the prospect of picking up a bargain to get a collector's adrenalin going.
---
---