IAG, NOBLE AND EVERYTHING IN BETWEEN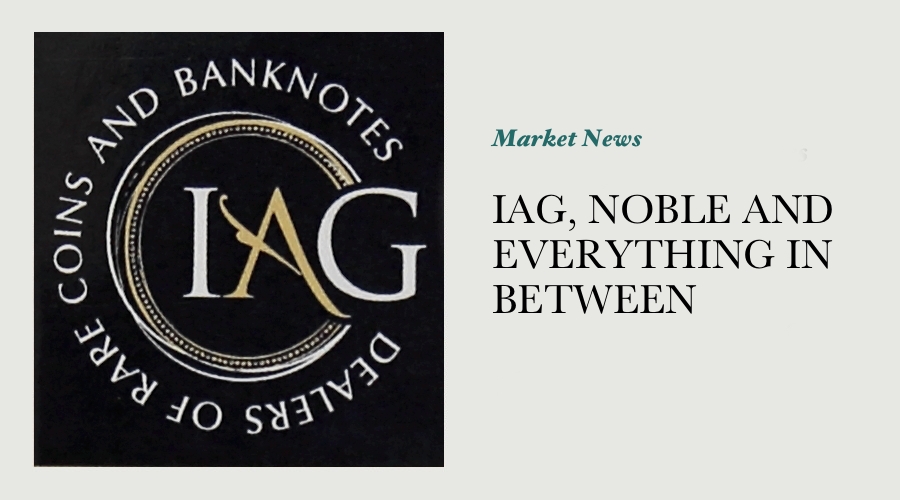 It seems like far more than a month and a bit since the IAG auction on the Gold Coast, but that's the case. What a landmark event it was - a total turnover of $5.6 million happened in an afternoon, which has to be a solid result in anyone's book.
Of course a good chunk of that $5.6 million was made up of the record $1.909 million paid for the very first banknote printed under the Australian Commonwealth Government in 1913. This is certainly a record price for an Australian numismatic item (be it coin or note), and one that probably reflects the item's iconic historical importance, rarity and beauty. Although there had been talk within the trade that the note was indeed "on the market" and would sell, nothing is certain until the hammer is slammed into the desk, and personally I did not disregard the possibility that the note would be passed in.
A wise man once told me that I didn't know my backside from a hole in the ground (he put it to me in a slightly more forthright manner than that), and in the case of Judith's note, I certainly was wrong. Rather than being passed in, or even just scraping in at the widely bandied about nett figure of $1.5 million, it was knocked down at an astonishing $1.66 million dollars, to end up at the final nett figure of $1.909 million.
I saw at least 4 different bidders in the room (it's a bit hard to gawk around in a dignified manner at who's bidding on what when you're halfway down the front!) which was something of a surprise, and when the final wave of the card came from the hand of a rather anonymous Brisbane collector, it really had the room buzzing. The importance of the occasion was marked by a short presentation of a bottle of French champagne, and away we went with the rest of the sale.
Media releases made over the next few days clarified the situation, and it turns out that the successful bidder was the well-known banknote dealer John Pettit, who was acting on behalf of an un-named client. Whether this client is the same gentleman that played a pivotal role in compiling the landmark work "Australian History 1901 to 2001", which explores Australia's history throughout hte 20th century through a significant collection of banknotes. if you haven't seen this book yet and you collect Australian banknotes to any degree, waste no time in reading more about it by visiting John Pettit's website here. This magnificent tome is easily worth the $250 asking price - a big call I know but you can confirm this yourself by exploring the content and seeing the quality. I am able to get copies of this wonderful book if you're interested.
If these folks are indeed the final owners of Australia's very first Commonwealth note (and I say if as there hasn't been any unequivocal confirmation yet), some could be disappointed that the note could be seen to be moving overseas. Given the clear and unmatched passion that these collectors have for their hobby, Australia and our banknotes, no one could say that Judith's note hasn't gone to a deserving home.
The rest of the IAG auction was fairly strong, and probably a good indicator of where the Australian numismatic market is at. Top quality items that have had a strong record of capital growth were keenly contested, while items that had imperfections or were slightly off grade-wise were passed in.
---
---