Incredibly Rare Australian Gold Coin Sells at a Stamp Auction in Adelaide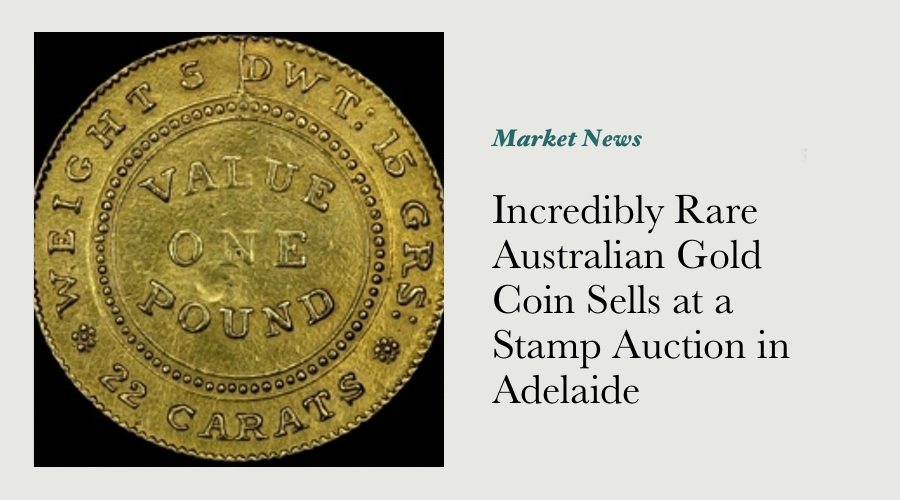 While it isn't entirely unprecedented for a truly rare gold coin or note to appear for sale outside the mainstream numismatic scene of auction houses and dealers, it is a talking point.
I recall a few auctions being held in "out of the way" places from my time working in Sydney - an important collection of pre-decimal coins was auctioned in a suburb in Newcastle (a large regional city in Northern NSW), while a comprehensive collection of Australian gold coins (including a good number of really rare dates) was sold at Randwick racecourse.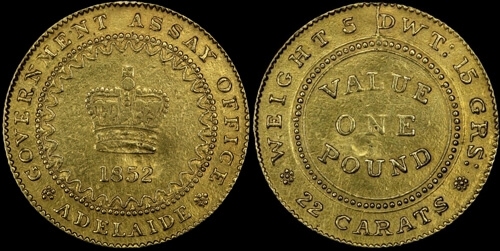 Both of these sales were the worst-kept "secrets" in the trade back when they were held - all the major dealers and collectors knew they were on, and results didn't suffer one bit. A dedicated collector or dealer would travel to Timbuctoo on the chance of picking up a prized rarity cheaply, these auctions confirmed that.
The most recent example of a rare item being offered in an out of the way locale was the sale of a (presumably South Australian) collection of coins, handled recently by Philatelics Australia, an Adelaide-based stamp auction company.
Before you Crow-Eaters start blowing up, I know full well that "Gladelaide" (not to be confused with "Sadelaide") is just as much a capital city as Perth or Brisbane, however I'll point out that there probably hasn't been a national-standard auction of coins in South Australia in the past 20 years. If there has, I sure haven't heard about it.
That isn't for wont of inventory either - Adelaide has a widely-acknowledged history stretching back close to 50 years of having a very active numismatic community, one that's been far more active than those in other states, no doubt.
While the majority of the Philatelics Australia auction was comprised of the type of coin seen at most numismatic auctions held around the country every other month, it was the inclusion of a Type 1b Adelaide Pound that caught my eye.
For the uninitiated, this is an incredibly historic and rare Australian gold coin - one of the very first gold coins struck on Australian soil.
By way of comparison, there' have's been just 7 of these coins offered at auction in Australia over the past 5 years, and during that same period of time, no less than 29 1813 Holey Dollars have been offered for sale!
The 1813 Holey Dollar stands apart from all other Australian coins as the very first coin struck on Australian soil - nothing can detract from it's obvious historical importance and collector appeal. That said, an informal consideration of the above auction stats shows that it pales in comparison to the Type I Adelaide Pound however.
The example offered in the Philatelics Australia auction was graded by them as being in about EF condition - in non-numismatic lingo this means that it had even wear across both sides, yet retained a good degree of original lustre and remained quite presentable.
It made a nett price of $78,200 against a pre-sale estimate of $75,000 - less than the $116,500 that a comparable coin made in a Noble Numismatics auction in Sydney in April of last year, however a result nonetheless.
The question is of course, would that coin have made more if it had been offered in a numismatic auction, rather than one that normally handles stamps? That is a moot point, however given the current market for Australian coins, I believe this was a decent result for the vendor.
To the victor, the spoils!
---
---