Noble 107 Auction Report - $5.08 million Turnover, Biggest Since Market Peak in Late 2008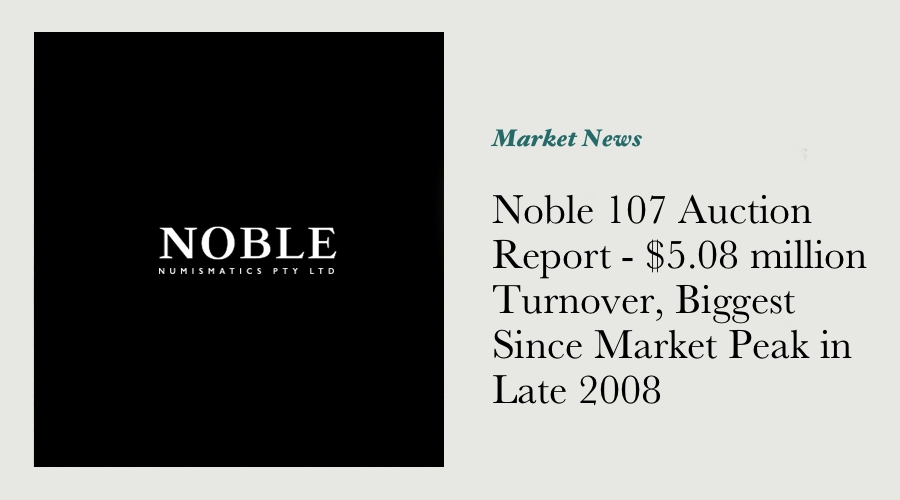 December 5, 2014
The prices realised report for Noble Numismatics Auction 107, held in Sydney in November 2014, shows that the total turover came to $5.08 million - the highest for any Noble sale since late 2008, which is roughly when the Australian numismatic market peaked in it's most recent cycle.
Selling $5 million worth of any product is certainly a real acheivement, this sale is no exception. The cynics among us will say that the overall figure was more than helped by the inclusion of several rather comprehensive collections of militaria - medals for valour and service during war. While these items aren't within the scope of most coin and note collectors, they have been handled by Noble's for as long as they've been in business, so there's no splitting those statistics out now.
There was so much militaria in fact that a separate catalogue was devoted to it - 1,146 lots brought in more than a million dollars all told. The highlight of this section was the Victoria Cross awarded to Sergeant John Whittle, for action in World War I. It brought just shy of $600,000 including the buyer's premium. The next most valuable lot, was the George Cross group awarded to Private William Madden for deeds in the Korean War - it made slightly more than $260,000.
The coins and notes preceded all that activity however - there wasn't much to comment on regarding the decimal and bulk lots, other than to say that as usual, there was some spirited bidding for the more extreme error coins.
A few people I spoke with said the tradesman's tokens were more active than they had been in recent months - a positive sign, however that is still not saying much! Activity at any level is a start however.
The Australian gold coins in the evening session werent' particularly strong - the more valuable coins weren't keenly contested, but it seems that the lower end of the market enjoys much attention. Half sovereigns seemed to be active also, however only at levels were they were keenly priced.
The proof pre-decimal coins were active, however the vendors may not have been particularly thrilled with the prices realised. This is one area of the market that I believe is yet to find it's feet - an ongoing patchy clearance rate seems to confirm that, no matter what some of the prices being realised are.
The Commonwealth / pre-decimal coins were relatively subdued - this market is very focused on condition at the moment, if it ain't high grade it don't sell. There wasn't a great deal of new material here, so most of this section of the session passed by without too much fanfare. The 1930 pennies were keenly contested again, the prices realised seem to be pushing up another ratchet, which is positive for the overall market.
1923 halfpennies don't yet seem to be at that level however - there weren't anywhere near as many examples in this sale than there has been in the past, so the results perhaps weren't a clear test of where they're at.
The English and world coin sessions didn't include the same level of material that Noble's have had in their other sales throughout 2014, so they were quieter as a result. Ditto with the world notes.
Heading into the Australian decimal notes, there was some keen bidding across the room for the better lots. The evening session for the notes I believe started off with more people in the room than there were for the coin session, that's not something that can have been said for a long, long time.
I put that down to a simple fact - a number of knowledgable and experienced pre-decimal note collectors have returned to the market after having been out of it for much of the past decade. When the market for Australian notes was really hitting it's straps about 6–7 years ago, more than a few collectors that were astonished at the prices being paid for notes across the board decided to cash in - some "retired", while others got into other areas of notaphily that they felt were more enjoyable and offered much better value.
There is a lot less dealer influence in this market than there used to be, leaving these collectors with the apaprently fresh experience of being free to grab what they like, without a group of unscrupulous dealers with fat expense accounts riding roughshod over them!
The pre-federation notes were active across the board - black and white proofs sold through well, albeit in the price range they have been for some time now (far lower than they used to be retailed at of course). The pre federation specimen notes also sold well, and were mixed in price. It's interesting to observe a market in this stage of it's infancy, where demand and vendors alone work together to determine at what price these items change hands. Some prefed specimens were stronger than expected, others were weaker.
The highlight of the prefed note section was an issued £1 note from the Bank of Western Australia. It was a crisp and natural Extremely Fine - not only desirable to those of us west of the Nullabor interested in the history of commerce in this part of the world, but also to pre-federation note collectors generally. Most (nearly all?) issued pre federation notes have been heavily circulated - most are so rare and seldom seen that they're acceptable in any condition, very few are seen with minimal folding. This note retained really good body, the crisp and white paper only ever seen on high quality notes. Pleasingly, it made it's way back to West Australia, but not before being keenly contested by bidders across the room.
The pre-decimal notes included a few heavyweight items - two issued £100 notes, as well as some high denomination Treasury series notes. These items are rare in any condition, and while these particular notes weren't in marvellous condition, that they sold indicates there are still more than a few budget-minded collectors active in the market at the moment. (Yes, a colllector can still spend many thousands of dollars on an item and be regarded as a "budget" collector!)
Although the Type I Specimen note set was passed in again, the other single specimen notes got away, and at prices higher than we saw earlier in 2014. We may have a floor under this section of the market yet! Star replacement notes were quiet, however were great value for those collectors that had ready cash.
Overall, the last major numismatic auction for 2014 showed us where the market is at right now - active when value is on the table.
It'll be another 2 months before the next major numismatic auction is held, so there's time over the holiday break to get cashed up for the next series of opportunities.
---
---