Noble Auction #100 Review - July 2012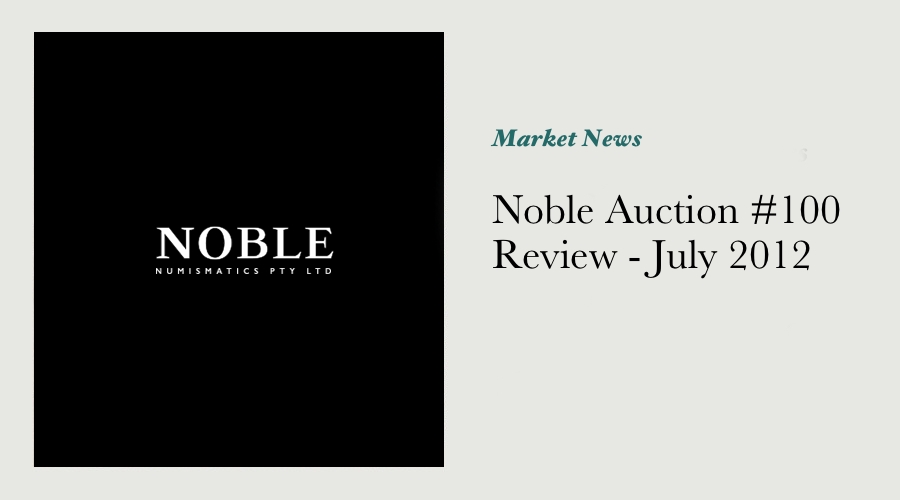 These auction reviews can sometimes be conducted fairly rapidly - just trot out the same commentary about each session and the job is done. While that is true for a few of the sessions in Noble Numismatics Auction #100, it certainly can't be said to be true of others.
The Early Sessions on Tuesday
Noble's early sessions generally include bulk and inexpensive lots of Commonwealth and decimal coins - as always, these were reasonably well attended, any items that had been salted with a few nicer coins were keenly contested. As were the gold and silver bullion lots. The more interesting items that generally appeal to collectors that have a modicum of experience, as well as to "investors" chasing the latest thing, also did well.
Goose dollars continue to bring strong money, as did a 1966 VIP Presentation wallet of coins dating from 1966. A presentation case made to hold a Melbourne Centenary florin by "The Star" newspaper made over $2,500 - a strong price indeed given the outer surfaces of the box showed a good level of wear. Although there are always bulk lots of key date coins, one of the early sessions in this auction included no less than 105 1925 pennies, each ranging in grade between VG and good VF! The clearance rate for them was solid, even if the prices were not compared to recent years.
The J.B. Brooks Collection
The listing of this collection had many potential bidders jumping with anticipation - old time collections that haven't been seen on the market for a few decades are not often seen these days, this collection was seen as being an opportunity to pick up a fresh coin or two at an opportune price.
While the Brooks collection was certainly extensive in it's scope, and contained many valuable and rare coins that many collectors would give their eye teeth for, it's also fair to say that the condition of the coins wasn't superlative by the present market's standards. Yes, there were many attractive mint-state coins included, however there were also more than a few coins that had been cleaned, and others that had impaired surfaces, even if only slightly so.
The coins most keenly contested were those that had original surfaces, were in contention for being a "condition rarity", and hadn't had an equivalent coin turn up in recent times. A truly choice 1923 threepence (a coin that has a tiny PCGS population in this grade) made strong money, as did a 1918 and a 1919 penny.
The 1930 pennies listed for sale all sold, and in line with expectations for their grade. The few PCGS-graded coins listed for sale sold, however perhaps not at prices over and above what their raw equivalent might have made.
The interesting aspect of this session for me was that attractive, mint state coins that have long been in demand with collectors were not selling as strongly as they have in recent years. While any collector will appreciate that dealers are able to acquire coins through auction at a discount to the normal retail value if they're diligent and focused on acquiring bargains, I'd suggest that the Commonwealth sessions here included a few more mint-state bargains than we might've seen in recent years.
More than a few of the most active collectors and dealers in this segment are focusing their efforts and capital only on condition-rarity coins, while the demand for anything else, and I mean ANYthing else, seemed to pale in comparison. If this trend continues for any length of time, I'd suggest that is an excellent opportunity for collectors interested in acquiring
The market for "off-grade" or "mid-grade" Commonwealth coins has long been softer than the market for mint-state coins, and much less softer than it is for premium coins. To see prices for a number of scarce and attractive mint-state coins ease off to the same ratio of catalogue value as we'd expect to see a Very Fine or an about Uncirculated coin to sell for, was indeed something new in recent times. As I say, if this trend continues for any length of time, I believe it offers an excellent opportunity for buyers that have long term faith in this market.
Tuesday Evening Session
This session is when the big guns often come out - the more valuable and high-grade proclamation, gold, pre-decimal proof and Commonwealth coins. Colonial coins were keenly contested as always, the Holey Dollars and Dumps that followed perhaps less so. A good VF Holey Dollar, a coin that would have easily made in excess of $200,000 just a few short years ago, made just shy of $115,000. That this host coin was one of the more common Charles IIII host coins, and from the Mexico mint, may have influenced demand to a degree.
A high-grade D/2 Dump was knocked down for a similarly suprising price, as was an attractive and mint-state Type II Adelaide Pound. Auction sessions for Australian sovereigns and half sovereigns these days are often heavily peppered by coins that are passed in, and while this characteristic should definitely not be taken as an indication of the health of this market (really!), this particular session of gold coins remained in line with recent results.
The few fresh and scarce sovereigns that were in attractive grade made strong money, while anything that was mid grade (and thus not in strong demand at the present time), either sold weakly or not at all. It is characteristic of this market that any gold coins that had any significant degree of bagmarks, or had surfaces impaired in any way, were just simply left alone.
The previously high-flying pre-decimal proofs that were in this sale, i.e. those rare coins from the early 1900's and abound in beauty, history and rarity, really sold quite cheaply. Catalogue values have in recent times been less accurate an indication of the true market for these coins, however when unimpaired items make between 30% and 50% of published market values, surely one has to wonder whether those market values should be revised!
Wednesday Evening Session - Banknotes
This particular evening session stood out in one way at least, in that it included a decent number of rare and historic colonial-era notes, i.e. those issued by private individuals prior to the mid–1820's. This is an opaque area of the market, inasmuch as it takes some time to become aware just where each note fits into the broader scheme of the colonial economic of that period, and further it takes time to become aware of the rarity and market values that these notes have. Values can suffer whenever there is a larger than average amount of supply of any product injected into the market, so there was no unusual activity here.
This evening session also included a reasonable range of Pre-Federation notes, both the rarer issued notes as well as unissued specimens. Thea clearance rate for these notes wasn't healthy, nor were the values achieved in line with published market values. Again, these levels offer excellent value for new buyers coming into the market - the rarity, history and majesty of these notes can't be diminished by any short-term abundance of supply!
The pre-decimal notes were rather hit and miss - there wasn't a lot of quality on offer, any potential bidder keen to acquire a nice note pretty much had to wade through several hundred lots of challenging material - you certainly need your wits about you to succeed with an auction purchase these days! Those pre-decimal notes that were accurately described as being in high grade and were estimated in line with market expectations sold well, while many (perhaps most?) lower graded notes sold in line with current market expectations. Just whether this level of activity indicates that we've seen a bottom in this market segment will need to be confirmed by future auction results for similar material.
The market for specimen notes did certainly seem to be stronger than the Noble auction held in April - notes that had been passed in during that sale sold this time around (several times for figures greater than they were passed in for last time round!), while other comparable notes made stronger prices.
The star replacement notes in this session were a little hard to judge - my fellow bidders commented that one needed to interpret many of the lot descriptions in order to make an accurate assessment of the actual grade of the lot, which means that many of these notes probably enjoyed less demand from novice buyers than they might otherwise have.
All in all, Noble Numismatics Auction 100 turned over $3.76 million - surely a great result in the the current market.
---
---