Noble Numismatics 111 Review - $5.45m Turned Over!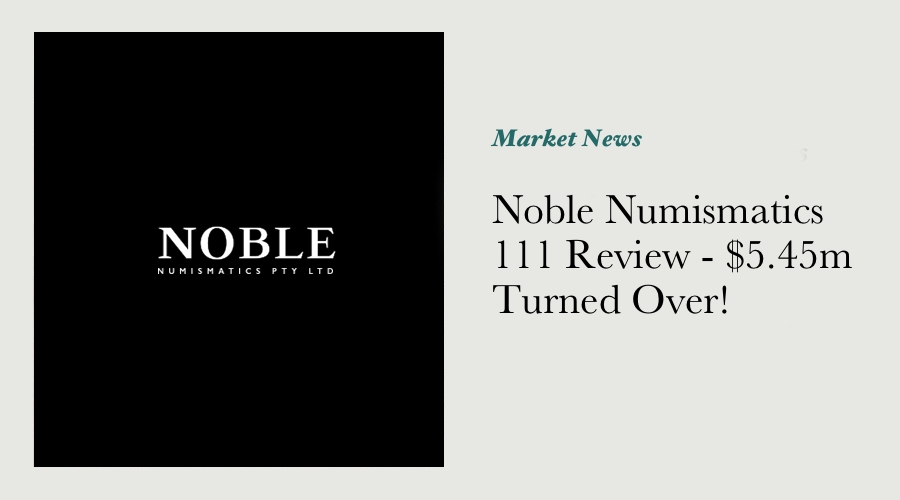 Noble's 111 Auction was a few weeks back, and we're already onto the next show, IAG on the Gold Coast (scheduled for 23/4/16).
Noble's was a big event, in fact the biggest I can recall for years. The sale was held over 4 days (rather than the traditional 3), and due to the sheer volume of material on offer, the evening sessions ran well into the night each night.
An event like this can't be held without incurring some significant expenses, and expenses always need to be paid, so I had an idea that there was going to be a good amount of material "on the market".
I understand that the overall clearance rate for the sale was up at around 87%, which in an apparently soft market is a positive sign.
Australian Gold Coins
I didn't fully appreciate it, but there were more Australian gold coins (sovereigns and halves) in this auction than I've seen for many, many years - perhaps since the Quartermaster Collection was sold in 2009.
There were coins from several different experienced and dedicated collectors on offer, as a combined lot they were a gold-bug's delight to go through. Call me cynical, but I've long learned to disregard any description or pre-sale estimate I see published in an auction catalogue - actual grades can be either side of the grade attributed (beauty is in the eye of the beholder of course), and the estimate is only ever an educated guess at an items' sales price at the best of times.
So some of the results in the Noble auction reflected that - certain items with strong pre-sale estimates were passed in, while other lots that didn't appear to be of much interest at all, sold for multiples of the auctioneer's published estimate. I thought there were some great coins on offer in this auction, and there were (generally) enough educated buyers with the budget and a confidence in their own powers of assessment to ensure most items found the right level. I shook my head at the relatively modest prices that some of the coins made, however I guess that's what happens in a stage of the market such as the one we're in at the moment - not everything gets bought, and if it does get bought, not everything makes what some market observers think it should.
Overall, I believe the results of this section of the sale reflect where the Australian gold coin market is at right now, active in certain areas, and illiquid in others. There's no doubt at all that most buyers of numismatic gold these days prefer their coins to be slabbed, which in turn has an effect on the coins that sell, and the coins that don't. Any gold coins with obvious hairlines or other surface impediments were left well alone.
Foreign, British and Australian Pre-Decimal Coins
The next day was for foreign and British coins, these sessions are always active with a knowledgable few, this auction was no exception. It can be hard for local collectors and dealers to go up against really knowledgable buyers from outside Australia, particularly if our currency is weak. If someone were to only check the prices realised against the pre-sale estimates, there were some incredible prices achieved in these sessions. It turns out however that the prices achieved were in line with the market those items normally have.
The Wednesday evening session contained the Australian pre-decimal or Commonwealth coins, and I understand it was the most lightly attended session for that area for quite some years. The Commonwealth coin market is enjoying a reasonable amount of supply at the moment - several long-term collectors are disposing of their collections for one reason or another, so there is something of an embarrassment of riches on offer. The prices realised in this session reflected that, interestingly the 1930 penny included in this session made the strongest price I've seen for quite a long time.
Checking over my auction statistics for the coin, there were 2 1930 pennies in the Benchmark collection last year - the first of those featured the London obverse (one of two in private hands and incredibly rare), the second was graded EF. Both of those coins made prices commensurate with their rarity and quality. We have to go way back to October 2009 to see another 1930 penny that made an auction price higher than the result in the Noble auction a few weeks back. While there are many examples of top-quality and historic Australian coins and notes currently selling for prices that we haven't seen since the mid 1990's, it is worth paying attention to the fact that the 1930 penny is not among them.
We didn't really see a lot of action in the important pre-decimal proof coins in this auction, principally because there were only 2 examples offered up! I thought the Type 12 Kookaburra penny was put out at an estimate that would prevent it from being of interest to value-minded buyers, and the 1938 florin was not the most attractive example ever seen. There is more of this material in upcoming sales, and they will be a far better guide to this segment of the market.
Australian Banknotes
The auctioneer that Mr Noble uses for his auctions really eared his keep on Thursday - not only had he already worked two and a half days straight by the time Thursday evening came around, but that session had no less than 500 lots included in it. There was no shortage of bidders and observers in the room for the Australian note session, and it got off to a solid start with the colonial notes. One of the earlier items offered up was a piece of share scrip from the Bank of New South Wales (Australia's first bank), issued a week before the bank opened for business. This item had been seen three times throughout 2005, it was passed in twice at $10,000, and eventually sold for $15,000. Fast forward to 2016 however, and the very same note made a hammer price of $20,000. There aren't too many Australian numismatic items that are currently bringing 30% more than they were a decade ago, however I believe this result shows that the (few) banknote collectors that are active in the upper end of the market at the moment remain as sophisticated and understanding of historical importance as they ever were.
This session had a wide range of Australian pre-federation banknotes included in it, and it was good to see some solid liquidity for them coming in from right across the room. As is often the case, that liquidity was perhaps at the expense of price, and as much as those vendors will have exhaled a sigh of relief at finally saying goodbye to notes that others have found so hard to move along, they wouldn't have been delighted with the prices achieved. Still such is the market at the moment - very few collectors appear to be prepared to go against the grain of the market at the moment, those that are really are getting great value for money. If that market is to recover and start functioning in a healthy way however, a base needs to be built somewhere. Will we look back in 12 months and say that the bottom is finally in? A few more auctions like this, with a healthy clearance rate and a range of active buyers, and we'd have to say that's the case.
There was some solid competition for the few quality pre-decimal notes on offer, however that was less the case for the decimal specimen banknotes offered up. If there was ever a time to buy these notes (just before the "Next Generation Banknotes" are to be introduced to circulation, and at prices we haven't seen for 20 years at least), it is surely now. I expect that there are plenty of collectors that appreciate the history and rarity these notes have, however they don't really have the confidence to look beyond the current market weakness to consider where these notes might be at a time when the collector base has grown considerably.
Overall, the auction was a solid event - a lot of material changed hands, which is a great start to a market looking to get back on it's feet. As with any auction, some results were stronger than expected, others were softer. A few more auctions such as this throughout 2016, and I believe a solid base will have been built
---
---