Noble Numismatics 118 Review - 3 Named Collections Hit the Market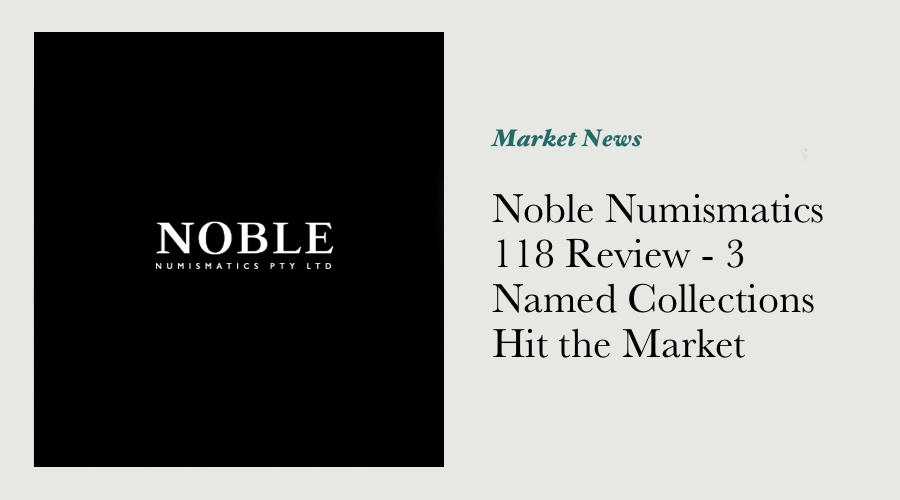 One of the largest and most important Australian numismatic auctions in recent years was held in Sydney in July 2018. Noble Numismatics held their 118th auctions, it was one that one man might describe as being "the last of the big sales".
One of the problems the Australian numismatic market has had over the past decade is that we've had many vendors that bought during the last market cycle, while the vast majority of the buyers were fresh and had little direct experience of the days when prices were bullish and absolutely everything was in demand.
It's hard to make a deal when the seller only wants to sell at price X and the buyer wants to buy at X * 0.6. What generally happens is that those vendors end up disappearing from the market, and deals are eventually made with the few pragmatic vendors that meet the market.
To the degree that it featured several "named" collections of quality material across a range of numismatic categories, Noble Numismatics 118 was important as a benchmark of where the market is in 2018. While the results may not have pleased vendors and buyers alike; liquidity was evident and it was clear that buyers were prepared to enter new price territory as soon as they saw value on the table.
Tuesday - Early
We numismatists are creatures of habit - the agenda for day 1 of the Noble Numismatics auction was the same as they have been for the past few decades. The early sessions featured a great range of Australian error and variety coins, both decimal and pre-decimal. A number of the more extreme errors made strong prices, while there was a small run of very recently struck decimal errors that caught the eye. I counted perhaps half a dozen error coins struck across 2015 and 2016 included in this sale - this mighty coincidence will no doubt raise a few eyebrows in the Royal Australian Mint quality control department, they just seemed too good to be true! The most remarkable of these was a 2016 20¢ struck on a copper-nickel triangular Cook Islands planchet, one that made a very strong price. Just how a planchet like that can skip from one barrel at the Mint to another I am yet to understand. I thought that an error that was even more interesting was the 2015 $1 Mule.
There are few coins that generate as much interest in the mainstream media today as the 2000 $1 Mule - it is worth a few hundred dollars no matter what condition it's in, and there are enough of them still in circulation that the average person stands something of a chance to find them. Whenever a "new" story breaks about the 2000 $1 Mule, it blows up on social media and then across mainstream media in kind. I would have thought the discovery of a Mule in another date would be news that would really appeal, however the price that this coin made suggested otherwise. A $2,000 hammer price is far less than what a 2000 Mule would have brought in the same grade, so there is most likely an explanation that makes sense for this outcome. I know several sightings of Mules of the 2014 Anzac $1 coins have been claimed, just whether they pass the pub test with your average collector of decimal error coins is another thing.
Another decimal rarity that surprised me for not being sold was lot 320 - one of the 2010 Decimal Currency Heritage Proof Sets. Just 400 of these sets were released, they had resin casts of some of the proposed designs, and contain several coins that are incredibly rare as far as decimal proof coins go. They are advertised for up to $7,000 on eBay, individual coins that have been busted out and PCGS-graded bring big dollars, yet this one was passed in at an estimate of $2,000. Due to the size of the case it's in, it could only be purchased by someone that was prepared and able to collect it from the Noble premises in Sydney, which may have cut a lot of potential buyers out.
Tuesday - Afternoon
Well, this was yet another landmark session for the Australian numismatic industry - it was the first to include a comprehensive range of Australian sovereigns in decent quality that had been independently graded by PCGS. The coins themselves were no better than have been seen in Noble's auctions for many years, however there's no doubt that the quality was consistently better than seen in a Noble auction for some time. These sovereigns represented the most active and liquid section of the Australian gold coin market - full sovereigns dated 1899 through to 1931.
I have to say that I was a little concerned that the way these coins had been lotted up would affect their liquidity - most retail collectors like to build their collections coin by coin, particularly if they're stretching their budget on each new coin they acquire (as one might expect them to do in a robust market). The auctioneers had batched many of these coins into lots of 2, 3 and even 8 coins, which I would have thought would have cut a lot of collectors out of the equation. That said, the clearance rate at least didn't suffer in any way - only 2 of the 62 lots were passed in, which is quite remarkable. The easiest way of increasing the clearance rate in any auction is to reduce ask prices, however it doesn't seem obvious that was the case. Retail figures for PCGS-graded sovereigns (coins for that matter) can vary very widely according to single point differences in grade and population, however the checks I've done indicate that the prices realised for the coins in single lots were at least reasonable relative to the retail values they have had in recent months.
I believe the result shows just how much appeal this sector of the market has to collectors - values are underpinned by a solid gold price; the numbers of coins required to complete a set is easily quantifiable and not outside the reach of the average collector; attractive and reasonably scarce coins don't cost thousands of dollars in the main, yet there are enough key dates to really make a complete set quite challenging. I don't see those fundamental factors changing any time soon either!
Tuesday - Evening
The Tuesday evening session was opened by the proclamation and colonial coins - true to form, good coins made good prices. Next up were the Holey Dollars and Dumps - 3 of the 4 Holey Dollars got away, while only 3 of the 10 Dumps got away. The best Holey Dollar really was one of the finer examples I've seen - the host coin was dated 1788 and had more meat on the bones than most, while the counterstamps were well-aligned and deeply struck. It seems the reserve was not only higher than the estimate, but also higher than the market was prepared to pay on this occasion, as it was passed in. The remaining 3 coins made prices reasonably above their conservative estimates.
The Dumps really didn't fare as well, indicating that expectations need to come back further if they're to meet the market. Collectors are prepared to pay for decent coins at a fair price, they certainly aren't prepared to pick up anything that isn't excellent value at present.
The Adelaide Assay Office pieces next up were also true to form, and brought prices I believe that reflect their current appeal, so nothing new there. The next series of coins were the "raw" gold sovereigns and halves (raw meaning they had not been independently graded by PCGS). The level of interest here reflected their scarcity in the quality they were offered in, and their current value. Across the board, they were quite popular.
The pre 1955 proofs that followed were fairly hard work, which is not surprising given the market for them elsewhere in recent months. Some were attractive, some looked lousy. Some were cheap, others were lotted high. Some were of uncertain attribution, others were clearly spot on - patchy sales are the result of this type of variability. The figures for the QEII proofs that followed next really were quite low relative to what similar coins were bringing just a few years ago, I think it's incredible just how much this (popular) market has shifted in recent months.
The next major section of the sale was the offering of the Heathcote collection - a comprehensive collection of Australian Commonwealth silver coins in superior quality that, in the main, had been off the market for several decades. Commonwealth coins are not anywhere near as hot as they were just a few years back, however there is still keen competition for the finest known examples of each date. There will be no prizes for guessing that the highest prices were for key dates in superior quality. Highest valued of the lot was the 1914-H florin, a coin that had a lovely original patina. Next was a 1918 sixpence that was truly remarkable - sharp as a tack, and with delightful satin surfaces.
The prices these coins made were set by collectors who were quite happy and prepared to act against the tide of the market and buy coins that they liked the look of and thought were good value, which is nothing more than we can ask of them.
Wednesday
Wednesday was chock full of a lot of great coins for those that were into them. I appreciate that's an odd comment to make, however not everyone is into British coins; ancient coins or coins from other nations of the world. Each of those sections had some fantastic material, ranging from silver coins from Oliver Cromwell in superlative condition; to a great depth of silver and gold ancient coins, to a very good array of world silver and copper coins. I attended those sessions sparingly, however the lots that I viewed and marked all made strong money, a clear indication that the international market for coins is as strong as it's always been.
Thursday
Day 3 of Noble Numismatics 118 was devoted to paper of every kind - although I stopped in for the world note session in the early afternoon, I didn't spend the time required to assess the value of the notes being offered, so could only observe the bidding activity with an uneducated disinterest. The Australian decimal notes that followed were interesting however - I know from my own sales that this segment of the market is very popular and liquid, this session didn't disappoint. All of the lots were quite active, with varying degrees of interest. This led into the later afternoon session of pre-Federation and Commonwealth notes from a range of vendors. The key item in the early section was the share certificate from the Bank of New South Wales, issued in 1818 (very early in this bank's history). It made a hammer price well above reserve - a good sign that there is still competing interest in mementos of our colonial banking history.
The Commonwealth notes were interesting - it may have been that there weren't too many active collectors chasing better material on that night, however I was pleased to get nearly all of the notes that I'd marked down. Good quality notes from the KGVI and QEII eras are extremely tough to get in UNC condition, it was fortunate to be a buyer under those circumstances. Two items that appeared in this section of the sale were the R35 "No Mosaic" 5 pound notes. These incredibly rare notes were only on issue for a very short period of time in the early 1900's, primarily because they could be (and were) easily counterfeited. My understanding is that there are only 10 examples of this note in existence, yet here there were 2 from the same collection in the same auction on the same night! Although they're incredibly rare and important numismatically (they heralded a more complex design for the reverse of those notes), both were passed in on the night. The market for pre-decimal notes in my opinion currently doesn't have the depth of demand to appreciate just why such tatty and unattractive notes should be worth big dollars. During the previous market cycle however, they were seen only once every few years (if at all), and were keenly contested each time they turned up.
All of the other high denomination Treasury series notes were represented by honest, his heavily-circulated examples of the £10, £20, £50 and £100. These notes are all incredibly rare, were no doubt prizes for the owner that had them previously, however didn't bring the stellar attention that they would have when purchased 15-20 years ago. It was interesting to see the demand unfold for the specimens, stars and error notes that followed. I recall Woody Allen's comment that he wouldn't want to be a member of a club that would have him, and it almost seemed that the bidders in this auction had the same opinion. So tentative were the bids in sections that it looked like they didn't want to own a note they were the last bidder on, as it most likely would mean they'd either paid too much or made a mistake!
That is never always the case of course, and although some notes made prices I didn't think made any sense, other notes were quite cheap indeed. I was pleased to see some broad-based interest in the polymer concept / trial note issued by Innovia / Securency, there was enough bidding competition to push it up to a decent price level that would have been unimaginable just a few years ago.
Thursday Evening - The Caldwell Collection of Australian Banknotes
Although there were several named collections in this sale (The Staughton and Heathcote collections), the Caldwell collection was easily the pick of the bunch. This was the most important intact collection of Australian notes to be offered via auction in Australia since the Nicholson sale of 1995, which should put it into perspective. This truly was a curated and comprehensive collection of Australian paper currency from our pre-Federation period, right through to the first series of polymer notes in the late 1990's. It was testament to the collector that built it, it is clear that they had a passion for the series, had the determination required to acquire items comprehensively, and had the funds available to fulfil on that determination. To be sure, the notes were not comprehensively the finest known examples of their type, however they were certainly the best quality that were available at the time the collection was built, of that I have no doubt.
This sale was important not only for the incredible range and quality of notes that were on offer, but also for the level of demand it was being sold into. There are few dealers with deep pockets in this sector of the market at the moment, which leaves the demand very broadly-based. Any activity can therefore be taken as representative of the market, clear levels of support can be taken from the bidding seen.
Pre-Federation Notes
The pre-federation notes opened this session, and it was clear that the previous owner had gone to a good level of trouble to acquire a good range of notes that depicted a range of banks, regions, forms and denominations. There was an equal mix of proofs, specimens and issued notes, so we're getting a good overview of the level of collector activity from the results. The clearance rate shows that just 2 of the 50 odd notes remained unsold, which is quite remarkable when compared to auctions in years past. We've seen pre-federation notes sell extremely cheaply in certain auctions over the past few years, and that wasn't the case with this sale. Auction prices for pre-federation notes do seem to vary between cities, auction houses and states, it seems that Noble's have a decent reach across this market.
Superscribed Notes
Superscribed notes were the first banknotes authorised by the Commonwealth government in 1910, and are fundamental to any depiction of our national currency history. They were actively withdrawn from circulation once the new "Treasury" series designs were ready to be issued from 1913, the vast majority of those that remain available to collectors are in heavily circulated quality. They're so rare and tightly held that many collectors have never seen them before, which means the vast majority of collectors will only ever get one example as a type note.
The owner of the Caldwell collection saw fit to really explore this series in some detail - 21 different examples depicting a range of different banks; regions; denominations and of each of the 3 different superscription styles. That is second only to the Nicholson sale in terms of size and scope, and is another indicator that this really was a once in a generation collection.
In my experience, a collector that is keen on acquiring a superscribed note has: been active for a reasonable period of time; has confidence in the market and their own ability to identify value, and is resolved to build their collection regardless of whatever else is going on in the market. It has to be said that there are a lot fewer such collectors in the market these days than there were say 10 years ago, particularly when we focus only on higher value notes. Offering this collection into such a market wasn't without risk - if collectors didn't have confidence in their ability to assess the notes, it could have been quite a torrid result. As it turns out however, only 4 of the 21 notes offered were passed in, so the clearance rate was quite solid. Prices in the main reflected the incredible value that's on offer in this market at the moment - a number of the hammer prices were very close to the amounts the notes sold for back in the mid 1990's. Think about that for a moment - what blue-chip assets in Australia at present are currently valued the same as they were 20 years ago? You could of course argue that banknotes are dead in the water as assets of any consequence - never to return to the heady heights they reached a decade ago, however I'd suggest the history and rarity they have negates that argument totally. The vendors should be satisfied that the notes were sold into an informed and liquid market, while the buyers I hope are stoked with the value they were able to lock in. Superscribed notes are incredibly tough to come by in better than Very Good quality, so it'll be interesting to see just how long it is until the next superscribed notes in decent quality are seen.
Commonwealth Notes
The notes issued by the Australian Commonwealth government between 1913 and 1966 are the longest and most keenly studied series we have to date, so this is where the bulk of the Caldwell collection was comprised of. Review the catalogue, and you can see that this was a curated and comprehensive collection of each and every variety of Commonwealth note in the best available quality. Be under no illusion however - the Caldwell collection wasn't like some of the PCGS Registry Sets of Australian coins that are being built at the moment, where each coin is unequivocally the highest graded example known to exist, rather this was a collection of great quality notes that was built of the best quality examples of each note available when collectors and dealers the nation over competed to acquire them.
I expect that many of the collectors in attendance didn't really appreciate just how rare some of the early serial number varieties of the different Treasury series notes are in any condition, which will explain why some only fetched modest prices and others were passed in. When I was in the room, I could tell that a lot of the bidders were clearly interested in taking part, but seemed to be tentative and waiting to get some feedback (positive reinforcement) from other bidders in the room before they really competed for the notes they were after. As with the superscribed notes in the previous section, there was great value on offer for those bidders resolved to chase the notes they were after. The real headline item was the "Number One" Rainbow Pound note - a superb example of one of our rarest Commonwealth notes, with an appealing serial number and a storied provenance. The hammer price was more than double the admittedly conservative estimate, it was something else to be in the room and to watch the determined bidding between two clearly determined bidders. There was keen bidding on a range of the other more valuable Commonwealth notes, so it was a good result for all concerned that very few lots remained unsold by the end of the evening.
War Related Issues
The next note to follow was one of the incredibly rare notes issued by the AN&MEF in New Guinea early in WWI, it was keenly contested and sold above reserve. Despite the easing market over the past decade or so, I believe notes such as that are bringing more than they were back when the market was stronger. A complete set of Hay Internment notes followed, which was fodder for the collectors that are active in this series and are starved of quality material for a lot of the time.
Specimen and Presentation Notes
If there's one area of the Australian banknote market that is clearly yet to find a level, this is it. Specimen and presentation notes have traditionally been regarded as the apex of collecting here - the notes are incredibly rare, the first ones printed, and nearly always have a provenance tied to institutions or people that were fundamental to the design, production or distribution of the notes concerned. As with the demand for superscribed notes, specimen and presentation notes tend to be most appreciated by those collectors that have been active for a period of time, and appreciate their exclusivity and history. It is most likely the case that most collectors active today don't appreciate just how rare and different these notes are. Although they basically look the same as issued notes, they are exponentially rarer and have an unmatched exclusivity. The current generation of collectors clearly isn't as smitten by them as collectors in the past have been, as only 8 of the 18 lots offered were sold. I wasn't even aware that the Phillips Wheeler Type 2 Specimen set even existed, and although that particular set got away, several others were left alone. I almost had to sit on my hands to try and stop myself from bidding on several of the lots - the Nugget Coombs set of 1953 specimen notes particularly were incredible value relative to what they've traded for in years past, however we can't own everything. Based on this price action, it seems this section of the market is perhaps 6-12 months behind the rest of the note market with regards to finding a level that collectors are confident at participating in.
Star Replacement Notes
Star replacement notes have also long been held in higher esteem than the standard notes issued into circulation, principally because of their higher relative rarity and exclusivity. Pre-decimal stars seem to be behind their decimal equivalents at present - only 2/3rds of those sold, while all of the decimal notes got away. Some of these notes were equivalent to the finest examples known, so I'd hope the buyers that were successful with their bids are pleased with what they got, they were fantastic value if relative values return to their long term ratios.
Overall, I believe the auction of the Caldwell collection was an unqualified success - the clearance rate was entirely in line with what one would plan to achieve, even if demand evaporated in certain segments. I believe it should give collectors confidence in the long term appeal that these notes have, the next 6-12 months will be crucial to determining just where the specimen and star replacement notes settle to.
---
---