Noble Numismatics Auction 102 Follow Up Report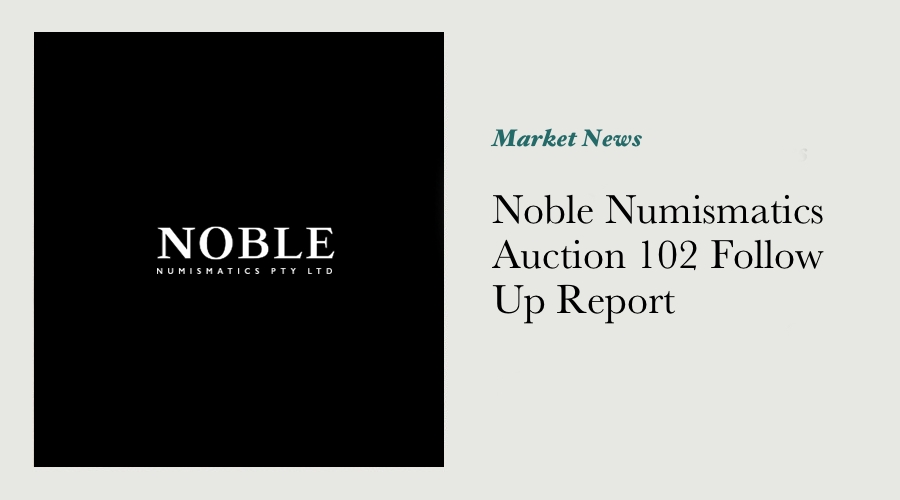 Although there a number have been held in Australia in 2013, the Noble Numismatics sales are always topical due to the breadth and quantity of the material they offer.
Noble Auction 102 was no different at all - no less than 4,869 lots were offered over three days - turnover to date has apparently been $3.19 million.
Session 1 of any Noble auction is either by default or design always a near sellout - it includes mostly low value lots that offer the dedicated numismatist that is prepared to do some spade work a great deal of variety and value. This particular session 1 was well attended, with most lots keenly contested by floor bidders.
Lot 94 included within it a rare 1920 penny with the dot above the bottom scroll and the London obverse - this perhaps the 9th (?) known example, and made $2,400 hammer against a pre-sale estimate of $1,000. Errors and varieties were strong yet again - the highlight piece being a full fifty cent brockage that made $5,500 hammer.
The decimal proof and uncirculated sets and single coins in this sale were rather quieter than they have been in years past - this is evidenced in the easing of prices that previously-popular items are now achieving. The exception to this rule was the proof section of Perth Mint gold and platinum coins - these were keenly contested and sold well. There were more than a few pattern Goose dollars in this sale, whether this had an impact on the prices they made I'm not sure, but they did seem to be a little off to where they have been recently.
Interestingly the gold sovereigns and halves that were in the early session were keenly contested also, perhaps because there were a number of old hands in the room, and the coins were priced in line with the current market.
Coins from New Zealand and Papua New Guinea were quite active, the tokens perhaps a little less so - this segment of the market seems to be taking some time to come to terms with the new guide and catalogue released in the past 6 months.
Tuesday Evening Session - Coins
The Tuesday evening session at Noble sales is dedicated to the more valuable Australian coins - at 378 lots listed, this one was a marathon!
The offering of proclamation and colonial coins in this sale was much more restricted than in auctions past, so a 100% clearance rate here shouldn't be surprising.
Following closely behind the proclamation coins, the Holey Dollar (singular) and dumps did not have a clearance rate at that level. I noted just one bid registered across the six of these lots, further to that, the bid was not successful, meaning that not one of the six lots sold. While this tepid auction activity might seem to be at odds with recent news (emerging in early March) that a WA collector has paid no less than $495,000 for what is regarded as being the finest known Holey Dollar struck on a Peruvian host coin, we need to keep in mind that just as there can be a "two-speed economy", there can be a "two-speed" market for rare coins and notes.
Despite our relatively robust commodity-based economy here in Australia, retail sales have been patchy, and although rare coins and notes are very much a specialised item, our market shares many fundamentals with the broader retail market. At the core of this situation is that certain collectors are not cashed up at the moment, while others are - further to that, the type of item that the majority of today's well-heeled buyers are only interested in certain types of coins and notes - much of that preference relates to quality.
And so this is how we can have, in the very same market, one coin sell for a record price, and another (arguably just as historic as the other) passed in without any interest at all! The Holey Dollar in the recent Noble auction was indeed an attractive example with a solid provenance and lots of eye appeal - it is a coin that would have sold just a few short years ago without much trouble at all for a significantly higher price than it was estimated at in this auction.
This means that the buyers in the market at present with the ready funds to spend on coins such as this would rather pay more for a better quality item when it becomes available. This clear delineation in the market could well be opening up some real opportunities down the line - it may mean that items such as the Holey Dollar and Dumps in the Noble 102 sale need to come back in price further before they're in demand with a broader base of buyers, time will indeed tell.
The Type I Adelaide Pound in this auction was the first to be seen on the open auction market in close to two years - it is an incredibly rare coin in any grade, let alone in about EF condition as this one was. The estimate of $100,000 was less than thirds of the estimate that the most recent comparable coin was set at in June of 2011. The two Type II Adelaide Pounds in this sale found ready buyers albeit at figures well below their present catalogue values.
What may well turn out to be the bargain of the entire auction was lot 1329 - the Port Phillip quarter ounce coin. There are only 7 known examples of this historic and important coin, and just five in private hands. This is easily the most affordable of them all, directly attributable to the fact it has been plugged and is heavily worn. Although it is not the most attactive coin ever seen, for such a rare and historic coin to make just a few hundred dollars more than it did back in 2008 is incredible indeed.
Activity in the gold sovereigns and half sovereigns in the evening session seemed to be more active than in recent auctions - the clearance rate was higher, and more than a few coins sold for retail prices, or close to them. One of the coins that didn't find a new home was lot 1351 - an 1855 half sovereign in good Fine condition. This coin is a true rarity (arguably Australia's rarest circulating coin), and despit it having been heavily circulated, this was a premium example. The estimate was $32,000 and it was passed in at $30,000 hammer, leaving me to believe that if the estimate was indicative of the reserve, it would have had a minimum nett price of around $37,000 - in between the results for the past two comparable 1855 half sovereigns to appear at auction. The very next lot sold, a much more readily-available 1856 half sovereign quick smart however, confirming the preference of some collectors for quality over other factors.
The clearance rate for the bulk of the coins in this section I saw as being very positive - a sign of healthy demand across the range of grades and dates offered. The exception to this standard were the later half sovereigns, ie those struck from 1887 onwards, these were much softer by comparison.
The 1926 Sydney specimen sovereign that was listed made just shy of $48,000 - slightly less than the comparable coin that featured in the famed Bentley collection, sold in London in September last year.
The rule that any high-end collectors active in the current market are focusing solely on quality was borne out with the results of the pre–1955 proof coins - those that weren't widely regarded as being in pristine condition were either passed in, or sold at relatively weak figures.The uniface 1937 florin made the better part of $134,000 - a fair discount to the present catalogue value to be sure, but indicative that there was some competing interest in the coin when it was offered for sale.
There were quite a few pre-decimal proof coins dated between 1955 and 1963 included within this sale (78 different lots), these were largely raw coins in attractive grade. The clearance rate was high, while the prices paid relative to catalogue values (as just one benchmark) reflected the breadth of material on offer, and the predominance of trade buying. Activity in this segment of the market remains healthy for quality items.
My impression was that the majority of the bidders in the room found the coins in the pre-decimal / Commonwealth section to be largely uninspiring - apart from a few select coins, there weren't many condition rarities, nor indeed rarities of any kind among the lots on offer. That said, the 1932 florin in choice condition found a new buyer at around $16,500, both of the 1922/21 overdate threepences got away, while one of the 1930 pennies remained unsold.
Thursday's afternoon session covering Australian decimal notes was well attended, although prices weren't strong it was easy to see that there were a number of keen collectors with very focused interests in attendance.
Wednesday Evening Session - Notes
Thursday evening was always going to be one of the more interesting auction sessions of the year - it included two rather long runs of pre-federation notes, runs that would test the depth and breadth of demand for them.
Most of the early bills of exchange remained unsold, indicating that values may need to ease before new buyers are prepared to enter the market here. In summary, the Pre-Federation notes were covered mainly by a few dealers, and also dedicated collectors keen on picking up select items in the series. The "hoard" of notes issued by the Bank of North Queensland included some 34 notes - far more notes of any one bank seen at one time in an Australian auction in many years. Many of these were heavily cancelled or damaged, yet every single lot (bar one) sold for between $280 and $2,200 hammer. This is a sure indication that there will always be market participants keen to step in where others opt out.
The shinplasters and calabash notes in this sale were nearly all from Queensland, and were largely picked up by dedicated collectors of the series.
The next run of Pre-Federation notes were a series of 67 unissued, black and white printer's proofs, sourced from the corporate archives of one of the companies that printed many of the notes used in Australia prior to Federation in 1901 - Perkins Bacon.
To the uninitiated, there would have appeared to have been a lot of duplication within this batch - each note was uniface only, and printed in black and white only. Such printer's proofs were used relatively early on in the printing process, to literally prove to the technical staff involved that the printing process was operating to expectation. While they are not complete, issued notes, they are certainly fundamentally related to the notes that were issued into circulation, and are prized for their rarity and history.
80% of these printer's proofs sold, a result that I felt was a positive result due to the perception of duplication within the whole offering.Hammer prices ranged from $600 for a slightly impaired £1 black and white printer's proof from the Bank of Australasia, while the highest price paid was $4,600 for a set of five notes also from the Bank of Australasia.
There were two of the very rare and enigmatic Colonia Nueva Australia notes offered for sale, at significantly lower values than they have in the past, neither of these passed into new hands however. Should we be suprised that collectors (who in my experience are more likely to be capitalists than communists) don't have a keen interest in currency notes from a socialist colony dating to the late 1800's? Apparently not!
The pre-decimal note session was quite active again, with bidding spread between keen collectors chasing specific bargains to old-hand dealers with an eye for value. Three of the more valuable lots to sell were a lovely R3b in nice grade for just over $11,000, a relatively affordable Rainbow Pound for close to $13,000, as well as several high value Riddle Sheehan gold bearing notes.
The star replacement notes perhaps didn't sell as strongly as they have in recent years, however anything that was in good grade and well-priced moved on. Notes in mid grade that were fully priced were mainly those left behind. As always seems to be the case, the error notes were just as keenly chased as the error coins - only two lots out of this series failed to sell.
All in all, it was pleasing to see the full breadth of the market in action at Noble's sale 102 - perhaps not all of the vendors got the prices they wanted, but to be sure just as many buyers would have paid more than they expected.
---
---