Noble Numismatics Auction 109 Report - Over $4 million in Rare Coins and Banknotes Sold!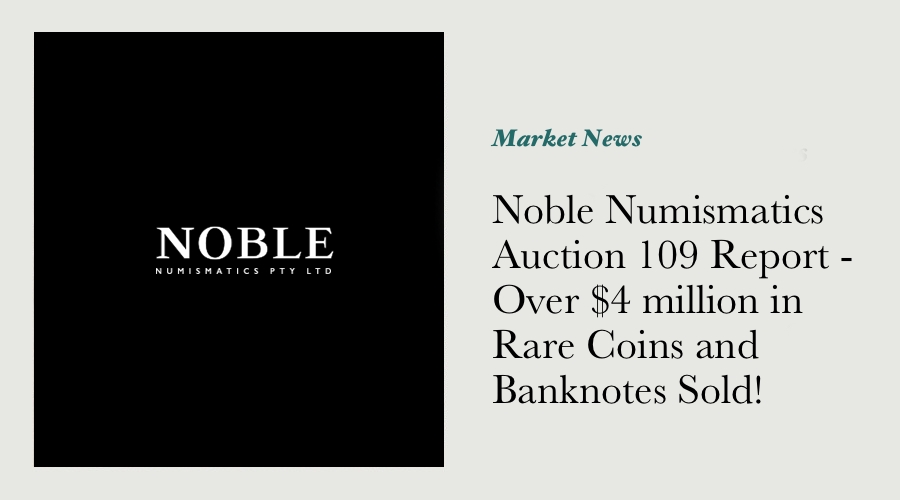 Noble Numismatics 109 Auction is now done and dusted - as the room that the auction is normally held in wasn't available for the full 4 days that this auction was scheduled to be held, there were over 5,000 lots jammed into 3 days, rather than 4.
Throw into this equation the fact that Noble's needed to make use of a new online bidding platform, as well as the fact their usual auctioneer wasn't available, and there were several reasons why this auction might not have hit it's straps. There are now over 4 million pieces of evidence to show that those concerns were unfounded!
Make no mistake, the sale wasn't without it's hitches - some potential bidders weren't able to register for the sale, others found it difficult to bid, or at least bid to the level they wanted to, on the lots they had an interest in, and the days in the auction room really were quite long - the two I attended ran from 930 in the morning until 1030 at night.
The notable lots in this sale for mine were the old-time collections that were included, as well as the headline item of course - an Extremely Fine Holey Dollar that had a provenance attributed to Governor Lachlan Macquarie, the man that devised them and had them struck.
A really superior-quality example of any historic Australian coin or note is always going to grab the attention of the general public, this Holey Dollar was no exception. There was good press coverage of the coin leading into the sale - I saw articles in a range of the Fairfax newspapers, and I understand there was TV interest as well.
The old-time collections are in some ways far more interesting to many collectors - they include items that havn't been seen for decades, and that often spells opportunity!
Collector tastes can change significantly over time, as can grading standards (as much as many of us would like to think otherwise). This means that items that were of no interest decades ago can now be celebrated, values change significantly as a result. The old-time collections included in this sale were mainly world coins, I'll let you know how they fared.
Here are a few bullet points regarding the activity in this sale:
Error and variety coins were very strong - a few items made stronger prices than I expected;
Demand for the decimal NCLT coins (proof sets and boxed coins, etc) and bullion was quite competitive;
Circulated pre-decimal coins were popular at a level, however having said that, coins that had commanded decent money in recent years seemed to be a little off the boil. 1923 halfpennies continue to be cheaper than they were a few years ago, the 1925 pennies in better grade (ie Extremely Fine and better) that were in this sale were also making prices that raised a few eyebrows.
This sale had 4 * 1930 pennies in it - these have been a solid performer in very recent auctions, however 2 of the coins here were passed in. I can only put that down to the vendors pushing the limits of what the market will pay. The coins themselves were nice enough, however they were probably set about 10% over the market;
The activity in the Australian tadesman's token session was quite interesting - the clearance rate didn't seem to be that high, however there was good liquidity for the key rarities that were included. One of the old-time collections I mentioned earlier had some great tokens in it that hadn't been seen for decades, and while such tokens have been soft in recent years, each of the headline items got away this time round. It was positive to see that they were sold in the room to a collector too;
Proclamation and colonial coins were solid, the clearance rate was very high for the coins in that section;
The Main Holey Dollar - A Real Talking Point
The main Holey Dollar really was a talking point. I've been doing plenty of research in this area in recent months, and found it interesting how certain aspects of the provenance of this coin have been emphasised differently over the years. Although Noble auction 109 was the first public sale that this coin had appeared in, knowledge of the coin's provenance has been quite well known for decades - it's been highlighted in the publications by Mira and Noble several times. While the coin has previously been obliquely attributed to "a Scottish family", it now transpires that the family in question was apparently clan Macquarie, the good governor's descedents.
The placement of the counterstamps on this coin lent credence to the notion that the coin has personally owned by Lachlan Macquarie - the Holey Dollars were all struck rather haphazardly (with the counterstamps appearing in no particular set direction), so to find one in superior quality, and with the counterstamps aligned with the designs of the host coin, is quite remarkable.
While the value of this Holey Dollar can be justified just as much by the quality of the coin and the manner in which it was struck, it is one thing for the coin to come from a family "with links to Governor Macquarie" as the auction catalogue stated, it is quite another for "the coin to be "once owned by Governor Macquarie" goes on auction", as the headline in the Sydney Morning Herald article claimed.
Be that as it may, I counted perhaps 30 or 40 people in the room at the start of this session, and clearly they were keen to see if this coin sold or not. Against the pre-sale estimate of $350,000, bidding didn't open on the coin until the ask bid was brought back to $330,000 - not always a heartening sign, as that can be an indicator of weak interest. It didn't take long at all however for the bidding to roll on until it closed at a hammer price of $400,000, which works out to be $477,000 including the "juice" (buyer's premium).
From what I could see, the bidder was either a collector, or a client representative that wasn't known to the trade. Either way, this coin looks to have been passed into "fresh" hands.
If it wasn't an auction record for a Holey Dollar, it was certainly a very strong price, particularly as collector interest in these historic coins hasn't been robust in recent years. There were 2 other Holey Dollars that followed shortly after this coin - the planchet of the coin that immediately followed had a slightly oval-shaped planchet, and was dished to boot. Both of these characteristics are par for the course for Australia's first coin, however despite the detail, an ask of $180,000 + the juice was clearly more than the room believed it should bring. The next coin to follow after that was a good way lower down the scale - it had been fished out of the Shoalhaven river some decades ago, so was slightly porous due to being in water for so long. That didn't stop the coin from bringing just a few dollars less than $60,000, which I thought was great value, without being crazy cheap.
The gold coins that followed were active - the cheaper of the Type II Adelaide Pounds got away for a solid, price, while the more valuable example was probably set a little over the current market, and was passed in accordingly. Any sovereigns that are approaching condition rarity really are keenly contested these days, you can thank the PCGS set registry for that! Half sovereigns don't fare quite as well, particularly those from earlier dates.
The proof gold coins were patchy - 2/3 sold, even though there probably wasn't much to split the 2 better coins. Pre-decimal patterns and proofs remained patchy - the 1937 patterns were passed in, while the pre-1955 proofs only sold if they were remarkable quality, or if they were really cheap! An interesting development I saw was the inclusion of a range of PCGS-graded proofs from the QEII era, particularly coins graded 66 or better.
Such coins have circulated mainly in the online dealer and auction network, and haven't really been seen in the "traditional" auction circuit in decent numbers. It'll be interesting to see how market values cope with this broadening of distribution and effective increase in supply.
Collectors were pretty picky when it came to the predecimal coins - natural coins in great quality brought strong money, however other coins that didn't meet that criteria did not.
When it came to the foreign coins and notes, this is when the new bidding platform, as well as the relatively weak AUD was thought to come into play. Certainly, when bidding opened on the hammered gold English coins, bidding was keen. I didn't see any different pattern in demand for the balance of the material however - British coins from 1066 to date have long been popular here, British dealers have long bid on such coins in Australian auctions, nothing new to note on that basis.
Prices and bidding for the world coins matched the world market - (British) Indian gold and silver was strong, as were the Chinese gold and silver coins. British Commonwealth proof and pattern coins were very keenly chased, however the same can't be said for New Zealand banknotes. Don't get me wrong, the issued notes that were natural and in nice grade made strong prices, a lot of the pre-RBNZ specimens, as well as the other predecimal and decimal specimens suffered. They clearly haven't found their level yet. The banknotes from the rest of the world were quite keenly chased.
The Evening Session for the Australian Banknotes
The evening session for the Australian banknotes had some 500 lots in it, so was never going to finish early. The prefederation notes pretty much stayed on song - dealer support for specimens and printer's proofs was quite weak (if one particular dealer wasn't there, I'm convinced the clearance rate in that section would've been far lower!), however I did see some collector interest emerging, even if only at a price. Pre-decimal currency notes sold at a price, bidding on a few notes got as high as high as 50% of the previous McDonald book value (insert a shocked emoji face here), which shows that a few collectors still appreciate that really good quality pre-decimal notes are still just as hard to come by as they always have been.
It looked to me that the vendor/s of the decimal specimen banknotes wanted more than what the market is prepared to pay - even though bidding opened well below the advertised estimate on a range of lots, several of these notes were passed in at figures higher than the estimate! This shows the vendors only wanted to sell if the prices they got were strong, an attitude that just doesn't fly in the current market. Decimal banknotes were chased by those hardy souls that were prepared to do the work in viewing the bulk lots and who remained awake in the latter stages of the night!
The ancient coin sessions on the Thursday also included some of the old-time collections I mentioned at the outset, I thought some of those coins were far better than the normal retreads that are so often seen here, and looked to be great value.
So all up, Noble auction 109 was an active sale - we probably didn't get much news out of it, but $4 million in sales over 3 days has to be a solid sign that there is liquidity in the Australian numismatic market for coins and notes that are graded accurately and priced right.
---
---