Noble Numismatics Auction 120 and 2019 Brisbane Money Expo Reviews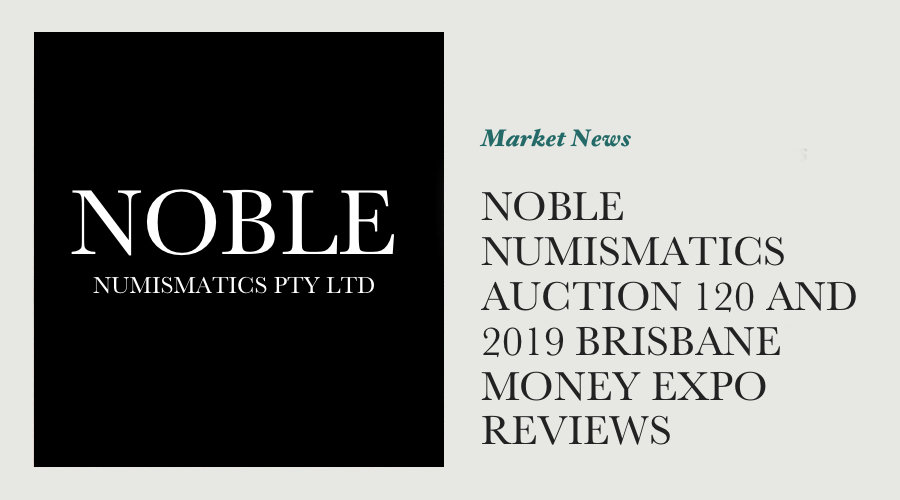 Noble Numismatics Sale 120 was yet another major affair from them - total turnover was declared as being $3.8 million across 3 days. The Brisbane Money Expo wasn't quite as busy (!), however was a worthwhile in and of itself.
Noble Numismatics Sale 120
Notable in the early Tuesday morning sessions for this sale was a group of error coins that were seen in bulk, which is quite remarkable for any error coin struck by the Royal Australian Mint. It seems that there was more than a few of the 1988 2 cent coins struck on 1 cent planchets, as this sale contained no less than 20 of them across 3 different lots. When multiple examples of any item are listed for sale in any auction (coin or one, gold; copper or silver) there is always some anticipation to see just how much each lot makes - a solid bidding strategy can really pay dividends in a situation like this.
In this case, the bidder that was prepared to chance their hand on the first of the three lots got the cheapest example. They went on to also claim the second lot that contained 18 more examples of the same coin, while the third of the three different lots made the highest price to a different bidder. It'll be interesting to see if the batch of 18 coins is broken up and sold individually, or if they remain intact as a group.
An "Operation Fastback" wallet was innocuously listed on the next page of the catalogue, and made a hammer price 4 times the estimate - that was more a function of the low estimate rather than incredibly strong demand however! The other lots of Australian gold and silver / copper coins all ticked over without much fanfare.
The New Zealand section contained some very attractive coins, and as these are seldom seen at auction, they were chased accordingly. This section of the market is remaining popular with those that collect in it - many hammer prices were reasonably close to the current catalogue values those coins have.
The proclamation coins that kicked off the evening session were keenly contested - demand was widespread and just as healthy for circulated examples as it was for coins in premium condition. The NSW Dumps that followed fared better than my expectations thought they would - 4 of the 9 coins sold, which is better than they've done in the past. There were 3 Type II Adelaide Pounds in the lots that followed, and each of those sold. One was incredibly cheap, the others were within their current range. I expect this can be put down to whether a coin looks like it will "grade" with PCGS or not - those coins that don't meet that standard tend to be left alone.
The Australian gold coins that followed were the most interesting items in the entire sale for mine - there were several old collections that hadn't been on the market for some time, and there were more than a few of those coins were scarce dates in superior quality - catnip for anyone with a passing interest in this series. Based on the level of competition and the prices realised, I'd say we're seeing some real demand emerging in this area of the market, in both sovereigns and half sovereigns. The Type I and Type II Sydney Mint sovereigns sold according to the known market, however it then got interesting for the same era in the half sovereigns. A number of the coins could be traced back to "The India Hoard" of Australian gold coins (sold by Spink Australia in 1976), and were in superior quality. Collectors of this series really need to be on the ball when it comes to the price they're prepared to pay at the moment - the published estimates can have no relationship at all to the known market the coins have, and the published price guides can contain figures that in no way represent where the market is at either.
This means that the keen student needs to either have done a good amount of research into prices realised over several decades (work that requires a decent library, as well as time and dedication), or more likely needs to throw caution to the wind and just pay what's required to own a coin that they like the look of.
Some of the prices realised showed that either there are growing numbers of buyers who can "grade" to the PCGS standard and who know just how valuable some of these coins have proven to be in decades past. If a particular coin has a grade of good EF attributed to it in the catalogue and has an estimate of $5,000, yet is in fact likely to grade MS62 with PCGS and most recently sold (a decade or so ago) for $12,000, you can see the opportunity that exists for the buyer that has the market knowledge required to succeed. On the other hand, if a coin has a grade of Choice Uncirculated attributed to it in the catalogue and has an estimate of $15,000, yet is unlikely to "grade" with PCGS and thus is really only worth a fraction of that amount, then you can see the risk that exists for the buyer that is operating without grading or market knowledge. Both of the situations above may sound to be implausible, but I can assure you they can both happen several times in the same sale, with numerous coins valued at many thousands of dollars.
In the Shield sovereigns that followed, we saw some very strong prices paid for coins described as being in superior quality, many of which were in fact in superior quality. Melbourne Shields have been regarded as rare for many decades now, and some of the prices paid exceeded those achieved by comparable coins in any recent auction that I can recall. This is great for the market, as it shows that there are active buyers that are prepared to hunt coins out, and aren't afraid to chase them when they find them. The Young Heads, Jubilees and Veiled Head sovereign that followed didn't contain the same number of rarities, however they were keenly contested also. There were several "no grade" examples of key dates in the George V series offered up, they all made reasonable money given the circumstances.
The Young Head half sovereigns also contained some excellent coins mixed in with several other items that didn't have original surfaces. I was surprised that a few of the latter coins made quite strong money, while some of the better coins did just as well. I felt the strongest price was paid for an 1897 Sydney half sovereign in attractive grade. It was graded as Choice Uncirculated by the auctioneer, and had attractive and original surfaces. This is a scarce, but not particularly rare date, yet made close to double the pre-sale estimate. This indicates to me there are a number of Registry Set collectors active in this series, which I expect will pan out across other dates and series over the coming months and years.
The Pre-Decimal Proof coins that followed weren't great quality in the main, so there was nothing major new to be learned from that section of the sale. In the pre-decimal circulating coinage section, buyers were proving to be selective in the items they went after. Premium items were strong, I (and many others) believed the bargain of the evening was the specimen Melbourne Centenary florin that was offered. This coin was not only a rare and historic archival strike, it remained in immaculate condition to boot. It made half the price that a similarly-described coin sold for in the most recent Downie auction, yet was attributed correctly and was in exponentially better condition.
1930 pennies seem to have swung back into vogue, as the prices both coins in this sale made were higher than they might have made 12-18 months ago. The very next coin in the catalogue was a 1931 penny with both the Indian obverse and the Dropped 1 reverse, it had some surface issues on the obverse, yet sold comfortably for a hammer price of $3,200 - very strong indeed for a coin that just a few short years ago would have had only 2 men and a dog looking at it!
The British gold coins offered in this sale were keenly contested, as they seemingly always are. Demand came in from a range of local collectors and dealers, as well as from interested parties overseas. A rare and valuable item with a low pre-sale estimate can often the most-hidden bargain that everyone in the room knows about, as was the case with the more valuable British gold coins in this sale - they all made figures we'd expect them to make if offered in the UK. There were also some very nice British silver coins on offer, however they ran well away from the conservative pre-sale estimates to sell for sums they'd make in the UK.
This sale included a number of deceased estates that held collections we don't see too often - foreign and world coins included. The world coin session had several runs of really attractive world coins, and those items made strong prices. Key items to mention are the 1793 Large Cent from the US - one that came from the UK via New Zealand as the provenance described. It made $88,245 nett against a pre-sale estimate of $40,000. The other key foreign coin in this sale was an 1874 Pond from South Africa in impeccable quality. It made $64,395 nett against a pre-sale estimate of $40,000.
Thursday evening held the Australian banknotes, and this sale was unusual in that there were 43 different lots of Pre-Federation notes, while there were 94 lots in the Pre-Decimal notes listed. That ratio is far, far different to most sales - I'd suggest the ratio has traditionally been closer to 1:10 rather than 1:2. Activity in the pre-federation notes was quite good - we really have picked up a range of new buyers in this area of the market since the last market cycle ended. The clearance rate was solid overall, prices were in line with what one might expect for a healthy market. Wholesale demand mops up most of the items that are in the lower end of their trading range, while competition from a few dealers and keen collectors pushed the rarer items well above the pre-sale estimates.
The pre-decimal notes were somewhat less exciting, as there were fewer truly desirable notes on offer. The superscribed notes offered all got away, as did the rare "No Mosaic" five pound note that was held over from the Caldwell auction a few sales ago.
The clearance rate for the specimen banknotes on offer in this sale was better than it has been in recent years, however it has to be said the prices realised weren't great at all. This area of the market is doing it's best to find a level right now, we'll find out soon enough whether the current level is right, or whether we have some way to go yet.
Brisbane Money Expo Review
If a football game can be a tale of two halves, then a two day show can be the tale of two days…. Saturday at the Brisbane Money Expo was nigh bedlam - the queue was well out the door for the first few hours, and there were people 3 deep at our table for the same period of time. Things eased up as the day went along, and a good day's trade was had. There's no doubt at all that the RAM can bring in a lot of people through the door with their coin swap and mobile press.
The next day was not attended by the RAM, and the number of people through the door was a fraction of the day earlier as a result. We ended up buying a number of useful bits and pieces from the other dealers in the hall, however we didn't have the frantic activity of the Saturday, that's for sure. We look forward to the next show in Melbourne in August - no doubt we'll need a few more layers of clothing ready...
---
---
---
Leave a comment