Noble Numismatics Numismatic Auction 98 - And That's Us Done For the Year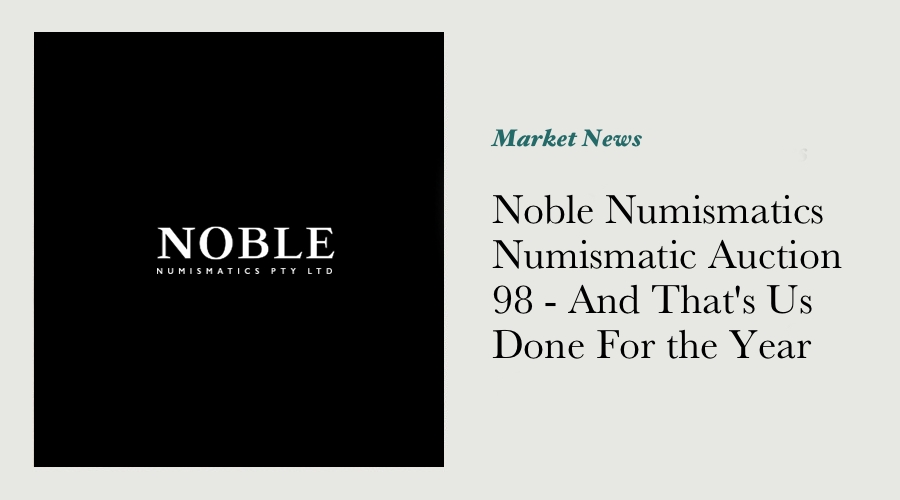 It's now been a week or so since the last major numismatic auction for 2011 was held in Sydney, Noble Numismatics auction 98. I've spoken with a number of people that have looked over the prices realised and have been shocked at the clearance rate - the impression is that the sell-through rate was particularly low.
Although that would make an excellent story, the facts of the matter are that total turnover for the sale was no less than $3.67 million - a figure like that can hardly be called a lousy result! The devil is always in the detail however, and it is perhaps telling that out of the 5,581 lots that went under the hammer, only 29 of these reached a hammer price higher than $10,000.
I attended pretty much all of the sessions that contained "mainstream" numismatic material (ie items that we handle anyway), so rather than dissecting the statistics of the prices realised data, I'll fill you in on how I saw each session went down.
As always, the early sessions on Tuesday included lots down the lower end of the value scale - bulk lots of Commonwealth and decimal coins, as well as cheaper individual lots. These sessions are where the bargain hunters, dedicated collectors and die-hard dealers get stuck into it, and these sessions were certainly no less competitive than they have been at any other time in recent history.
As an indication of the level of demand that is out there in this level of the market, Lot 337 - described as "ELIZABETH II, proof set, 1966 in sealed 1969 case. Some light toning and spotting, five cents rotated 45 degrees, otherwise FDC and rare.", made a hammer price of $2,600. This for an item that has a catalogue value of "just" $750! This is one of just four such sets presented to RAM staff, clearly a few collectors thought it to be far more valuable than than the current McDonald price indicates. With Goose dollars now making the better part of $2,000 apiece, they're probably correct.
The rest of the early sessions couldn't be described as a totally buyers market (unfortunately for those of us with cash that attended!), yes there were a number of lots passed in, however a good percentage did sell, and as the above example illustrates, where items were perceived by bidders to be undervalued, they made their mark accordingly. The Tuesday evening session is traditionally when the higher value individual Australia coin lots were offered. Looking through my catalogue now, here's what I'd say about the prices and sell through rate:
The proclamation / colonial coins were active as always;
None of the three Holey dollars got away, although admittedly they couldn't be counted as being among the finest known;
Two of the three dumps up for sale sold for less than their estimate;
The gold sovereigns and half sovereigns were quiet - many coins were passed in, and there weren't too many that attracted spirited bidding. While this level of activity may seem to be at odds with the surging demand for physical gold bullion and coins around the world, let's not forget that most collectors active these days are being very conservative when it comes to grade and price. The consequence of this focused demand is that off or sub-grade material is only selling if it's really cheap, and further that any coins that look to have a price higher than their "fair" market value at present, are being left well alone.
The pre-decimal proof coins included in this sale were relatively quiet - there were at least two top quality coins here that sold cheaply, and that price couldn't be explained away by the coins being impaired or out of favour etc. it is a function of the market we're in at the moment that prices are volatile - not always high or low, but volatile depending on the number of buyers in the market on any particular day.
Certain sections of the Commonwealth coins were slightly quieter than they have been in the past. Relatively low grade 1923 halfpennies and 1922/1 overdate threepences made lower prices than they have in recent times, anyone that picked one up will surely be pleased with themselves as a result. There probably wasn't the range of top quality Commonwealth coins in this session to test the upper end of the market, so there was no real indicator there.
The Thursday evening session is traditionally when the higher value Australian single banknote lots are offered - this session began with the Pre-Federation or private issues. Perhaps as expected, the bank share certificates, shinplasters and pre-fed notes were all rather quiet, the clearance rate was rather low and the items that did sell went to buyers that surely would've been delighted with the prices paid. The pre-decimal notes were also fairly hard going (I'm saying this like it's a bad thing! Like life should be easy and items should always automatically sell, no matter what they are!), however there were definite pockets of value for those in the room that viewed the notes and were ready with cash to spend. Some of the higher value notes did indeed sell - the R64 £20 in EF (a true rarity at any stage of the market) made just shy of $140k nett, while the R67c £50 made in excess of $110k. Items of that value don't change hands unless the buyers see real value and a future in the market, which is an excellent sign.
The decimal specimen notes were true to recent form and stayed with their current owners, markedly different to the star replacement notes, both decimal and pre-decimal. Although the prices may not have been at levels the vendors would have been delighted with, the clearance rate for these notes was pretty good all things considered.
Which brings the Australian numismatic event calendar for 2011 to a close - not quite an Annus Horribilus by any means, but we probably didn't set any records at the same time. This should be hardly surprising when we have retail doyens such as Gerry Harvey saying regarding their business that "It's extremely difficult.'' Numismatics is a unique product area within Australian retail, however it isn't immune to market forces that affect consumer spending. I believe there are a number of great opportunities that will emerge in 2012 though, we'll cover them in our end of year review, posted online in a few weeks time.
---
---