Noble Numismatics Rare Coin Auction 91 - A Few Duplicates?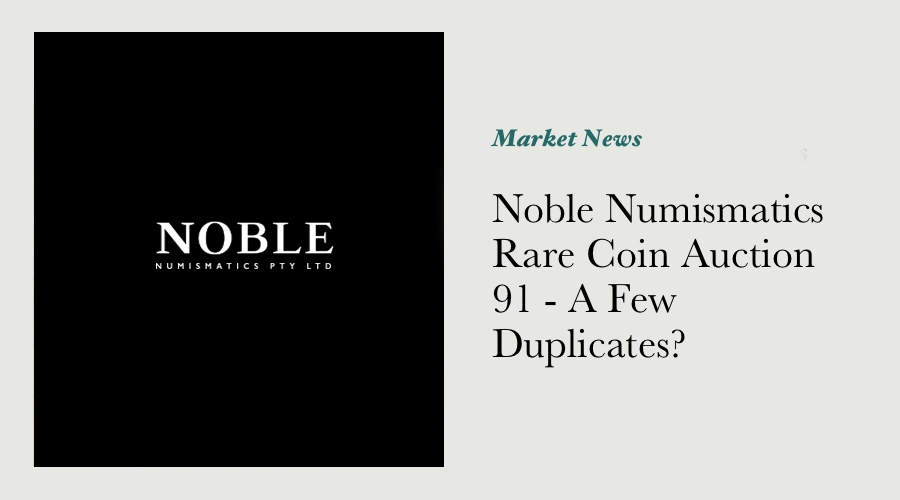 The chilling winter weather in Melbourne will be raised a few degrees next week when Noble Numismatics Sale 90 kicks off on Tuesday. Three days chock solid of rare coins, banknotes and related material go under the hammer - an overall pre-sale estimate hasn't been published, but judging by some of the material there it'd have to number a few million dollars at least!
With their network of contacts deep in each of the numismatic societies around the nation, as well as with major dealers right across the world, Noble's is always able to offer a good range of real numismatic material that other auction houses don't often see. This sale includes the best range of decimal error / variety coins that's been seen for some time, including coins struck on the wrong planchet (ever seen a fifty cent design on a planchet the size of a twenty cent?), as well as many, many more.
Just how these coins came into existence is a really good question to consider, but as with similar coins around the globe, despite any questions that there may be over their creation, they are now a well established part of the Australian numismatic scene. Production of most of the more spectacular error / variety coins available to collectors today seems to have taken place between the mid 1970's and the early 1980's, very few coins have been seen dated later than that.
The recent publicity surrounding the Australian pattern Swan dollar of 1967 seems to have had an impact on demand for the coin, which is just as well because there are no less than 7 examples in this sale! It will be interesting to see what this injection of supply does to satiate demand for this hugely popular decimal collectible.
The usual range of mid-grade gold sovereigns, half sovereigns and Commonwealth coins is present in this sale - judging by the descriptions and images, it looks like one large collection of Commonwealth copper coins has been cleaned by an apparently enthusiastic but misguided previous owner! I haven't seen the coins myself yet, but if the coins were mint state to begin with and have since been cleaned with either an abrasive or mild acid, then I shudder to think how much value has been sliced off....
After a good run of proclamation coins (including a Brazilian Johanna that seems to be graded quite highly), there are the gold sovereigns and halves. This section is capped by a Type Ib Adelaide Pound (one of perhaps 50 in existence), as well as an 1855 half sovereign in superior condition. There seems to be a near-complete run of Young Head sovereigns in mint state (it is unfortunately missing the key to the series - the 1871 Sydney), which will give those that missed out at the Quartermaster collection something to aim for.
It is the predecimal proof section of the Tuesday evening session that holds the most interest for me - it includes a number of coins that have previously been held by the Museum of Victoria (MOV), coins which in turn originally came from the Royal Mint at Melbourne. While we shouldn't consider it as being too unusual for a public collection such as that held by the MOV to divest superfluous or duplicate items from their collection, or perhaps items that no longer serve a useful purpose, such a move does at least raise an eyebrow when that public collection is the sole repository of all known examples of a particular rare coin!
The 1945 Melbourne penny never actually made it into production - the plan was that all pennies for 1945 were to be struck at the Perth Mint using dies supplied by the Melbourne Mint. When Melbourne Mint staff went to strike the dies for the Perth Mint using the original master tools from 1937, they found that they were worn beyond repair. The Melbourne Mint staff then undertook to produce new master tools, and the four 1945 Melbourne pattern pennies held by the Melbourne Mint (and then the MOV) were struck during this process.
The first of the four 1945 Melbourne Pattern pennies to be divested from the MOV archives was sold in July of 1988, and it traded again via auction in November 2006. As the offering of this most recent example to the mix effectively doubles the population of the 1945 Melbourne Pattern penny available to collectors, we could forgive the purchaser from November 2006 if they aren't overjoyed to hear of a second example being released. It does appear however that a line has been drawn under the situation, if the comment in the auction catalogue that "The Museum will be retaining two examples" is to be taken literally.
In addition to the 1945 Melbourne Pattern penny, the MOV has also chosen to divest a small number of other rare pre-decimal proofs and patterns, all listed in the same session.
High prices have been reached for several key date shilligns in high grade in recent months, notably the 1921 star and 1933 shillings. Collectors appear to have taken note of these results, and have accordingly consigned two more apparently attractive examples to this sale.
The sale is (again!) rounded out by an impressive array of Australian banknotes - decimal, predecimal and otherwise. There is a small selection of decimal varieties and errors, many rare pre-decimal notes in a range of grades, as well as a number of star replacement notes (decimal and pre-decimal), and another small number of extremely rare polymer specimen notes. After the bargains that were available at the previous Noble auction in Sydney earlier this year, it will be interesting to see how many well-heeled banknote collectors pay heed to those missed opportunties and attend this sale!
---
---