Noble Numismatics Sale 89 - $5.03m in Just 4 Days!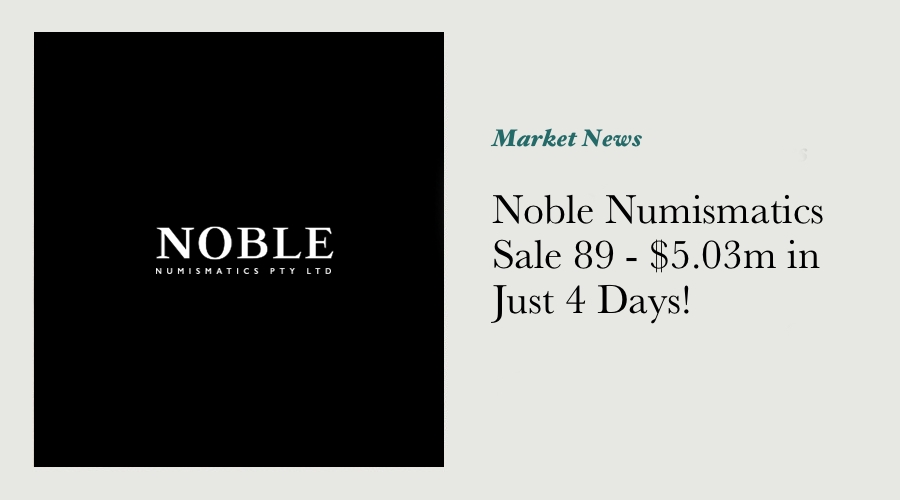 Doomsayers sweating on a poor result at the last major numismatic auction of the year will have to be disappointed - the Noble Numismatics auction 89 turned over a total of $5.03 million in just 4 short days!
No doubt however, the current economic climate has had an impact on certain sections of the market, however at the same time, key sections of the market remain rock solid.
Let's get the "bad" news out of the way - the price action made by the Holey Dollars, Dumps and Adelaide Pounds wasn't solid, nor were the Kookaburra pennies, 1930 pennies nor 1923 halfpennies.
Holey Dollars had a screaming run up in value a while back, so it is hardly surprising that a sale that had some 4 examples in it at a time of economic uncertainty should feature some price volatility. The Type I Adelaide Pound that got away in this sale made a figure significantly less than it could otherwise have if there had been more buyers with ready funds available, while the lesser of the two examples was passed in.
The sale included a significant deceased estate that had no less than five Type 12 Kookaburra pattern pennies included in it, which is a completely unpredecented amount of supply to come onto the market at any one time - this figure is slightly less than an entire year's supply of all types in years gone by. Although one might expect that an aberration in supply such as this might cause prices to be down on those made even earlier in the year, that wasn't necessarily the case. They are down some 20% on figures made late last year, however they don't seem to have slipped a great deal since earlier this year.
Proof gold coins (sovereigns and half sovereigns) are regarded by many collectors to be the true pinnacle of Australian numismatics - ultra rare, stunning beauty when in original condition, and often with a provenance tied to some of the leading figures in Australian numismatics. The prices realized for the few proof gold coins in this sale were solid indeed - either at or within 10-15% of current catalogue values! This is a solid result in any phase of the economic cycle, let alone in a time such as this.
Better quality examples of key dates in the Commonwealth coin series made strong figures indeed - some record prices were seen, particularly for a number of spectacular shillings whose equiuvalent hasn't been sighted for a number of years. There were some strong results in the florins also, showing that experienced collectors have full confidence in owning a truly rare slice of Australian numismatic history.
There were half a dozen 1930 pennies in this sale, and although that is a highly unusual event for Kookaburra pennies, it isn't the case for Australia's most popular rare coin. Just three of the six had found a new home at the time of this article being published however - two of them sold perhaps because the buyers anticipated that the condition of the coins was significantly higher than was in fact the case, while the 3rd and lesser coin made a figure in line with the reduced levels that have been seen in the past six months or so for standard coins.
There were a number of 1923 halfpennies in this sale, in the usual grade range of between VG and G VF. While a good number of the coins were passed in, the examples that did sell made prices well below recent catalogue values.
Present activity in the banknote market is showing me that any collectors that remain active at the moment will have the opportunity to make some great inroads into their collection at a time when a lot of other buyers are sitting on their hands. We're seeing prices for most items fall away to levels of a few years ago, and a lot of buyers seem to be waiting for a floor to be established before they make a pass at an item of interest. The polymer specimen notes that were included in this sale all sold, however prices they made were significantly lower than expected, particularly given recent catalogue values.
A fair question at the moment seems to be - just when will the bottom hit? Often such a question can only be answered with the benefit of hindsight - we won't see that the market has bottomed out until prices rise, and while in the midst of a much vaunted "financial crisis", we can often delude ourselves into thinking that the first few signs of recovery are in fact just aberrations of judgement by inexperienced players a declining market. Will this sale be the nadir of the near term? We'll see next year.
---
---