October Auction Roundup - Roxbury's, Downie's and Status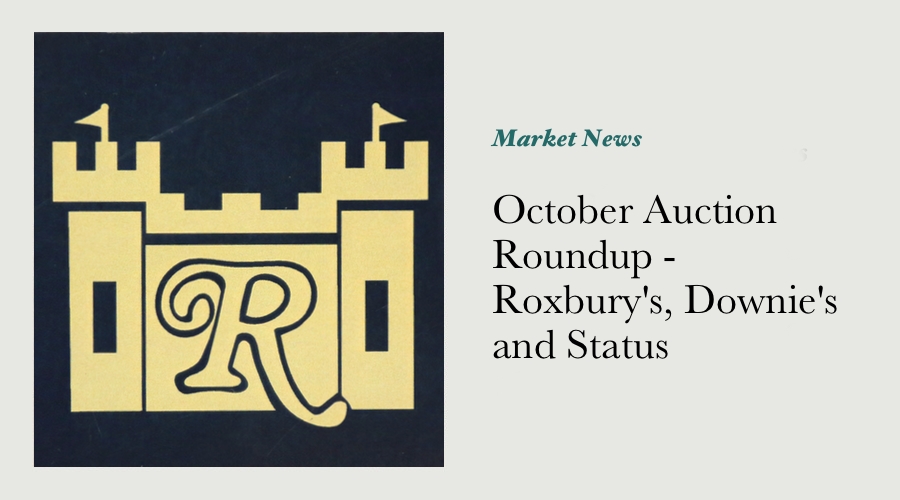 There's always something of a flood of auction activity this time of year - for one reason or another a number of auction houses find it convenient to have their last hurrah for the year in October.
Roxbury's Sale #76 took place last Sunday (October 10th), and although I didn't attend the sale personally, I understand that the clearance rate and activity was in line with similar sales this year. The prices realised document shows that a very healthy majority of the items listed sold, although things look to have got a bit patchy when it came to certain sections. Banknotes again proved to be tough going for vendors, of relatively readily available common material (either by type or by way of condition), and even in the upper end of the note market there look to have been some great buys to be had.
The next Downie's auction will be held in Melbourne between October 27th and 29th, and there seem to be a few bits and pieces scattered throughout that will prove to be of interest to buyers in most segments of the market. The decimal section includes a scarce 1966 Wavy Baseline 20¢ coin in nice grade (an emerging decimal rarity for those that aren't familiar with them), as well as a misstruck 5/- token from the Hay Internment Camp. These items have also been running hot lately, it'll be interesting to see what this one makes.
The Downie sale also includes no less than 114 indiviudal lots of pre-decimal proof coins and sets from the QEII period. Downie's have long been active in this area of the market through their excellent direct mail catalogues, so it will be interesting to see how well this (unusually large) number of items is absorbed by the market. I'd suggest that this number of sets in one sale could be equivalent to around 3-6 months of "normal" supply. We dont' know what state the coins are in as yet, and if they are impaired in any way, then that'll go some way to explaining why prices may be soft. If they are top quality, then now could be a good time to pick a few choice sets / pairs up and get them slabbed - I find that there is quite a liquid market for QEII proofs that've been encapsulated and independently graded.
If you have any money left over from that session, there are no less than 14 1923 halfpennies to choose from, and as much as some folks might like to disagree, it isn't unusual to see so many examples of this date in a single auction. Following on from them, there are some attractive looking copper coins from the KGV period up for sale, as well as a range of KGV silver in nice grade, albeit nothing overly rare.
The note on the cover of the next Status International auction (to be held in their rooms in Sydney on Friday October 23rd), is something of a find - it is apparently "the only known example in private hands & perhaps the only known specimen in existence. Recently discovered in a cigarette tin which has insured that this has preserved the note in a remarkable condition for its era." It is a one pound note from the Union Bank of Australia, and has something of a story behind it.
Wrights have again made available a series of coins from the Dutch wrecks off the coast of WA, and their usual broad offering of proclamation and colonial coins. There are several scarcer dates in the KGV penny series included, as well as a historic and attractive R1c - one of the very first ten shilling notes printed under the young Commonwealth Government of Australia back in 1913.
A river of modern issues is included as well, so many world coins & notes, tokens and other bits and pieces one could very easily get lost in the catalogue for a few hours!
---
---