Prices Realized for Downie's Auction 294 Are In - The Bargain of a Lifetime?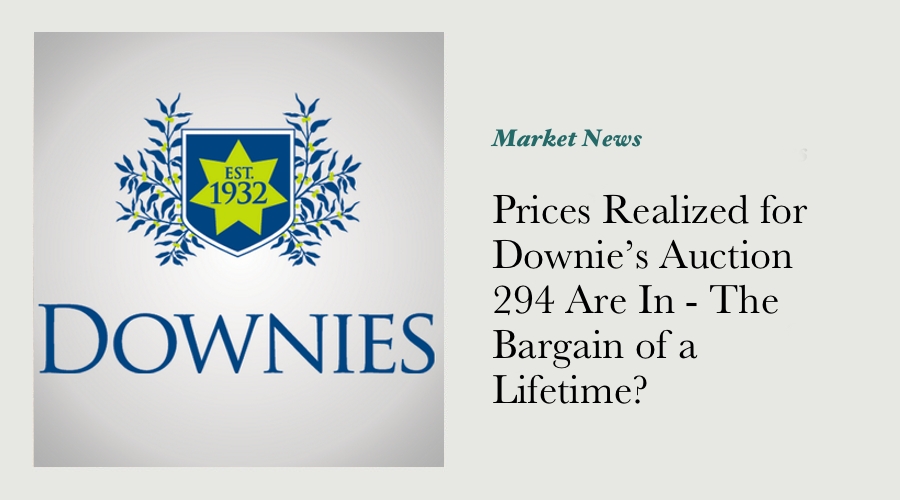 I came very close to (involuntarily) spitting a mouthful of hot Moccona Espresso all over my MacBook this morning when I started going through the prices realized for the Downie's auction (held Wednesday & Thursday this week). I'll recap the items I mentioned in last week's e-newsletter to give you an idea of how it went:
The Hay Internment tokens: The pick of this lot were the better 2/- and 5/-'s - the 2/- described as EF made $1,073 nett , disappointing to me since I sold a similar example @ the Perth show for around $700; the 5/- described as UNC made the better part of $5,800 nett (pretty much what they've been making lately);
Proclamation coins: the Ducats made 2-3 times their estimates, which is in line with current retail levels here in Oz;<br>
1855 Half Sovereign - This example had a decent dig on the reverse, yet still made $15,204 nett. Less than what the coins in the RBA sale made back in November '05, however this wasn't as good.;<br>
1882 M Half Sovereign - In last week's newsletter, I said this about lot 668: "IF it's UNC, it'll be a steal at the estimate." This is where my Moccona nearly ended up ruining my MacBook - it made $1,431 nett (against a $14,000 catalogue value in that grade! Just what happened here I'm not sure, the coin was either not as described or the heavens aligned for the lucky bidder! I got an excellent set of CD's on negotiation last year, and in it the presenter (Roger Dawson) made a comment about negotiating that I reckon is really relevant not only to this price, but to auctions in general. Roger stated that whenever a negotiator has their first offer accepted, they think two things (in this exact order): 1. I could've done better; 2. Something must be wrong here. Looking at this auction result, I don't know if the fortunate high bidder would be thinking the former, but I'm pretty sure they'd have the latter thought, even if only for a passing moment.
If an item goes cheaply at auction, does that mean that the item is: counterfeit / has damage not included in the description / possessed by an evil poltergeist? Not necessarily! Sometimes things sell cheaply at auction, for no reason other than the vendor's reserve was low, and there was little competition on that day, for that item in that grade. It doesn't (necessarily) mean the half sovereign market has crashed, or that the RBA's interest rate hikes have killed the rare coin market, it does mean that Andrew P. Crellin (for one!) should've got off his heimy and made the trip across to Melbourne to attend the Downie auction. I'm sure the successful bidder will be carefully assessing the coin to determine for themselves that the coin is indeed UNC, if it is then indeed it shows that you have to be in it to win it.
There's an offensive move in NFL (grid iron) called the "Hail Mary", where the quarterback tosses the ball (pretty much blindly) toward his wide receivers down the far end of the field, then prays like hell (to the Virgin Mary) that one of his guys catches it. Such a move has a low chance of success (almost never), and I reckon an auction result like this is just that - a Hail Mary - you see an item in a catalogue that looks ridiculously cheap, you spend a grand or so on air tickets etc to attend the auction, you wait patiently for the lot in question to come up, you bid, it goes for whatever it goes for. Is it normal for an item to sell at auction for a tenth of what it's worth? Hell no! But when it does, man is it sweet.
Some nice Jubilee & Veil sovereigns - These coins made pretty much prices as expected, I'm interested to see that some of the scarcer varieties of the Jubilees in good grade made strong prices;<br>
1931 Penny with Indian obverse and dropped 1 reverse - this coin is technically far rarer than a 1930 penny, and is one that's always sought by advanced Commonwealth coin collectors. This example looked to be VF for wear, possibly some light pitting on the reverse (going on the images alone). It made $5,962 nett, showing that hte "kooks" that look through tonnes of pennies looking for varieties may not be so silly after all; <br>
1922/1 overdate 3d - There were 3 examples in this sale, the better one made $16,100 pretty much, which is right in line with what it's worth (I believe anyway). The example that had been pretty badly cut went cheaply, but was a space filler only;
CH UNC 1910 2/-: at around $3,600 nett, this results shows just how keen collectors of premium Commonwealth coins are on nice type coins.
Treasury series (Cerutty Collins) £5 notes - the examples in this sale weren't great, but they did make prices pretty much in line with the current catalogue.
So there we have it, that was an auction! Some prices were high, some were low, the rest were in between. That's an auction.
---
---