Roxbury 100 Review and Downie 327 Preview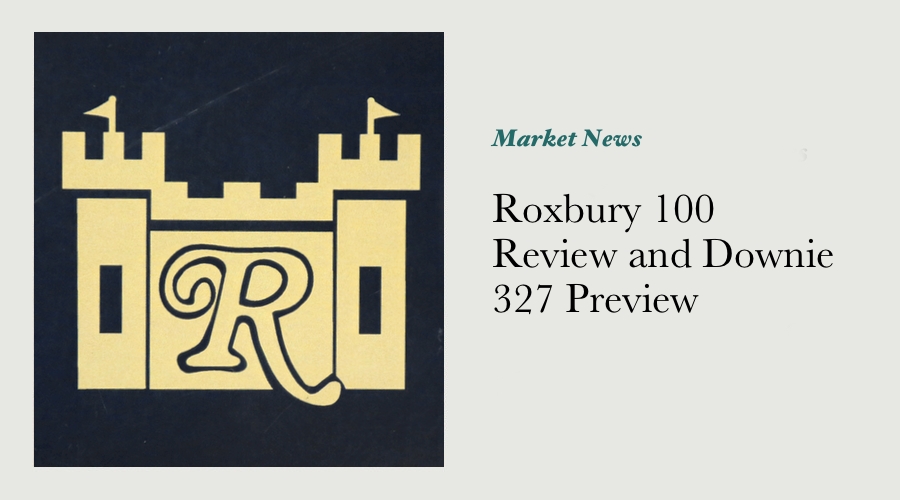 It's now been a few weeks since Roxbury's racked up their 100th auction, and I expect the phones will have been ringing there with post-auction sales to disappointed bidders who missed out on their initial bids.
The published (preliminary) prices realised show that, at the time that the last lot had been knocked down, turnover was just a few dollars short of $600,000. The tale of the tape for this auction is as follows:
| | |
| --- | --- |
| Total Turnover | $596,470.20 |
| Total Lots Offered | 1847 |
| Total Lots Sold | 1130 |
| Clearance Rate | 61.18% |
| Average Lot Value | $432.66 |
| # of Lots Sold above $10k | 8 |
As is often the case for a Roxbury's sale, the room was well-populated when the sale started, and as it continued throughout the day. The first major lot for the day was the Bell & Gardner penny token in good VF condition that was knocked down for around estimate. This is the second example of this rare and desirable Queensland token that has been offered so far this year, this was better quality than the example Noble had just a few weeks earlier.
There was a good range of predecimal mint rolls included in this sale, and although they've been very keenly chased in years past, they didn't bring mad prices this time round. The clearance rate was solid, however the prices weren't out of this world.
Just 3 of the 8 1923 halfpennies that were offered in this sale got away, which reflects just what the market is like for these coins at the moment. Buyers are able to pick and choose what they want at present, so we can conclude that if a 1923 halfpenny isn't priced right at the moment, it won't get away. The clearance rate for the rest of the pre-decimal coin session wasn't flash at all, however there wasn't a great deal of shock about that in the room I have to say. The most keenly contested coin was a solid 1915-H florin that was contested.
If the pre-decimal coins were hard work, the pre-decimal proofs were exponentially tougher. Of the 52 individual lots offered (some containing multiple coins mind you), just 18 sold. This shows that buyers of these coins are really demanding value at present - it surprises me just how much gas has come out of this market in recent months. Even problem-free and PCGS-graded coins are finding it hard to command the same money at auction that they were bringing just 6-12 months ago. To put this in perspective, a really attractive (raw) 1955 Perth copper pair made just $5,000 hammer. The errors and decimal varieties were popular as expected, however not crazy as they sometimes are.
Moving into the foreign coins and notes, the key item was the proof 1826 crown that was on the cover - it made $12,200 nett against a $12,000 estimate. A rare Staits Settlements $50 note from 1925 made $15,616 nett against a $6,000 estimate. The holder this note was in showed that it came from an ex Rare Coin Company vendor, so we can only hope they didn't pay too much for it.
The Australian gold coins were rather quiet. I know a lot of collectors that are active in this segment of the market, and I know they're keen to get new coins, however if their specific requirements aren't met, they just ain't interested at all. That may explain the 30 odd % clearance rate for this section of the auction - the coins were either reserved higher than the market is prepared to pay, or the coins didn't have the original surfaces that buyers required if they're to pay a premium price. A few coins were chased however, which shows the market is still there if conditions are right.
The early evening session started off with two Type II Adelaide Pounds, only one of which got away to a new home. The price was within range for the current market for these coins, so no surprises there. The Australian proof and pattern coins were quiet also - I was disappointed the 1916 specimen set didn't get away, as it really is an attractive and historic set in great quality. There were 4 1930 pennies in this sale - each appeared to be estimated in line with the market, so I was surprised when only one of them found a new home on the night. The gold Swan dollar remained unsold by the end of the night, it seemed to be reserved just a little higher than the market was prepared to pay.
The paper and polymer notes that were offered next were quite active, however they certainly hit a wall when it came to the specimen notes. Of the 15 specimen notes offered on the night, only 1 sold. This is despite the reserves being at or below the recent range for similar notes, so it shows a lack of confidence on the part of those ready on the night. The pre-federation note section was extremely quiet - of the 16 pre-fed notes offered, just 5 sold (3 lots of those were for notes with a West Australian domicile I might add!). This is an incredibly tough area of the market to trade at the moment - values don't seem to be settling into any kind of a regular range anywhere at all. Notes that sell in Sydney or Brisbane don't sell in Melbourne, and vice versa. Bold buyers in the meantime will be able to get some great value for money if they take action where other buyers fear to tread.
The Australian pre-decimal notes were also rather quiet, but were more active earlier in the session. Just 67 of the 120 notes offered were sold on the night, which isn't a clearance rate anybody is particularly interested in. Long stretches of lots were passed in without interest being expressed, so it's clear that buyers were being picky here also. The star note section had some solid notes in it, however the price action didn't match the quality. Of the 12 notes offered, just 4 sold on the night.
That was largely it for Roxbury's 100th auction - good, bad and indifferent all at once. It'll be interesting to see if Downie's 327 is any different.
Downie 327 Preview
This auction opens with more than 1,000 individual lots of Australian decimal coins - that's more than half the total number of lots that are seen in some auctions, so should surely give decimal coin buyers something to sink their teeth into. There are a couple of scarcer items included that have enduring appeal, so I have no doubt wholesale and retail buyers will be active here. There does seem to be a good range of paper and polymer decimal notes included in the next section, however it'll be important to check just whether the quality of the lots offered matches their descriptions. The next section of real interest contains a few Hay Internment notes that look to be in acceptable condition, these will need viewing also.
The "serious" coin section is headlined by a 6-coin set of 1938 proof coins that are featured on the covers of the catalogue. They look great, however when I see attractive (and PCGS graded) coins passed in via other auction houses for modest sums, it doesn't give me confidence that a strong hammer price will be achieved. It will be interesting to see how the 60-odd QEII proof lots fare after the disinterest exhibited in Brisbane.
Although there are several hundred Commonwealth coins included in this sale, there doesn't seem to be anything spectacular included if the images, grades and estimates are any guide. Regarding the pre-decimal notes listed, if the grades, images and estimates are any guide, some active bidding should ensue. Just whether the notes match up with buyer expectations remains to be seen however.
Downie 327 doesn't look to be a record-setter from what I can see, however some detective work by bidders that view and attend is sure to pay dividends.
---
---