Roxbury Sale 72 - No Worries Here Yet!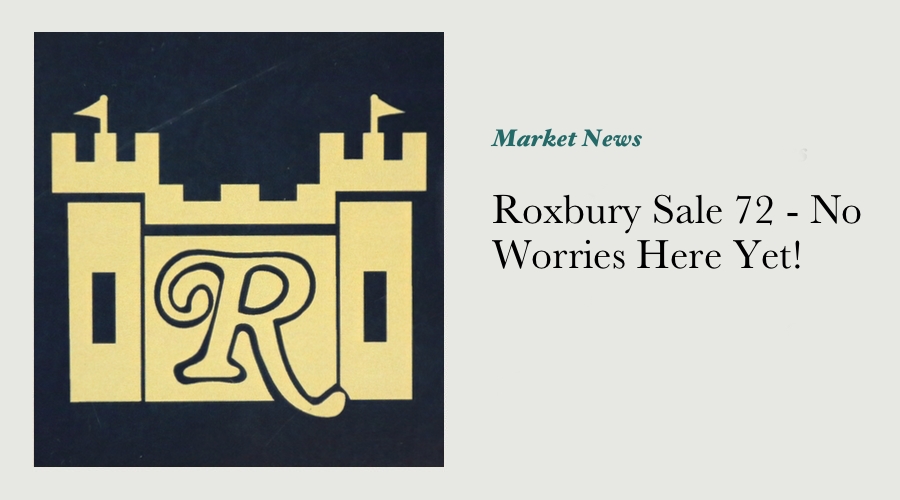 I checked the prices realized for the Roxbury sale over the weekend, and although the clearance rate wasn't quite as high as most auctions have been in recent times, the results overall weren't bad at all. (Considering the number of people that are freaking out about what's going on in the financial markets at the moment!)
Running from the front cover to the back, I noticed that the garden variety circulated penny sets all sold, and at prices that compare pretty favourably to retail sales as well I might add. The 1915 halfpenny in Choice Unc made $12,400 hammer ($14,750 nett), which is a very solid price indeed. This is a truly premium example of one of the key dates to the entire pre-decimal series, so for it to make such a strong price it shows that dedicated collectors are still prepared to shell out good wedge for top coins when they turn up.
1923 halfpennies in mid grade (ie VG - AVF) seemed soft, which is as they have been for some time now. This coin had a real strong up there a few years back, they put on some major gains in a short period of time, and now they seem to be consolidating to a level where the only buyers after them are bargain hunters.
I noticed that one of my favourite coins (the 1922 Indian obverse penny - struck at the Perth Mint!) made an incredible price at this sale. The coin was described as being in A UNC condition and had a $6,800 reserve - it made a staggering $7,050 nett! Not bad for a coin that catalogues at $450. Even if you consider that the Indian obverse is far rarer than the London obverse (I'd say the ratio is probably between 2 and 4 to 1), it's still a very strong result.
The 1915 threepence in premium grade sold well, as did the 1922 overdate threepences. This is another coin that screamed up a while back, but the auction results show it seems to be holding up well. Melbourne Centenary florins in all grades are still solid, and the prices of the decimal errors & varieties were very strong indeed. From what I can see there are a number of collectors now that have the confidence to buy these coins regularly, whereas they were probably seen as being kooky curiosities a few years ago. (Well by more folks than regard them that way now!)
The pattern goose dollars from 1967, struck by the Australian Coin Review magazine as part of a competition are still popular with collectors. At $730, that's well above the current catalogue value attributed by Renniks.
There was an 1856 half soveriegn listed in the sale, noted as being ex Noble Numismatics November 1978. The catalogue stated that it had the Type I head, which was correct, but the real reason the coin made such a strong price was the fact that it had the unusual reverse design. (This is the one that has a smaller base to the laural wreaths etc, it's now listed in the McDonald price guide). I've only handled one of these coins myself, and have heard of maybe 4 examples all up - this one had to be the finest known, as far as I'm aware anyway.
The 5/- token from the Hay Internment Camps was listed as UNC, and made $8,460 including the buyer's premium. This series is very popular with banana benders for some reason, they always sell well north of the border. (I'm going to get emails about that one!) Hay wasn't in QLD as far as I'm aware, but they sure do buy them up in QLD.
As in previous sales, notes were not as strong as the coins, particularly for those items in mid grade - the buyers in the market are chasing stuff only if it's real cheap. Although the clearance rate was well down for this sale, overall it was a pretty good result.
---
---