STATUS INTERNATIONAL # 246 - STACKS TO CHOOSE FROM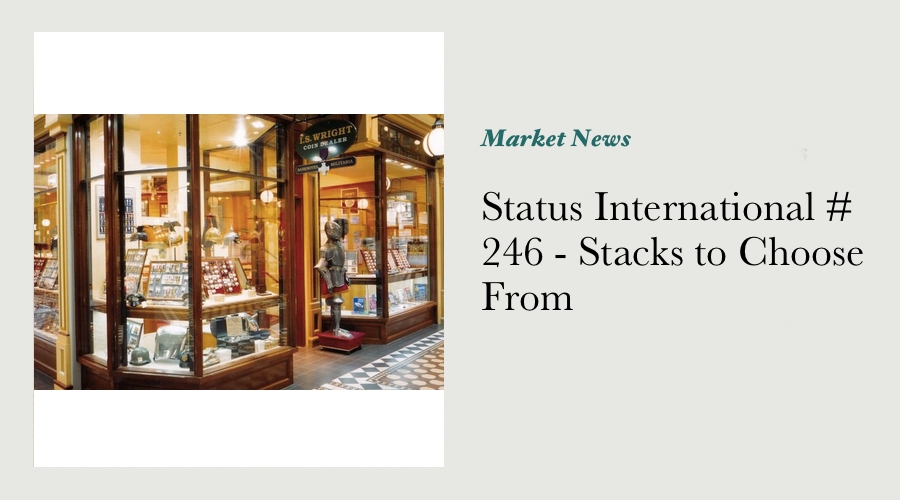 Although I haven't booked my tickets yet, I'll be in Sydney next week for the Status International auction. Attending one of these sales really is an experience - Status won't win any prizes for the opulence of their surroundings, but they sure do get some great material in through their doors, a lot of it is stuff that is hard to find elsewhere! Most of the folks that attend are either dealers or die hards for their hobby, and couldn't care less if an auction were held in a disused lavatory, but let's not give Stewart any ideas!
There is so much material in this sale that they've brought the start time forward by 2 hours, and given the auctioneer does no less than 600 lots per hour, that's a lot of extra lots! (Yes, I did say 600 lots per hour - do the math and you'll appreciate why some folks would rather leave attending auctions to the experts!)
Status International were probably one of the first auctioneers in recent times to really lay on a comprehensive section of colonial era coins, and this sale is no exception. Close to 100 lots are included in this sale, somewhat more than in Governor King's proclamation of 1800, but not one of those coins is without a strong relationship to colonial Australia. The gold section kicks off with a top grade Type II Adelaide Pound, I look forward to seeing that lot. A number of other rare sovereign & half soveriegns are included, so make sure you look this section over if that's your area of interest.
Status has been able to achieve some incredible prices for top quality Commonwealth coins in recent months, and there are a range of coins in this sale that could reach the same dizzying heights. There are a few dates that I haven't seen in the grades advertised for some years - let's see how they pan out! They always seem to be able to get a very strong selection of tokens in their sales, there are a few truly rare varieties in this sale as well. The UNC Hay Internment 5/- has a reasonable estimate, one that I believe will be bettered rather easily.
The banknote section includes a wide range of notes that look to be an excellent buy, and when you consider that everything sold through Status is "on the market" at the low estimate, some real bargains could be had here. The Type I specimen note set is one that (despite it's inevitable 6 figure price) is well worth the money, given that it includes a range of notes that are always keenly sought as individual items. I'm also intrigued to see the R11 with the "million" serials - this hasn't been sighted before as far as I'm aware.
There's an abundance of ancient, world coins and then world notes to boot - I can see I'll be straight into all this as soon as I'm off the redeye!
---
---