The Dauer Collection of Australian Banknotes Auctioned by Heritage Auction Galleries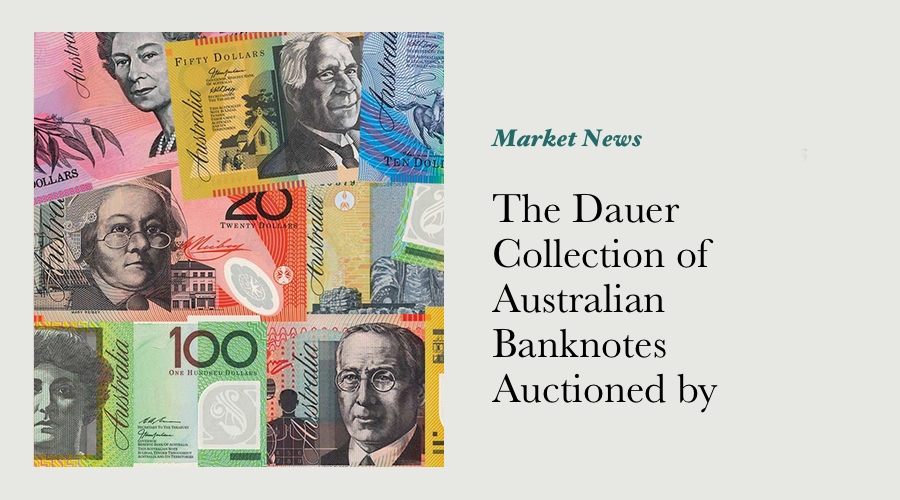 The Dauer Collection of Australian Banknotes was finally put to auction this week in the United States - I say finally as several prior attempts to move the collection en bloc had been made over the past 5 years or so, without apparent success.
This collection is well-known to collectors that have been active for some time, as it was the subject of a superb book on Australia's currency history - "Australian History (1901 To 2001) As Seen Through Banknotes", by Dr Joanne and Dr Edward Dauer - an American couple that had travelled to Australia numerous times for their annual holidays, and who had taken to collecting our currency notes as a way of keeping in touch with Australia while at home.
Self-published in conjunction with John Pettit in 2007, their book is (in my opinion at least) easily one of the finest books published on any Australian numismatic subject. It is well-researched, is superbly designed and illustrated, and features a wide range of rare, historic and beautiful notes.
It was incredibly hard to obtain for several years after it was released, however with the major upheavals that took place across 2012 and 2013, the standing ask price switched from around $225 per copy to about $35 per copy.
Despite that adjustment in value, the auction of this collection has been keenly anticipated for some years. It is interesting that the Dauer's chose to exit their collection via Heritage Auction Galleries in their Long Beach auction held in Los Angeles just this week (September 2018). Heritage Auction Galleries is unequivocally the leading auction house for numismatic items in the world, their systems and processes are beyond compare, so as the Dauer's are from the USA themselves, it is not surprising they would choose their leading auction house to handle the sale of their collection.
Collectors are very ethnocentric however, in that they mainly collect items that relate to their own heritage. Although there are more than a few Aussies in Hollywood these days, Los Angeles remains a 15 hour flight away from the Eastern seaboard, which is where the vast majority of the buyers for these notes is located. Heritage has a fantastic website however, so one need not necessarily travel to the US if they wanted to bid - setting up an account and bidding with them online is a fairly straightforward process.
The currency variation between the USD and the AUD can be addressed by a simple mathematical calculation, so that again doesn't present a significant issue.
The main barrier to bidding on this collection in my opinion was the way the notes were presented. The catalogue was superb and entirely in line with Heritage's impeccable standards, however the notes had all been graded (independently) by PMG (Paper Money Guaranty), which is a quality standard that isn't easily translated into the adjectival system that collectors and dealers in Australia have used to date. One could of course quite easily argue that it is infinitely preferable to offer notes that have been independently-graded, in order to address any concerns that collectors might have buying an item sight-unseen from the other side of the world.
Until someone is able to publish a comprehensive explanation as to how the grading standard that PMG uses translates to the adjectival standard that prevails in Australia at present, I believe the take-up of independent grading of notes will take far longer to be widely adopted than the independent grading of coins took. The process by which coins and notes are graded is actually quite different - a collector can make their own determination of an independently-graded coin by examining it through the plastic "slab" that it is sealed in, however as banknotes need to be moved under a strong directional light in order to ascertain paper quality and the number of folds evident, and that just ain't possible with a note that's been sealed up in a plastic slab.
I've had some very limited experience in buying a few Australian notes that have been independently graded by either PCGS or PMG, and although I'm quite confident in my own ability the assess the notes that I handle, I haven't yet seen enough notes to definitively determine that a note graded as VF30 by PMG or PCGS would be accepted here as Fine, Very Fine or otherwise.
One long workaround to this challenge is to check the auction history for any notes being considered - Mick Vort Ronald's meticulous research in this area makes such research a lot easier than it would otherwise be, however I know there are very few collectors with the time and dedication to go to that extent in order to prepare for a sale such as this.
So it was in the face of those challenges that the Dauer collection was auctioned this week in the US! 158 lots were offered up, 118 sold for a clearance rate of 74.68%. As one might expect, the rarer and more expensive notes in the collection were "covered" to ensure they were not given away, however those notes were not all in the five or six figure price brackets. A number of the rarer but less valuable notes (KGVI stars as an example) were also covered.
The 5 most valuable notes in the Dauer collection by hammer price were:
| | | | | |
| --- | --- | --- | --- | --- |
| Item | Lot | USD Hammer | USD Nett | AUD Nett |
| 1924 £100 R69a VF30 | 27638 | $43,200 | $51,840 | $72,881 |
| 1918 £20 R65a EF40 | 27632 | $42,000 | $50,400 | $70,856 |
| 1924 £100 R69b VF30 | 27639 | $38,400 | $46,080 | $64,783 |
| 1925 £10 R55 CU64 | 27664 | $33,600 | $40,320 | $56,685 |
| 1923 £1 R22b VF30 | 27642 | $21,000 | $25,200 | $35,428 |
As the sale of the Dauer collection came hot on the heels of the sale of the Caldwell collection just a month or so ago, it is interesting to compare values between the two of them. Although the Dauer collection had been publicised extremely well via the History Through Banknotes book, the Caldwell collection clearly didn't suffer as a result:
| | | |
| --- | --- | --- |
| | Caldwell | Dauer |
| Total # of Notes Offered | 270 | 158 |
| Total # of Notes Sold | 232 | 118 |
| Clearance Rate | 85.93% | 74.68% |
| Total Value Sold | $1,819,290 | $891,165 |
| Average Lot Value | $7,842 | $7,552 |
A comparison of the two collections shows that whereas the Dauer collection contained notes dating between 1901 and 2006, whereas Caldwell had at least 68 lots that dated earlier than 1901. Not only was Caldwell clearly the more comprehensive of the two collections, the clearance rate and average lot value were both higher - hardly surprising given the location and circumstances of the Dauer sale.
It's been a very busy month for collectors of Australian notes - IAG's next sale in a few weeks time will be a perfect opportunity for those collectors that missed out to be on the lookout for the next opportunity.
---
---