The British penny made for Australia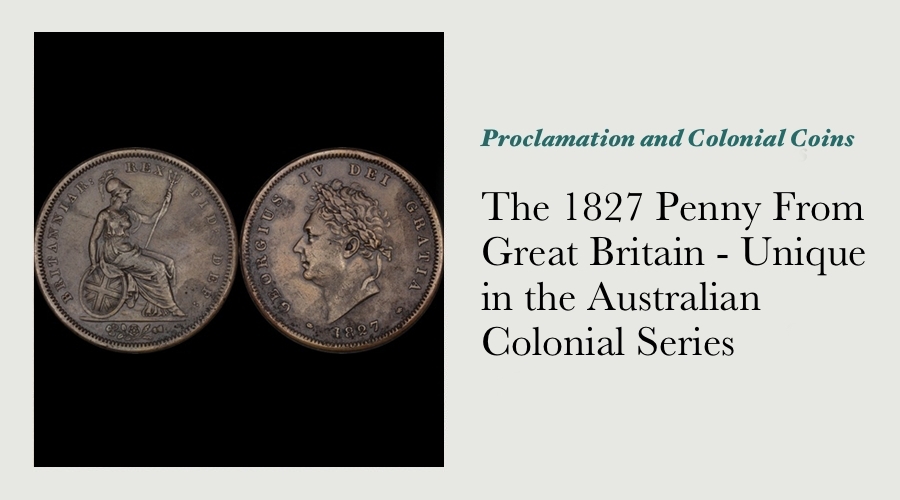 As someone that has been exposed to a reasonable number of coins on a daily basis for well over a decade now, it isn't often at all that a heavily worn penny registers as being of any import or interest at all.
The 1827 penny is a major exception to this rule however - not only is it one of the rarest British pennies issued in the 19th century, but it is unique among the British "token" (i.e. copper and silver) coinage series in that it is widely believed to have been solely struck for circulation in Australia.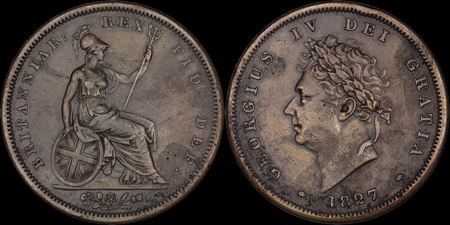 I strongly believe that the verbal provenance of a coin is as good as the paper it's written on, and for many years the attribution of Australia (Tasmania specifically) as being the sole outlet for the entire mintage of the 1827 penny was not confirmed by empirical evidence.
Wikpedia and Tony Clayton - the Best Available Evidence
The following comment on Wikipedia about the 1827 penny is in my experience, typical of the information circulated about this intriguing coin: "At the beginning of the Great Recoinage of 1816 only silver coins were produced. The copper penny was only minted in three years, 1825–7, and the minting of copper coins in 1825 was only authorised on 14 November of that year. The entire mintage consignment of 1827 pennies was allocated for despatch to Australia for the prison camps (Botany Bay Penal Colony). The shipment of coins (they were held in wooden crates) became badly corroded by salt water with literally only a handful surviving undamaged. Most suffered from corrosion and verdigris. It is because of this that the 1827 copper penny is extremely rare in mint state with only 2 known worldwide and yet nearly 1.5 million were struck."
Reading through that rendition of the coin's background, we can see that it falls a bit short of being as water-tight as we'd like it to be - it omits the obvious rider of "During the reign of King George IV..." before "The copper pennies were only minted...", and further there is no reference for any of the comments on wooden crates etc etc. Does this mean that the attribution is untrue? Probably not, but the attribution would be all the more powerful if there were written evidence confirming it.
The comment about there being only two examples known in mint state is intriguing, and is expanded further on this wikipedia page.
The reference most widely cited regarding this attribution is the website of the British numismatist Tony Clayton. No attribution there either, however this will provenance will probably remain unconfirmed until someone makes the time to visit the Royal Mint's archives to determine if any records remain in existence that are able to say either way what the distribution pattern for the 1827 penny was.
Tasmania via the British West Indies?
I've personally discussed the coin with David Rider - a very experienced expat British dealer now residing in South East QLD - although David believes that the entire mintage of the 1827 penny may well have been sent to Australia, but he believed that they may have circulated in the British West Indies (BWI) prior to doing so.
According to David (and I hope I'm being accurate with his account), the coins were shipped to the BWI, they circulated there for a period of time, and were then shipped to Tasmania. This explains the coins being mostly seen in heavily worn condition, as well as being corroded.
New Research by Roger McNeice
Recent (2014) research by Tasmanian numismatist Roger McNeice has contributed a great deal to our knowledge of the path that 1827 pennies took from the Royal Mint in London to Tasmania. On page page 25 of his book "Colonial Coins of Tasmania (1803 - 1876)", Roger includes the following research:
"In 1826 a shipment of copper coins, mainly pence, halfpence and farthings was sent to the colony and then on 1 May 1827, £2,000 in copper coins was despatched from the Royal Mint to shipping agent W. Lush for shipment to Van Diemen's Land. The shipment comprised of £900 in Pence, £735 in halfpence and £365 in Farthings. At 240 pence to the pound it amounted to 216,000 pennies. On 9 October 1827, the Transport ship 'Layton', John H. Luscombe, Commander (448 Tons) with 152 male prisoners from Portsmouth arrived at Hobart Town. The Colonial Times recorded "She brings £10,000 of British silver and £2,000 of copper and other stores for the Government here."
In the face of this growing evidence, I'd suggest that an 1827 penny is essential in any collection of Australian colonial coins.
---
---