Blood Money - Using Art and Australia's Banknotes to Kick Off Discussion of Indigenous Stories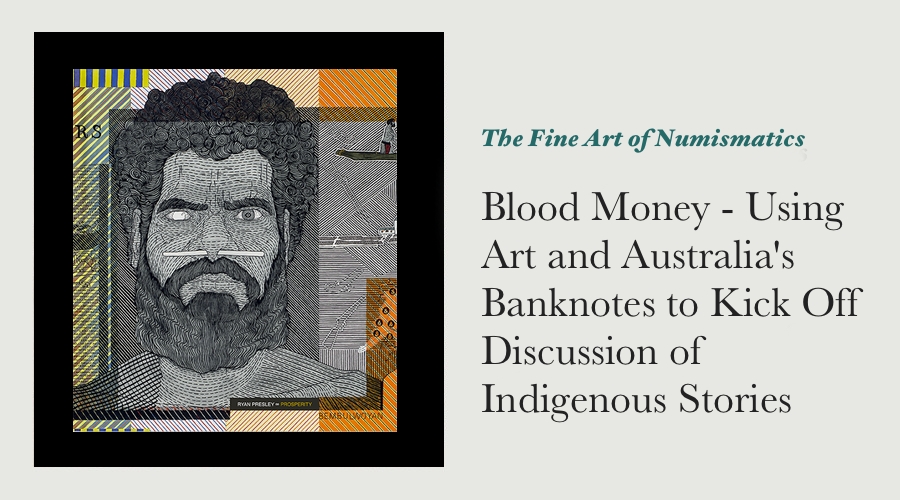 A few months ago (mid-2019 as I write this), I came across a series of social media posts about an event held in Sydney between January 21st and January 28th 2019 by a Brisbane artist and academic that used banknote designs and what I understand was an art installation at the Museum of Contemporary Art (smack bang on Sydney Harbour) where the public could exchange banknotes for limited edition $10, $20, $50 and $100 "Blood Money Dollar" prints.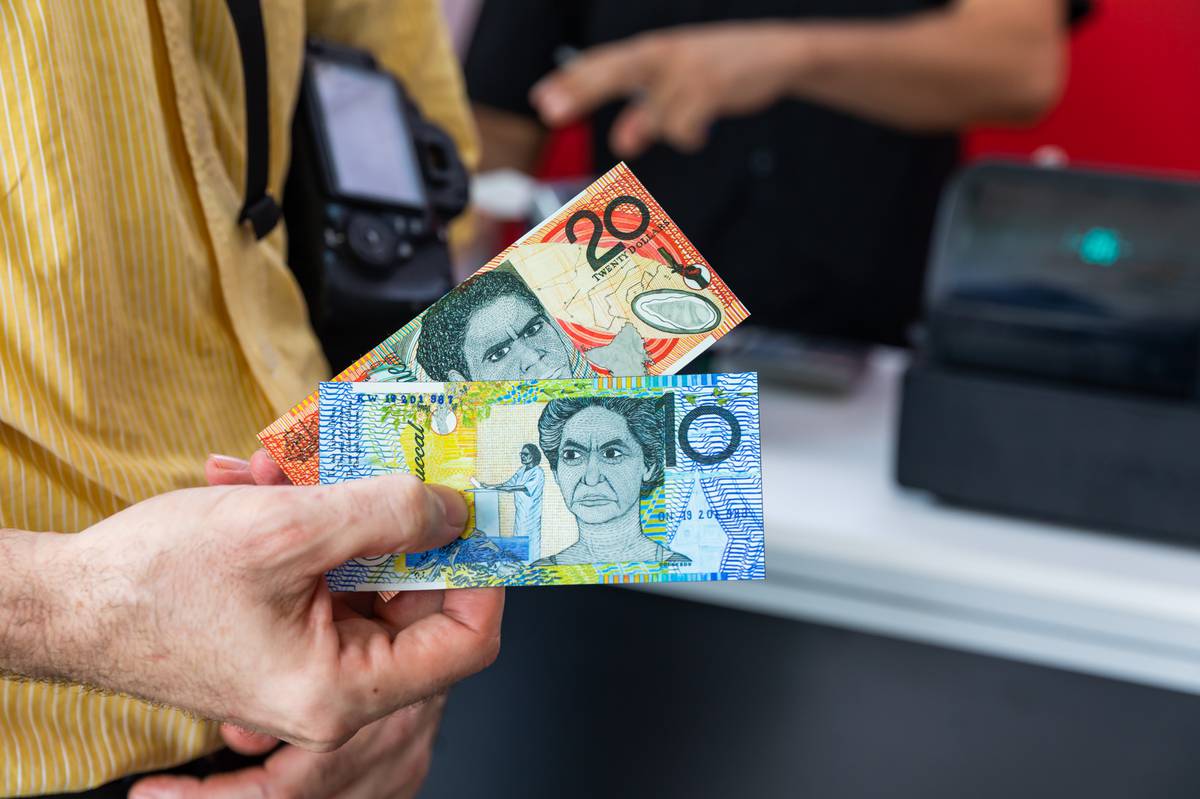 Ryan Presley - Blood Money
Image Source: Museum of Contemporary Art - Australia
I believe the whole idea of Presley's efforts behind this project can be summed up by this quote: "People take for granted having money in their pocket, but they don't think about what that represents."
For mine, Presley's project is literally another interpretation of images, art and subjects that many of us accept without question.
As a dedicated numismatist, I reckon Presley's project is a fantastic example of how currency (banknote designs in this case) acts as a medium of artistic expression. In Australia, that artistic expression is obviously primarily restricted by the Commonwealth Government to officially-sanctioned artists that have been subjected to a lengthy and rigorous process that ensures the resulting designs are squeaky clean and meet the social objectives that the government has for our currency.
If we think back to the social media sh*tstorm that erupted over the innovative designs used on the Next Generation $5 note when it was released in 2016, and the massive lather that the twitterati got into about the spelling mistake discovered on the NGB $50 earlier this year, we can appreciate just how much scrutiny our banknotes can be subject to.
Without even knowing one thing about the ideas behind Presley's project, his approach of using the basic structure of the designs seen on our circulating polymer notes to explore the impact that white settlement had on indigenous Australians generally, and a specific series of indigenous heroes and warriors specifically, immediately feels provocative and subversive.
Presley's series of artworks is titled "Blood Money", and has been published in a hard-covered book by the Institute of Modern Art in Brisbane. Not only does this book explore the themes behind the designs that Presley has chosen, but it also features four chapters by academics that cover a range of related subjects such as the role that money played in displacing Australia's indigenous population and strengthening the institutional power that white settlers and the colonial government assumed.
Other chapters discuss the role that money plays in society; and the nature of Australia's colonial economy.
Dealing as it does with subjects as visceral as displacement; subjugation and even genocide, Presley's art and related installation is clearly confronting without ever projecting blame or anger.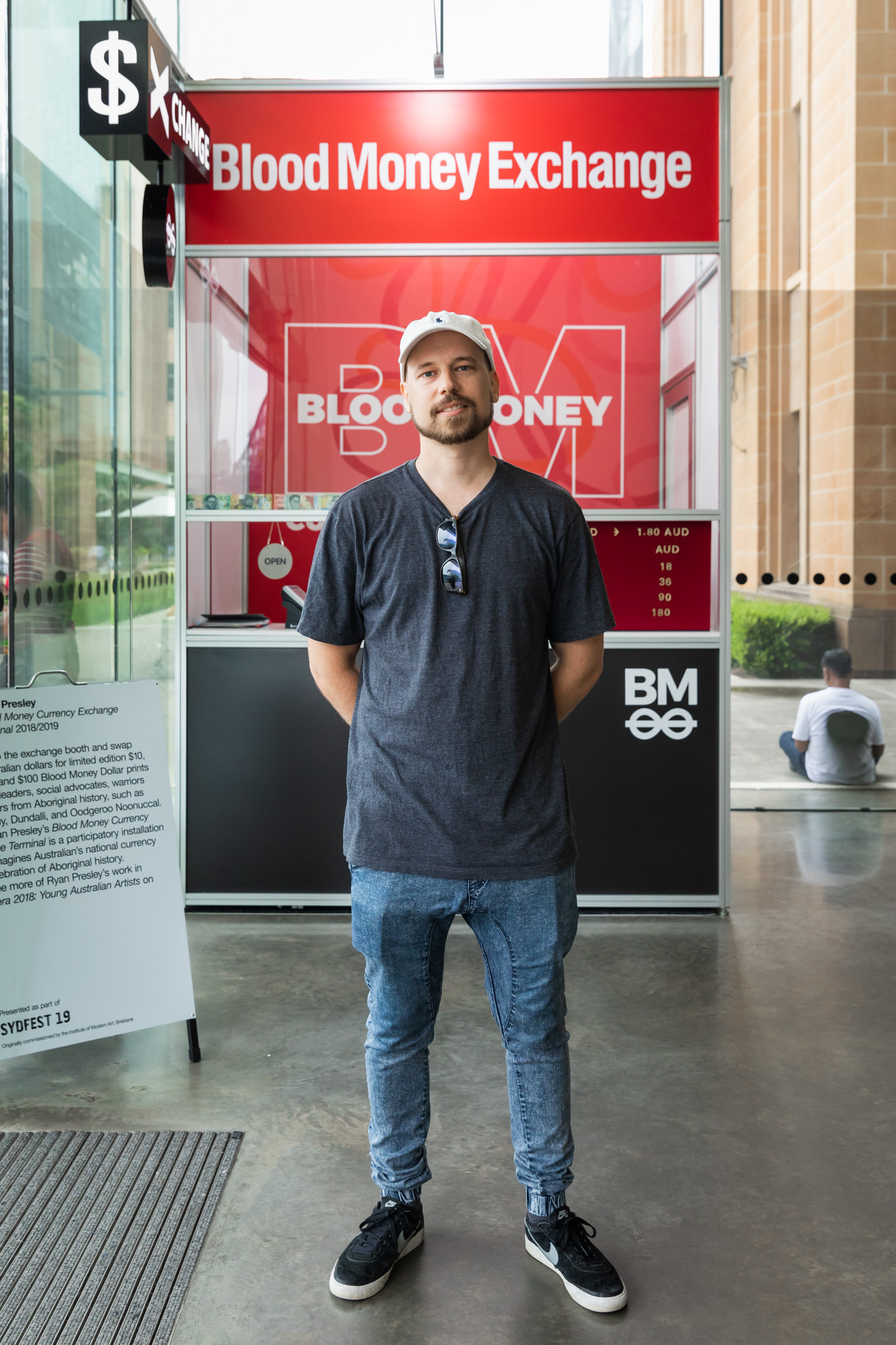 I believe any numismatist that has an interest in colonial coinage and currency notes, or even our current circulating banknotes will really enjoy the effort Presley has gone to in using his artwork to express the ideas he is looking to raise.
His attention to detail regarding the way in which our contemporary banknotes are designed is clear, as is his understanding of the mechanics of Australia's colonial economy, from the coins and notes that were used right through to the control over our circulating notes that the Commonwealth Government assumed following Federation.
I'd love to see the "Blood Money" installation at a future ANDA Money Expo, I believe it'd be a great way for us collectors to get an alternative view not only on the designs we see on the notes we use each day, but also the stories of Australia's colonisation.
The video below shows Ryan explaining his selection of one indigenous hero seen on his $20 note design, it is a truly impressive project.
Ryan Presley 'Blood Money' from UQ Art Museum on Vimeo.
---
---
---
Comments (1)
Indigenous and Colonial economies

By:

Ken Heffernan

on 29 December 2021

Nice article, although I should have commented a couple of years ago. Wonderful to hear of this artistic exploration of history, drawing on numismatic iconography. In a sense, early modern history is so strongly linked to currency, yet there was an almost universal refusal of Indigenous Australians in early-contact times to be drawn into an economy that failed to understand or respect their value systems. You are absolutely on the mark Andrew- this art would enrich any Australian coin show!
---
Leave a comment