INDEPENDENT GRADING - THE SILVER BULLET?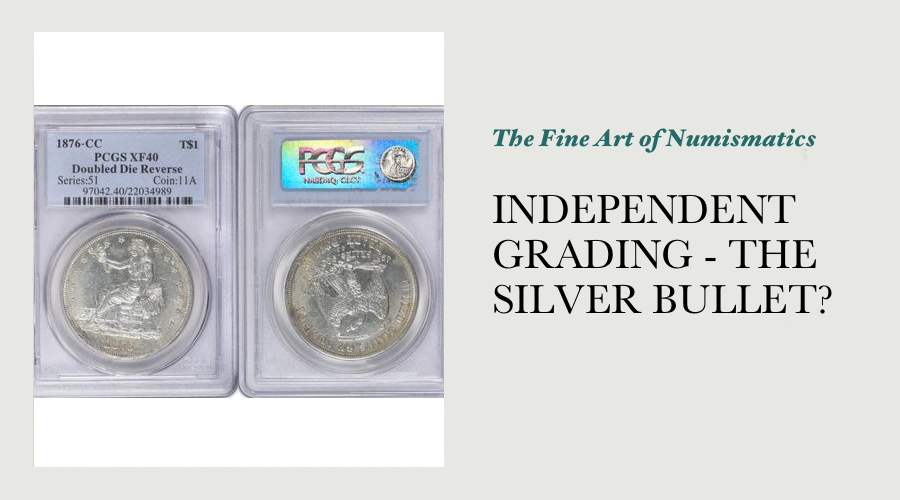 For those of you that aren't already aware of it, a growing number of people involved in Australian numismatics believe that grading is a major problem in the market for rare coins. Specifically, they believe that collectors should only buy coins that have been independently graded by PCGS - a large US company that will authenticate, attribute and grade a coin for a fee.
The book released by PCGS on the grading process is the single best book I've ever read about the subject of grading, and I believe that anyone that collects coins would do well to buy this book and study it. That doesn't mean however that I believe that PCGS grading will solve every problem that our industry faces. There are 3 stories that have broken in the past month that confirm this opinion:
1. Counterfeit slabs are being produced in China; (you better know how to pick the difference)
2. NGC has recently introduced a "star designation" for certain coins graded by them; (which is unequivocal evidence that some MS 63 coins are better than others)
3. A new business has been launched in America that will "identify and formalize the existence of premium quality coins". (I actually laughed when I saw this - a business started up by some of the largest dealers in the USA, they will actually verify put a sticker on a slabbed coin if they believe that it has better than average eye appeal for a coin of the grade that has been attributed to it.)
These 3 trends emphasise to me one of two facts -
The fact that a coin is in a slab is not an excuse to remove your brain, replace it with a brussel sprout and operate without thinking;
Educated collectors & dealers make their own opinion of a coin even once it's been independently grade by a company they trust!
Now I don't mean to say that independent grading is a bad idea (it's not - I think it is an excellent idea); I don't mean to say that PCGS is a business that doesn't grade "properly" (I don't - their book on grading is the single best tome on grading that I've ever read); and I don't mean to say that the dealers in the US that have started CAC don't know what they're doing (they're among the biggest in the industry and turn over tens, if not hundreds of millions worth of coins a year). I just believe that personal responsibility and self-education are far more effective than independent grading alone at ensuring collectors end up with results in line with their expectations.
---
---