ANDA'S Sydney 2011 Trade Show - Passable Coffee and Passable Business!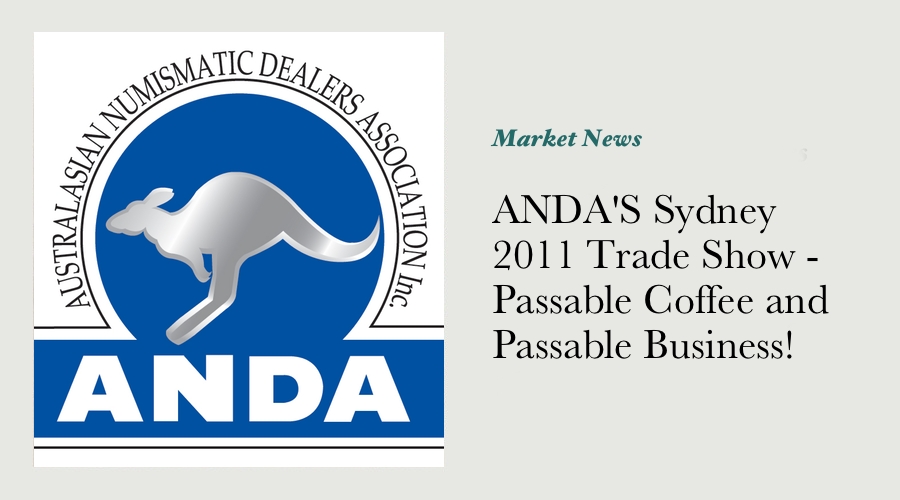 It's been a few days since I returned to home soil after heading across to Sydney for the 2011 ANDA trade show, held at Randwick Racecourse last weekend.
In a nutshell, the number of collectors through the doors over both days was probably down on previous years, however that didn't seem to affect the show's overall turnover to the same degree.
My own experience was that although there were some quiet patches over the weekend, the overall quality of the show was still quite good. Some shows can have vast hordes of people looking to get something for free, however the Sydney show had plenty of people keen to buy something if it suited their collection and their budget as well.
After gold spiked in the days preceding the show, at 10am Saturday there was no shortage of bargain hunters scooting around each dealer's table looking for anything that might have been priced below spot.
Demand for quality gold coins remained steady throughout the weekend, as well as for Commonwealth, proclamation and world coins. We even sold a few banknotes!
Sydney surely has more dealers per capita than any other capital city in Australia, so it shouldn't be surprising that a number of he collectors there are already well-serviced and not particularly inclined to battle the weekend traffic and attend a coin show when they could be doing other things.
That said, the present level of market activity seems to be one where good quality coins and notes are still selling well, however also-ran material is taking some time to find a new home.
For those that may have had a passing interest in determining where Sydney stands in the national take-away coffee stakes, I have to say that the coffee at Randwick was indeed passable!
---
---