Australian Numismatic Auction Report for August 2013 - Noble Numismatics 103 and Roxburys 88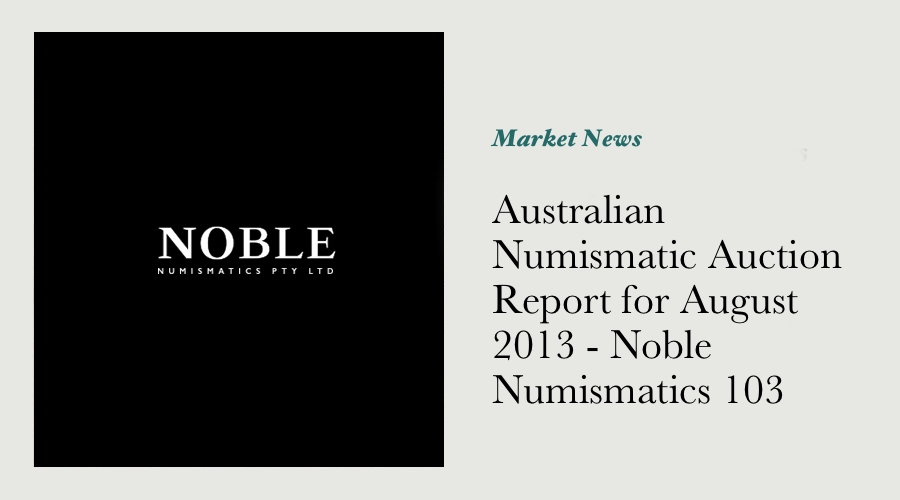 While recent events in the Australian numismatic market may have thrown some market observers into disarray, the results achieved by our two most recent auctions indicate pretty clearly that there are plenty of collectors that are quite content to keep on keeping on when others are falling down around them.
Noble Numismatics conducted their 103rd auction in Melbourne in the second week of August, and turned $2.7 million in coins and notes around over three days. Roxbury's held their 88th auction in Brisbane on the last day of August, and while the total dollar value may not have been as high as was seen in Melbourne, the clearance rate has very high indeed.
The early sessions at Noble's all performed as forecast - there was good attendance by a cross-section of bidders, and most items sold according to expectations. Error coins were strong, as were the "hidden" treasures within the early Commonwealth session.
It's said that history, rarity and quality rise to the fore in times of uncertainty, the results acheived by two important commemorative medals certainly confirmed that. One of the most important medals struck to commemorate the death of Captain Cook, known as the "Courage and Perseverance" medal, was knocked down for a record price of $22,135.
The memorabilia of Captain James Cookis an ever-popular theme in collectibles, values for quality items such as this medal are determined by enthused collectors keen to get their own tangible link to one of the world's greatest explorers. Another medal issued to mark a lesser-known subject - the shipwreck of the Admella, off the coast of South Australia. This tragic event took the lives of 89 people in 1859 - just as Cook's medals are prized for their link to courage and perseverance, the Admella medal honours "the bravery, heroism and selflessness of those involved in the rescue." Although this particular medal didn't bring a record price, it sold for a figure quite close to that achieved by a comparable example back in 2008 - a feat not many items can claim at present!
The Tuesday evening session for the coins was always going to be interesting - there were a number of relatively high-value items included, that everyone was going to use as a gauge of the market. The Holey Dollar included had a great provenance dating back to the 1860's, one that apparently included the robbery of a pawnbroker in Newcastle. This coin made $135,140 nett - that is lower than what equivalent coins were bringing just a few years ago, however it is at least an indication that there is some interest in the market at those dollar levels.
None of the three dumps (in a range of grades) were able to get away, neither were two of the Adelaide Pounds. The rest of the gold coins in the evening session suffered from the same condition that others have in previous auctions - they weren't graded or reserved at prices that potential buyers found to be value for money.
That said, there were a couple of interesting results among the half sovereigns - the 1855 half sovereign in Fine condition found a new home at $32,038. Not a great result, but a result nonetheless. The 1858 half sovereign with the "RR" legend error in ggood VF (with obverse scratches) made a record figure for this coin at auction - $24,465. This was well above the estimate of $15,000, and exceeded the previous high auction price of $23,850, paid for an ex-RBA example in Good / Very Good condition (a coin that was also marked across the obverse field and neck), back in Downie's Auction 309 (October 2011).
The early pattern and proof coins didn't generate any viable bidding interest on the night, each of the seven lots dated prior to 1955 were passed in. This shouldn't necessarily be taken as a sign of a weak market, but perhaps as confirmation that buyers in the market at the moment really do demand value, and more to the point, unimpeachable quality. The clearance rate for these items can partly be explained by the condition of the coins - any surface impairment at all gets marked down significantly in the current market.
The QEII pre-decimal proofs kept to script - those with unimpaired and attractive surfaces sold, those that didn't either sold poorly, or not at all. The highlight of that section was undoubtedly the Swan / Goose Dollar in gold - a fabled item for many a Gen-X coin geek now coming into the stage of life where they have enough wealth to be able to chase a rarified item such as this.
We haven't seen one of these on the open market for some years now, so it was always going to make a strong result. The nett price of $22,135 is roughly equivalent to a 1930 penny, which all things considered is not an outlandish result at all.
The Commonwealth silver coins had a few premium pieces among them, these were chased while anything that didn't have a shot at being a PCGS condition rarity didn't attract anywhere near as much attention.
Although a number of the copper coins were cleaned (an abhorrent thing in these days of the de-facto PCGS standard), there were also a number of really original coins included. The 1920 double dot penny is a true rarity in any better than heavily worn condition - the example in this sale made $9,320. There were no less than five 1930 pennies in this sale, and each of them sold. I recall reviewing anothe recent auction, and a good percentage of the coins valued higher than $10,000 were 1930 pennies - this consistent liquidity is just one reason they've been a mainstay of the Australian numismatic scene for the past half a century!
One of the sessions the next day had a truly enigmatic piece in it - a scrimshaw hunting horn dating to the 1830's. This piece was clearly under-estimated at $750 - it ended up bringing $7,922! I have no experience at all with scrimshaw, however I suspect that really early examples from our colonial days are truly rare and in keen demand for their social history.
The headline items in the banknote session were a presentation pair of ten shilling notes from 1913 - some of the earliest "presentation" examples of our very first Commonwealth ten shilling notes. This pair was last on the market less than 18 months ago, so it shouldn't be a suprise that they haven't risen since then. There wasn't a lot of premium inventory in the pre-decimal banknotes to really test the market, however the few items descirbed as being rarities in premium grades did at least draw bids, even if not at levels the vendors would have been delighted with.
The decimal specimen notes in this auction didn't do well at all unfortunately - of the ten examples offered, nine of them were impaired in one way or another. Take solace in that fact when you digest the prices they realised - about 30% of their current catalogue value! It really is hard work moving expensive items that aren't in impeccable condition at the moment, these figures really are estament to that current buyer preference.
Activity in the Roxbury's auction was solid all day - I understand that the room was packed for much of the day, the clearance rate certainly attests to that. There were a couple of attractive items in different sections that made strong figures - over $7,000 for a sparkling 1918 florin would have been a solid result anywhere. The gold bullion and semi-bullion coins were very popular indeed, and all got away at strong rates. Numismatic gold coins perhaps weren't as keenly chased, while the high value decimal specimen sets were left alone, at those estimates anyway.
The pre-decimal notes in this sale did well I thought - not only was the clearance rate reasonably high, the figures that the notes made were quite respectable as well. These rounded out what was a solid sale overall.
---
---