Noble Numismatics Sale 89 - the Last Hurrah for 2008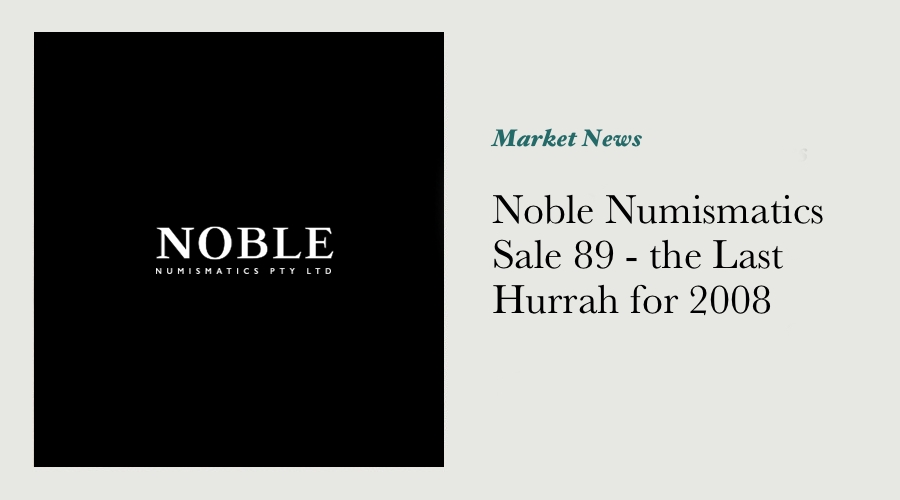 This week sees the final major nuimsmatic auction in Australia for 2008 being held - Noble Numismatics sale 89. And what a sale it is! The usual thick catalogue with stacks of colour, it includes a wide range of rarities across all categories, some which haven't been seen on the market lierally in decades.
The amount of decimal coins in the sale is a little smaller than usual for some reason, however the next session of the older Australian coins (ranging from the proclamation period right through to 1966) is very diverse and has a number of rarities in it. A number of Holey Dollars; dumps; Adelaide Pounds (both types), proofs and patterns are included - some of these haven't been on the market in a number of years.
The Commonwealth coin session includes a complete set of florins in top grade, as well as a set of shillings described by Noble's as "one of the finest ever formed". Several of the proof coins included in that set were sold prior to the auction, while many of the coins that remain in the set are certainly in incredible condition.For those collectors with the cash available to participate in the auction, they have the opportunity to buy key dates that turn up once every 5 years or so in premium condition.
The session also includes one of the finest 1922/1 overdate threepences in existence, and a solid range of pre-decimal copper. The note sessions also include a number of rarer notes that haven't been seen for some time - a number of the the rarer varieties of serial numbers etc that occurred during the KGV period are represented, as are a number of notes from the Internment Camp at Hay, as well as some of the incredibly rare polymer specimen notes.
The current economic climate will obviously have an impact on the results of this auction (as it is in every other area of business), however it seems to me at least that a number of vendors are prepared to meet the market in order to achieve a sale. I have little doubt that there will be the odd bargain for those buyers that have left themselves cashed up ready for the opportunity - fortune should favour the brave.
---
---