Status International Auction 242 - A Bonanza Across the Board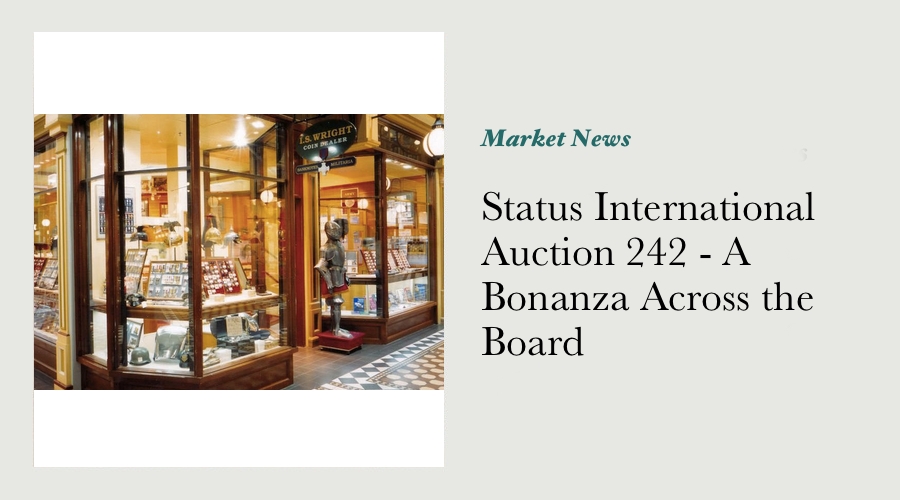 Status International seldom fail to deliver a bumper auction - with 4(?) retail locations around the country they are easily one of the largest dealers in the country, so it should be hardly surprising that they are always turning up material for all and sundry to consider.
This sale was keenly anticipated for the material that hadn't been seen for some time - the Unc 1923 halfpenny, the rest of the high grade Commonwealth coins, nice tokens in good grade, as well as a few real nice pre-decimal notes and the usual bumper crop of modern issues, world coins & notes and ancients.
If you ever thought bundles of UNC $1 notes were rare, you might want to reconsider since there were no less than 44 bundles in this sale alone! Rest assured they were all covered however (hell, I bought a bundle myself), as were the $2 bundles and others that came up. I'd like to think that the book I wrote on proclamation coins has had something to do with this area becoming more popular over the past 2 years, but whatever the reason, there were certainly a lot of colonial era coin in this sale. Notable for mine was the $350 paid for an UNC 1793 rupee, as well as the prices paid for nice Ducats. Who said proclamation coins weren't an investment?
The 1923 halfpenny was another coin that hasn't turned up for a number of years (there hasn't been a true Unc at auction in Australia since at least 1994 according to my records), and this example made a price that is quite reasonable given the coin's rarity and demand - $55k. When will the next one turn up?
A few other notable prices was the $4078 paid for the Unc 1933/4 overdate 3d, as well as good figures for the 1924 shilling, 1910 florin and 1932 florin. As further evidence of volatility in the pre decimal note market, an Unc R21 was picked up by a very astute buyer for some $29,125 - not bade for a note that catalogues at $42,500! For those collectors with confidence in the long term appeal of the pre-decimal note market, now is clearly a time where bargains and opportunities abound.
---
---