The 2015 Anzacs Remembered Official Coin Collection - More Publicity Than Any Other Coins In A Decad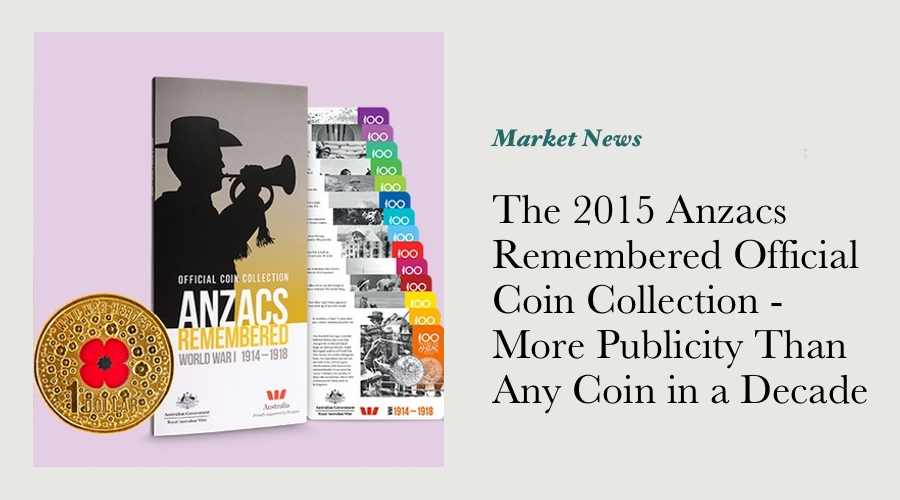 The newspaper that landed on the front lawn at Chez Crellin 2 Sundays ago unfortunately for a little bit more wet than usual, however fortunately only the outside cover ended up being damp, and the internal pages were dry. While I hate nothing more than a wet newspaper, the reason for my concern being was that in the lead-up to Anzac Day, News Corp Australia (in conjunction with Westpac, Legacy and the Royal Australian Mint) was releasing a limited edition 14-part coin collection to commemorate the Centenary of Anzac - Sunday's newspaper apparently had in it the first of a series of coupons necessary to get the collection started.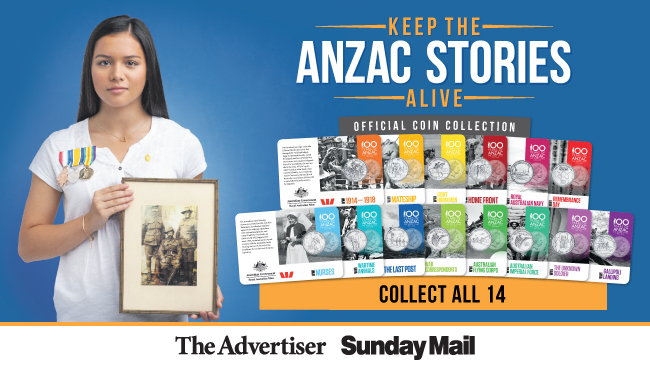 Given the advertising that's been in each major newspaper in the country, and also the video that's been seen online and across major TV stations, I reckon these coins have been given more publicity than any other coins in at least a decade, if not before the Centenary of Federation.
If you thought that after a few decades, a coin dealer would surely have to be a little cynical about the commemorative coins put out by the Royal Australian Mint and the Perth Mint, you'd be right. I don't make it a habit to collect current coins with my kids, but these ones are an exception.
For me, there is something different about the Centenary of Anzac - it's an event that the whole country is going through together, no matter which part we live in, no matter where we're from, no matter how old we are. When I look back on my own childhood, it's the large-scale and shared events like these that have stayed strong in my memory. As soon as I saw them, I thought to myself that that these coins were going to be an excellent set for me to put together for and with my kids, as something they can look back on in the years to come.
My Local Newsagent, Codewords and Coupons
The first coins were released from Sunday April 11th, and the only way you can get them is if you buy a News Corp newspaper, only even then, only through participating newsagents. I wanted to get 2 sets (one for each of my kids), so needed to get a second paper from the local newsagent here. While I reckon it's the Aussie way to not necessarily follow each law to the letter, that was no major drama. The young staff at the newsagent explained that each set of coins had to be accounted for, and that News Corp wanted each coupon back at the end of each day.
Thinking that the rules of this whole coin subscription were going to be pretty sternly enforced, I managed to check the News Corp website each day to get the codeword for the coupon (what a good little consumer I am!), however unfortunately for them made sure I didn't stick around on their website to read about the latest My Kitchen Rules fiasco, or whatever the hell Kim Kardashian is up to these days.
Then I gets the second Sunday newspaper in the series, and I find that the codewords were very helpfully printed in it, specifically to help those shleps that forgot to check the website during the week! The world doesn't seem to have gone to hell in a hand basket in the meantime, and the last coins in the series are being released this weekend.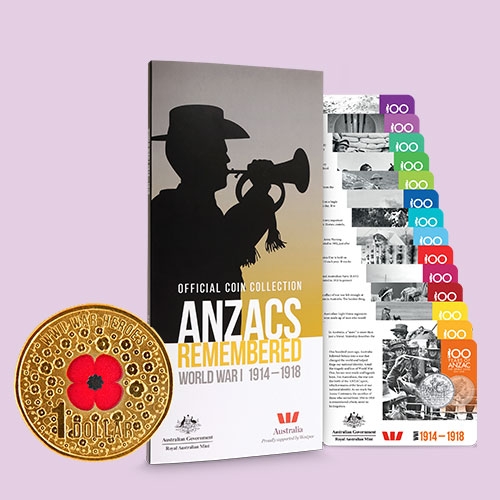 The Designs and Themes
The official aim of the 2015 Anzacs Remembered Official Coin Collection is to "...capture Australia's military history, to commemorate the service and sacrifice of Australians in war, conflict and peacekeeping operations for more than a century and to share those stories."
The reverse designs used on the 20 cent coins in the 2015 Anzac Coin Collection are based on photos chosen in conjunction with staff from the Australian War Memorial, and they commemorate 14 key themes from WWI.
While it's always important to commemorate and acknowledge the contributions made by individuals in service, I believe can be just as informing to touch on the important values that these individuals shared. This collection really does that, and while certain coins have been struck to commemorate the Royal Australian Navy, Remembrance Day and the Light Horsemen, a few more abstract themes have been highlighted also - the Unknown Solider, the Last Post and Mateship among them.
Just How Scarce Are These Coins Going To Be, and Are They Worth Getting?
This is a question I've fielded a few times this week via email, phone and from friends. (Even from my own kids when we were putting the coins into the albums!) My response to everyone that's asked has been the same - I'm looking at this exercise more as a memory for my kids, and more as a way of starting a conversation with them about the importance of remembering those that died in service to their country in wartime.
That said, I reckon there's every chance that these coins could end up being bloody hard to get, even if only in relation to the demand that's out there. From what I can see, each of the commemorative 20 cent coins that've been released into circulation have a mintage higher than 2 million coins, many range up to 5 million!
While the News Corp newspapers have very high circulation numbers right across the country, I don't see anywhere near 2 million of these sets being struck and released.
I understand that the last coin in the set, the coloured $1 coin, is going to have an incredibly low mintage also...
So, if you have kids or grandkids, and want to set an inexpensive memento aside for them that'll remind them of the service you, your parents or grandparents gave in wars past, you really can't go past one of these sets.
---
---