1916 Melbourne Specimen Silver 4 Coin Set in Presentation Case
Florin: PCGS SP67+ (Cert: 43419410) | Shilling: PCGS SP66+ (Cert: 43419409)
Sixpence: PCGS SP66 (Cert: 43419408) | Threepence: PCGS SP64 (Cert: 43419407)
Mintage Figure: 60 | Sets Distributed: 41
Provenance: Lot #3104, Noble Numismatics Auction 29 (August 1989). Estimate: $3,500, Hammer: $8,100, Nett: $8,100.
---
This is an attractive, historic, and incredibly rare memento of the first Australian national silver coins struck on Australian soil.
We have explored the history of this set in great detail - a short overview follows below, you can read a detailed version via our blog.
The 1916 specimen coin set is a truly exclusive representation of the first Australian coins struck on Australian soil. It embodies a major milestone in Australia's economic security, one that was brought forward by the ravages of WWI. Just 60 of these sets were produced, only 41 were ever distributed, and only a fraction of that number survive intact today.
The genesis of these coins can be traced back to 1873 when a senior member of the Victorian banking community lobbied the Victorian Colonial government for the Melbourne Mint to strike silver coins. That campaign lasted a mere 2 years and was not revisited again until 1890. That push was also short-lived, the drive for a national silver coinage finally gathered pace in the years leading into Federation.
A Select Committee on Coinage passed Parliament in September 1909, the Royal Mint shipped Australia's first silver coins in the weeks that followed. By June of 1910, each of the four new silver denominations was in circulation. The Royal Mint also struck Australia's first pennies and halfpennies in 1911, those coins were in circulation by the middle of the year.[13] Over the next three years, the Royal Mint outsourced portions of the production of Australia's silver and copper coinage to the Heaton Mint in Birmingham.
Following the outbreak of the First World War, the production of Australia's silver and copper coinage was pushed even further afield, to the Calcutta Mint in India. Both of these tactical moves lessened the Royal Mint's burden but did little to reduce the risk that Australia's daily economic activity could be significantly disrupted if inbound shipments of coinage were delayed or lost.
The threat posed by Germany's infamous submarines to Allied maritime trade was so great that the transport of all shipments out of England was seriously reconsidered.
Melbourne Mint - "Prepare for Silver Coinage"
On November 1st, 1915, the Melbourne Mint was instructed by London to prepare for silver coinage. Dies for each denomination were sent from the Royal Mint in London later the same month, the dies for Australian shillings were received on 24 December 1915.
Problems with several of the dies mean each denomination was struck in different stages across 1916. The shillings were the first to be produced, the first was struck in an official ceremony by the Governor of Victoria, Sir Arthur Stanley on January 10th, 1916. At the stamping machines Sir Arthur Stanley struck the first shilling produced in Australia for circulation, but the coin is not likely to go into actual currency. The Governor was allowed to have it and he will doubtless keep it as a memento of a notable event. The remaining coins were released across the remainder of the year, the specimen sets were made available from November 1916.
Once the production of Australia's silver coinage began using Australian silver on Australian soil, it meant the lifeblood of the national economy was safe from the threat of Germany's U-boats. The quality of these coins is a testament to the diligence and skill of the Melbourne Mint staff, men who played their role under challenging conditions to ensure our nation responded and adapted to the challenges of war.
The 1916 Specimen Coin Set has remained a key prize with Australian numismatists for more than a century. It remains an attractive, historic, and incredibly rare memento of the first Australian national silver coins struck on Australian soil.
This is a set that some collectors are quite fearful of owning - a number of sets have been sold over the years as specimen sets, but have contained just circulation-standard coins.
The technical characteristics of this particular set align with the specifications laid out in Vince Verheyen's exhaustive research on the subject (published in The Australasian Coin & Banknote Magazine in December 2009), and is the first (and only) set to be authenticated and assessed by PCGS.
The quality of the coins really needs to be seen to be appreciated - our photographs don't capture the depth and range of colours these coins have!
Click here - This video gives an insight into the history and collector appeal of the first set of Commonwealth coins struck on Australian soil.
SKU: 208815
---
Standard Shipping
- $9.00
Signature is required on delivery
---
Express Shipping
- $15.00
Signature is required on delivery
---
Free pick-up from store
- $0.00
You're welcome to collect your order from our office (Shop 22; 27-35 William Street; Fremantle; 6160) during normal office hours. Please make sure to check we're open before you head on in!
We unconditionally guarantee the authenticity, title and grade of every item we sell. The tax invoices we supply ensure that you have these guarantees in writing.
Please review our Website Terms and Conditions for a complete explanation of the guarantees we provide.
All items ship within 24 hours of confirmed payment being received.
Please review our Website Terms and Conditions for a complete explanation of our availability guarantee.
All orders are delivered via trackable and insured mail at a flat rate of $9 for orders within Australia, and $25 internationally.
Australia Post Parcel Post within Australia can take up to 1 week to arrive, while EMS / ECI international mail can take up to 3 weeks.
Urgent orders can be sent via Australia Post Express Mail at special request.
Please review our Website Terms and Conditions for a complete explanation of our delivery guarantee.
Be The First To Review This Product!
Help other Sterling and Currency users shop smarter by writing reviews for products you have purchased.
More Top Picks
Andrew has hand-selected these items because they're either neat; rare; in impeccable condition, historic or all of the above.
If you're in the market for your own slice of numismatic history, we believe these coins and notes are definitely worth your first consideration.
The 1928 Ten Shilling note is as good quality as any pre-decimal note we've ever handled;
The set of Roman coins we have will suit the collector that wants to complete and hand down an incredible collection of historic coins;
Bonds like the one we've featured here make an excellent talking point for a boardroom or office;
The 1916 specimen set is one of only 7 known and is in absolutely impeccable condition;
The 1915 halfpenny is a superb example of one of Australia's rarest halfpennies.

---

I've taken my coins to Andrew a few times. Him and his staff are very nice people. Andrew is honest and down to earth. 👍

I have purchased several bulk lots of world coins from Sterling & Currency over the last few years. Not only are the selections I receive great (some duplication is par for the course), but the postage is truly cheap as chips. And I hope to be a customer for many more years. I've certainly never experienced any of the rudeness that other reviewers have mentioned. Read more...

I live on East Coast but prefer dealing with Andrew on the West due to his integrity, knowledge and prices, either buying or selling over many years. You will always do better buying from Andrew if your after quality and "real" coins.... If you take a coin to value and its a fake, he will tell you. If its valuable or mid range, he will be as honest with that valuation. After decades dealing with Andrew (and many other dealers as I have been collecting for well over 40 years), I am of the opinion that Stirling and Currency and particularly Andrew are the best numismatic dealers in Australia . Read more...

Just purchased a 1966 blue case decimal mint set. Andrew gave me a ring to ensure it had arrived and provided some very interesting and probably unknown information concerning these blue cases imported from South Africa during the apartheid era. Great service and a compendium of knowledge. Thanks! Read more...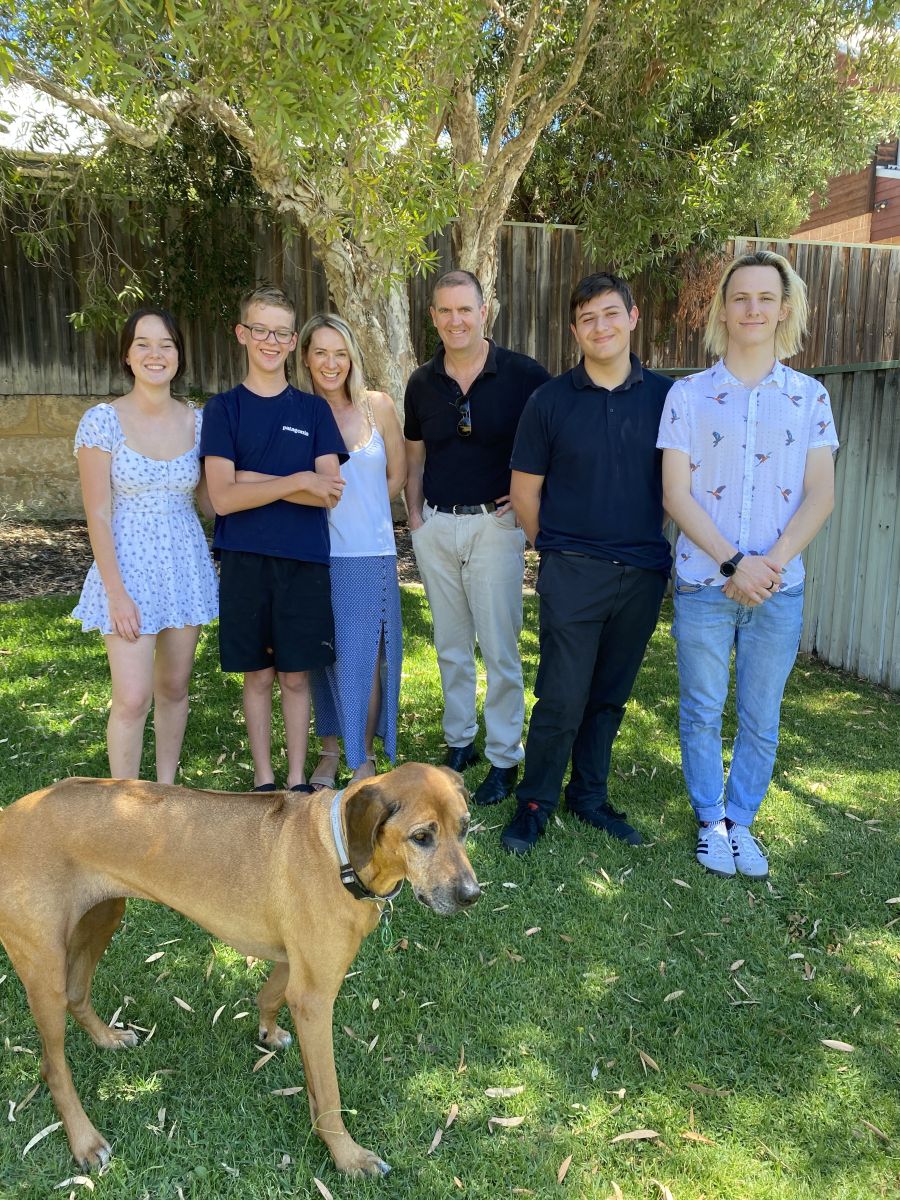 About the Sterling & Currency Team
The team at Sterling & Currency is a family affair – small but growing. Andrew Crellin is the main dealer in the business, click here to read this credentials and how he started with the Perth Mint; spent a decade in Sydney working with two leading dealers and relocated back to Perth in 2006.

Jo is our budding Numismatist, Chief Event officer, Photographer and Packing Extraordinaire. Natalie is our media creator and photographer. Nicole manages the accounts and is part of the Packing Team. A myriad of important duties are carried out by the team that include photography, website updates, office admin, and chocolate eating.

Ruby the Ridgeback quite frankly has learned nothing about coins, however contributes by barking at anyone wearing hi-viz.