Australia 1977 Fifty Dollar Polymer CSIRO Test Note
Mark 3a / S2X1 Fine STU 789018
---
This note is indelibly tied to the development of polymer currency in Australia.
Solomon's published recollections of the early days of the development of polymer banknote technology is the following statement:
"We produced these devices in large quantities to demonstrate the practical nature of the concept.
We built a production plant in secret and printed a design provided by the RBA, birds in flight, using our plastic film.
However the number of ideas was beginning to confuse the Reserve Bank and a freeze was put on further designs. So we focused on Diffraction gratings (Holograms), Moire interference patterns, photochromic compounds and a label. The latter was detectable by a machine."
Solomon then proposed a massive innovation - to completely replace the paper traditionally used in the printing of notes with a plastic film. The presence of a clear area alone would force the forger to use plastic, and no commercially available film was available.
Solomon's group made their own polymer substrate, and it was unique. After it had been made opaque, the laminate developed by CSIRO could be printed on conventionally, after which security features were applied. The most notable features of the early test notes were described as being the see-through panel and the hologram.
Testing the First Polymer Notes
At one stage, Solomon's team included no less than 31 staff. In secret at a shed at the CSIRO's Port Melbourne site, they built a pilot production line and produced the equivalent of 50 million banknotes. and 1.25 million OVDs - this was to prove to the Reserve Bank that these revolutionary ideas were not only innovative, but were also practical - they could be produced economically.
Testing of the substrate, laminate and security devices was a particular challenge: as any and all issues regarding printing need to be resolved before any notes enter circulation, it obviously isn't possible to trial a banknote "in the field", to issue them into circulation and fix the problems after that.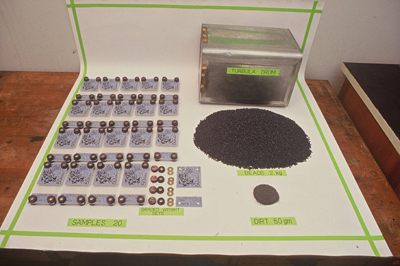 One piece of lab equipment the secret team at CSIRO used to measure the durability of their polymer test notes was called the "Turbula", a machine that simulated the rigours of circulation. The testing process involved placing weights in the corners of each of the test notes, and then tumbling them in a kerosene drum containing controlled amounts of synthetic dirt (carbon black), abrasive materials (polypropylene beads) and even artificial sweat.
This process was apparently extremely accurate at predicting the field performance of the new notes, and was also used in later stages of quality control.
Published anecdotes that describe this phase of testing indicate that it was conducted from the mid 1970's - all technical problems are known to have been largely solved in about 10 years, which would indicate that lab testing was complete perhaps by the mid-1980's. The world's first polymer banknotes were actually issued into circulation in our Bicentennial year, 1988.
The test notes offered here is unequivocally the same type of note used by Solomon and his team in testing various substrates, printing laminates and security devices. Similar test notes can be seen in CSIRO's own images of the Turbula durability test, as well as in library images of David Solomon.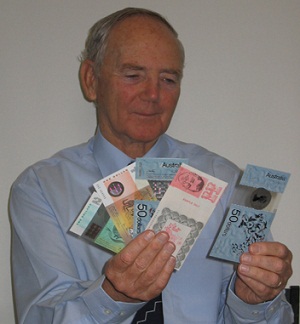 Rather than dismissing this test note based on it's condition, I'd suggest collectors view the condition as being an authentic representation of the lengths to which the CSIRO went to ensure the integrity of our national currency. It's been through the Turbula and have survived after all!
This test note has a texture unlike any polymer note printed for circulation.
As you can see from the images posted here, the simultan print phase seems to have been the easiest print phase for CSIRO to master - although they're subdued, the background colours have survived largely intact. The sharpness of the intaglio design - the "exaltation" of larks, as well as the written notations of the denomination etc, are of course printed more sharply on the notes we use today. The biggest challenge for the Solomon's secret CSIRO testing team seems to have been the hologram - the honeycomb texture to the Mark 1 note clearly indicates improvement was necessary.
This polymer test note will be of keen interest to anyone committed to building a collection that showcases the evolution of circulating currency in Australia. It is a rare, direct and tangible representation of Australia's worldwide reputation for innovation and integrity in this incredibly challenging field.
SKU: 210044
---
Standard Shipping
- $9.00
Signature is required on delivery
---
Express Shipping
- $15.00
Signature is required on delivery
---
Free pick-up from store
- $0.00
You're welcome to collect your order from our office (Shop 22; 27-35 William Street; Fremantle; 6160) during normal office hours. Please make sure to check we're open before you head on in!
| | |
| --- | --- |
| SKU | 210044 |
| Shipping Weight | 0.0500kg |
| Shipping Height | 0.001m |
| Assembled Length | 0.140m |
| Assembled Height | 0.001m |
| Assembled Width | 0.215m |
We unconditionally guarantee the authenticity, title and grade of every item we sell. The tax invoices we supply ensure that you have these guarantees in writing.
Please review our Website Terms and Conditions for a complete explanation of the guarantees we provide.
All items ship within 24 hours of confirmed payment being received.
Please review our Website Terms and Conditions for a complete explanation of our availability guarantee.
All orders are delivered via trackable and insured mail at a flat rate of $9 for orders within Australia, and $25 internationally.
Australia Post Parcel Post within Australia can take up to 1 week to arrive, while EMS / ECI international mail can take up to 3 weeks.
Urgent orders can be sent via Australia Post Express Mail at special request.
Please review our Website Terms and Conditions for a complete explanation of our delivery guarantee.
Be The First To Review This Product!
Help other Sterling and Currency users shop smarter by writing reviews for products you have purchased.

---

I've taken my coins to Andrew a few times. Him and his staff are very nice people. Andrew is honest and down to earth. 👍

I have purchased several bulk lots of world coins from Sterling & Currency over the last few years. Not only are the selections I receive great (some duplication is par for the course), but the postage is truly cheap as chips. And I hope to be a customer for many more years. I've certainly never experienced any of the rudeness that other reviewers have mentioned. Read more...

I live on East Coast but prefer dealing with Andrew on the West due to his integrity, knowledge and prices, either buying or selling over many years. You will always do better buying from Andrew if your after quality and "real" coins.... If you take a coin to value and its a fake, he will tell you. If its valuable or mid range, he will be as honest with that valuation. After decades dealing with Andrew (and many other dealers as I have been collecting for well over 40 years), I am of the opinion that Stirling and Currency and particularly Andrew are the best numismatic dealers in Australia . Read more...

Just purchased a 1966 blue case decimal mint set. Andrew gave me a ring to ensure it had arrived and provided some very interesting and probably unknown information concerning these blue cases imported from South Africa during the apartheid era. Great service and a compendium of knowledge. Thanks! Read more...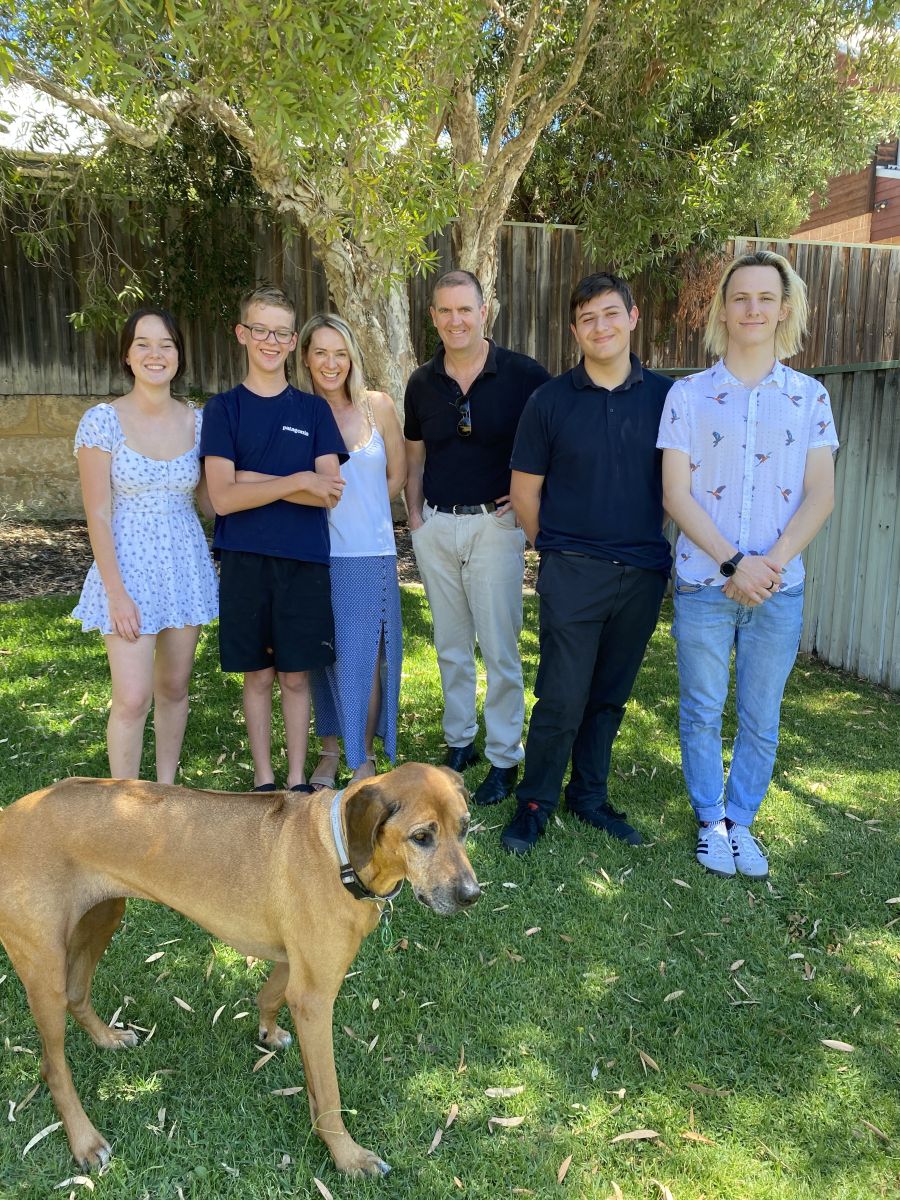 About the Sterling & Currency Team
The team at Sterling & Currency is a family affair – small but growing. Andrew Crellin is the main dealer in the business, click here to read this credentials and how he started with the Perth Mint; spent a decade in Sydney working with two leading dealers and relocated back to Perth in 2006.

Jo is our budding Numismatist, Chief Event officer, Photographer and Packing Extraordinaire. Natalie is our media creator and photographer. Nicole manages the accounts and is part of the Packing Team. A myriad of important duties are carried out by the team that include photography, website updates, office admin, and chocolate eating.

Ruby the Ridgeback quite frankly has learned nothing about coins, however contributes by barking at anyone wearing hi-viz.