Obverse Varieties of Australia's Veiled Head Sovereigns and Half Sovereigns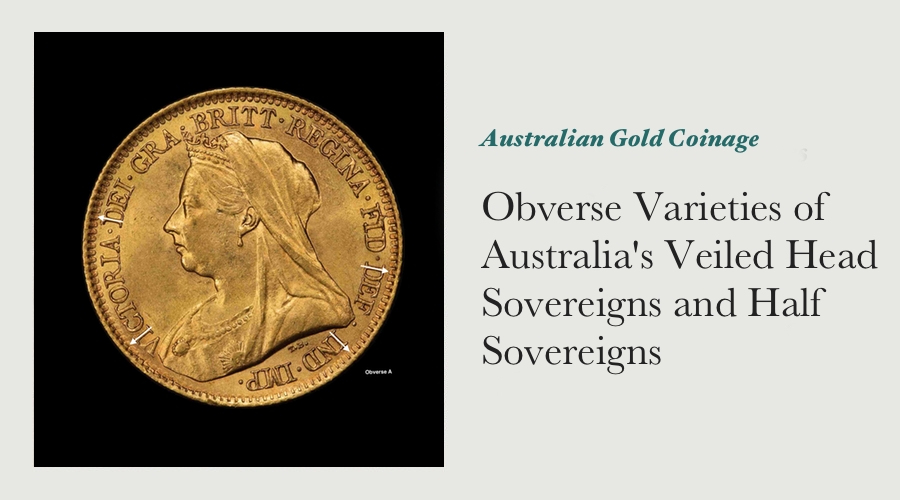 One of the great things about numismatics is that it seems there are always new areas of research opening up, even though the products being studied were made decades, if not centuries ago.
Recent research by David Briggs into Australia's Veiled Head Sovereigns and Half Sovereigns (struck between 1893 and 1901) is certainly a great example of that.
As part of his research into the Veiled Head half sovereigns, Briggs has determined that there are two different types of the Veiled Head obverse. Although the differences between these obverse varieties are quite minor, they are distinct nonetheless and will be of keen interest to collectors that are active in this series.
Briggs has named the two different obverse varieties as Types A and B, images of each are listed below:
Veiled Head Obverse Type A: The upstroke in each of the following letters is aligned with a rim bead: "D" in "DEI"; "D" in "DEF" and "I" in "IND";
Veiled Head Obverse Type B: The upstroke in each of the following letters is aligned between two rim beads: "D" in "DEI"; "D" in "DEF" and "I" in "IND".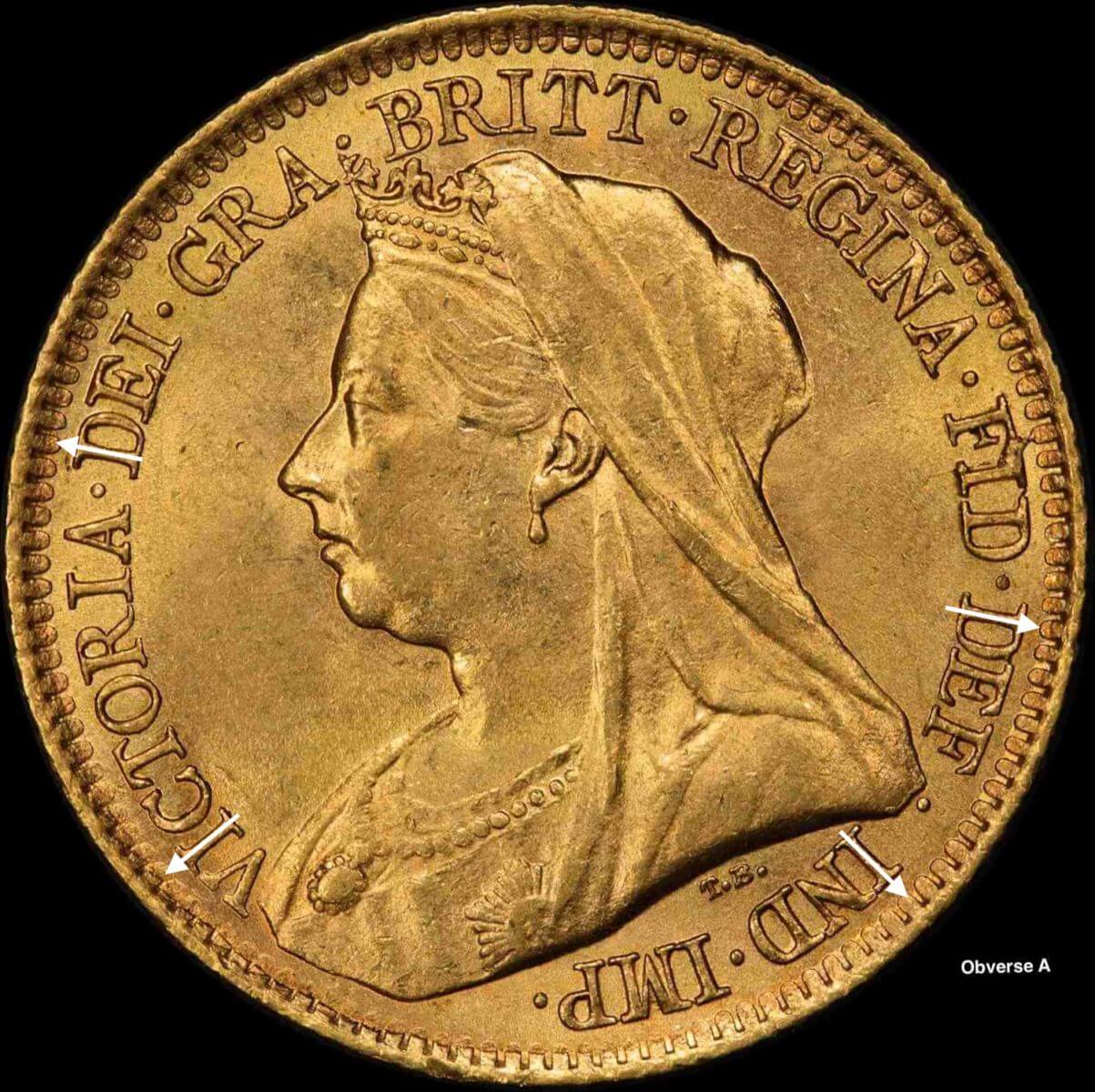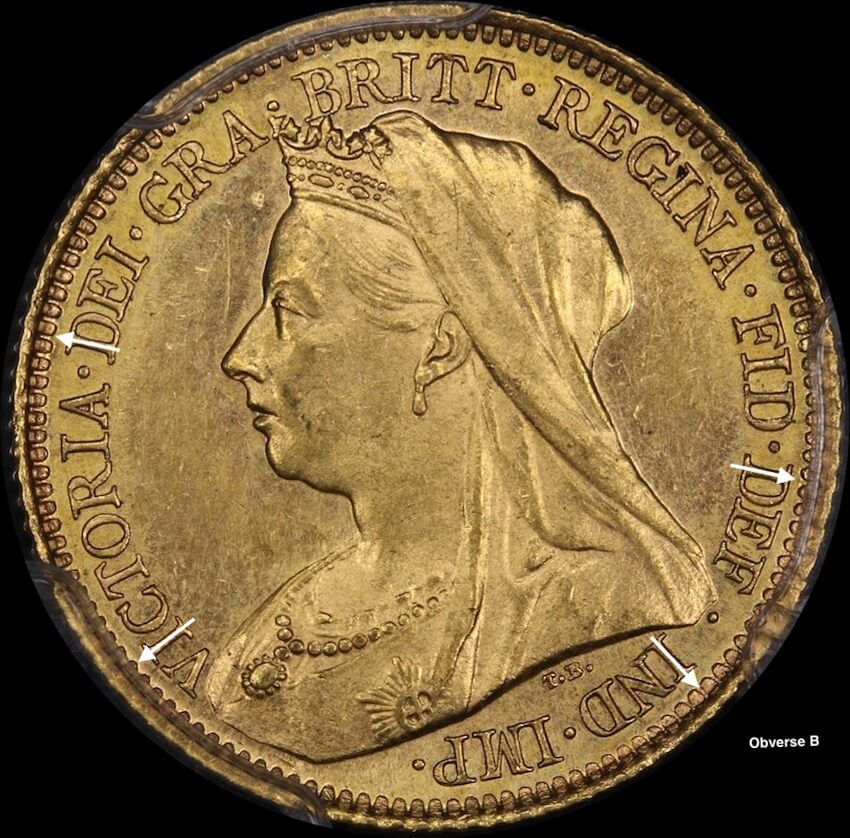 The difference in the alignment of the letters outlined above is a result of 2 extra denticles being added to the second obverse die or hub. The obverse type A has 132 rim beads, while the obverse type B has 134 rim beads.
Similar studies have been done into the copper and silver coinage Veiled (Old) Head from the United Kingdom, most definitively by Peter J Davies, in his 1982 work "British Silver Coins Since 1816".
Davies studied each of the British silver coins issued between 1893 and 1901, and identified up to 3 different obverse types (as well as a number of different reverse types) in each denomination from the crown, right down to the threepence. That information is not widely referred to by British collectors, so there is little known about the exact reason or reasons behind the addition of the extra denticles.
Although edge denticles or rim beads can serve a solely artistic purpose, there are several Australian and foreign coins that made use of denticles or edge beads for technical as well as artistic reasons. The addition of denticles around the rim help restrict the metal flow through the dies, allowing the design elements in the deepest recesses of the die to be filled in during the striking process.
Correspondence registers and the annual reports of the Australian branch mints are littered with comments by Mint officials that touch on the challenges they encountered when striking half sovereigns. Not only were the planchets being used incredibly thin, but the metal used in half sovereigns was so (relatively) soft that the tolerance required to both achieve a sharp strike and a reasonable die life was very narrow indeed.
Half sovereigns with the Veiled Head obverse are the first of this denomination to feature St George & Dragon reverse design, and in the absence of any published information on the subject it may be that Royal Mint staff were dissatisfied with the depth to which the designs were struck up, so two additional denticles were added to the obverse rim in order to better ensure achieve the metal flow required. If the additional denticles were added for this purpose, we are yet to understand why the Type A obverse was seen in the years that followed 1896.
Rarity of Each Obverse Variety on Each Veiled Head Half Sovereign
As is to be expected with any fresh area of research, it is going to take some time before collectors can be confident of the rarity of each obverse variety in the Australian half sovereign series. The table below shows those date within which either of the obverse varieties have not yet been seen (and may not be), in time we will be able to obtain a clear idea of just how rare each half sovereign variety is in each date.
| | | | | |
| --- | --- | --- | --- | --- |
| Date | Mint | Obv | Rev | Sighted |
| 1893 | S | A | 1 | |
| 1893 | S | B | 1 | Unsighted |
| 1896 | M | A | 1 | |
| 1896 | M | B | 1 | |
| 1897 | S | A | 1 | |
| 1897 | S | B | 1 | |
| 1899 | M | A | 1 | |
| 1899 | M | B | 1 | |
| 1900 | S | A | 1 | |
| 1900 | S | B | 1 | |
| 1900 | M | A | 1 | Unsighted |
| 1900 | M | B | 1 | |
| 1900 | P | A | 1 | Unsighted |
| 1900 | P | B | 1 | |
In the meantime, Australian Half Sovereign collectors will do well to check the Veiled Head coins in their collection to see if they have what might be a scarce or rare variety.
---
---
---
Leave a comment