1925 Penny - One of Australia's Most Desirable Copper Coins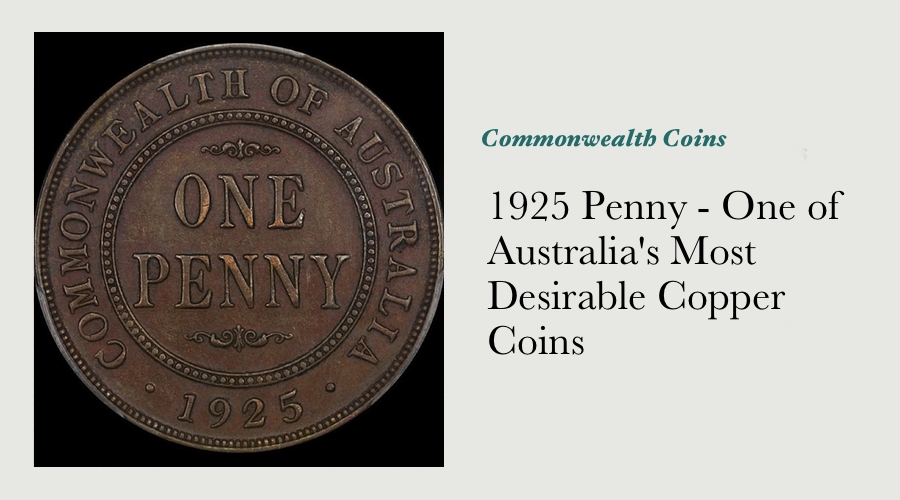 As Australia's 3rd rarest copper Commonwealth coin, the 1925 penny is one of the most keenly sought coins in the entire Commonwealth series. Royal Mint records seem to indicate that it was struck quite late in 1925 to ensure there was no chance that Australian shop tills ran short of pennies over the 1925 Christmas break.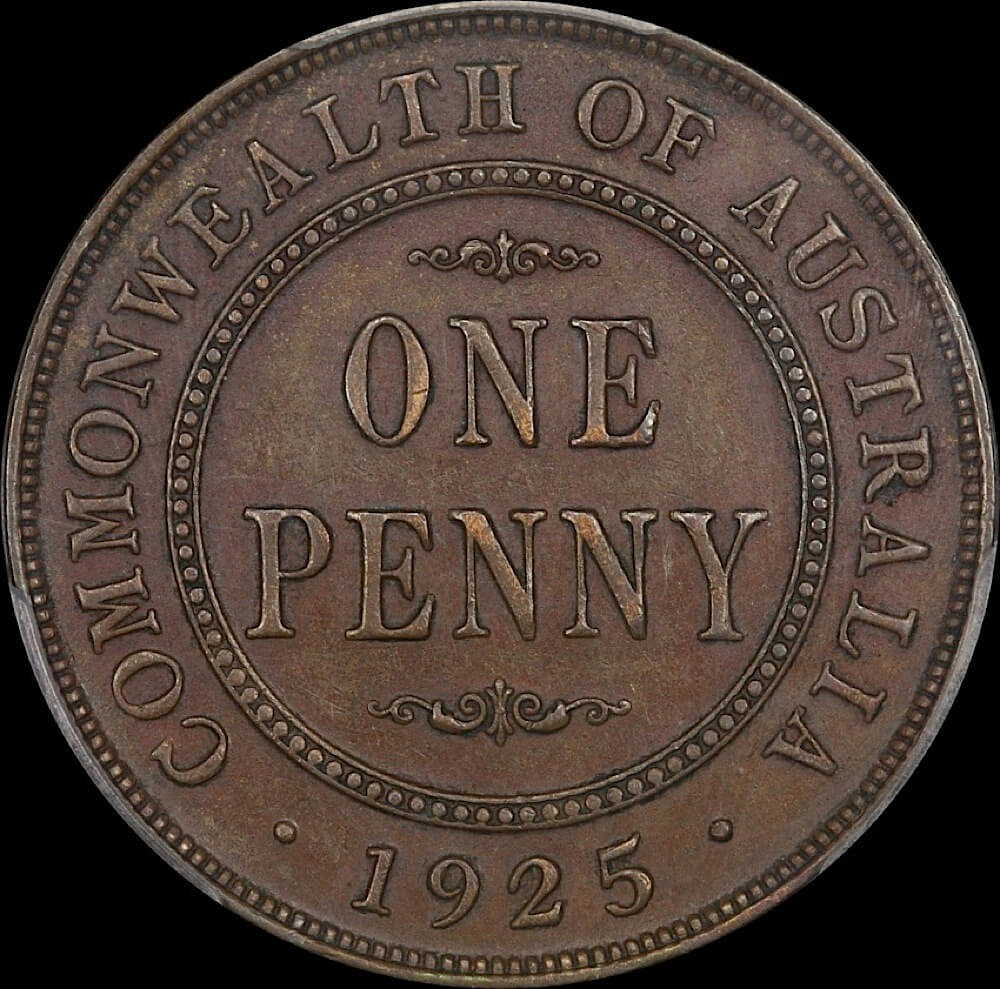 The desire to own a truly rare Australian coin can be an idle curiosity, a passing whimsy or an inexplicable drive. Most Commonwealth coin collectors first satisfy their compulsion by getting themselves a 1925 penny. Although it isn't anywhere near as rare as it's "big brother", the 1930 penny, it is always one of the first key date Commonwealth coins that novice collectors acquire when starting off on their journey into Australian numismatics.
It can be obtained, even today, by careful searching through "virgin" quantities of bulk pennies, yet is so rare in superior condition that values of high grade coins do not seem to have been subject to the vagaries of even the strongest market cycle. The finest examples have always set price records when they become available at auction, making headline news in the numismatic media.
Although conventional mintage figures show that both the Sydney and Melbourne Mints struck pennies during 1925, subsequent research shows that the Sydney Mint used 1924 dated reverse dies and "Indian" obverse dies to strike 832,200 pennies during 1926. This obviously means that each of the 117,600 Australian pennies dated 1925 were struck at the Melbourne Mint. All 1924 pennies featuring the "London" obverse were struck at the Melbourne Mint, and although many Australian numismatists both past and present believe that a number of 1925 pennies were struck with the Indian obverse die, despite years of searching, none have ever been sighted.
The Historical Background to the 1925 Penny
More than one prominent historian states that although Australia became a nation truly on the world stage during World War I – a nation whose military valour was without question – that independence and acknowledgement did not come without a cost. World War I took far longer and cost Australia far more financially than was expected, let alone in the 59,258 Australian lives that were lost as a result of it. Inflation rose strongly both during and after WWI, and although there was certainly an economic boom in the us during "The Roaring Twenties" , in Australia, life passed in a somewhat more arduous and conservative pace.
Industrial action between militant unions and large employers was commonplace right throughout the 1920's, the californian bungalow became the accepted standard in australian suburbia, the family went to church every week without fail in their "Sunday Best", pubs shut at 6pm, the 35 hour work week was still a dream for the menfolk while in the absence of any of the labour savings devices that we all take for granted today, a woman's work was never done. in 1925, the car was an asset that most aspirational australians either owned or were working towards, while australian consumer product brands such as Billy Tea and Rosella sauce became household names.
The controversial politician, Jack Lang, became Premier of NSW for the first time from June 1925, and went on to hold the dubious distinction of being the only Premier of an Australian state to have been dismissed by the State Governor. In the United States in 1925, "The Roaring Twenties" were in full swing, as was the Art Deco design movement, the golden years of jazz and prohibition. F. Scott Fitzgerald published "The Great Gatsby", while in Europe Adolf Hitler published his personal manifesto, "Mein Kampf". in Egypt, the Great Sphinx of Giza was unearthed after restoration.
In a time when the average wage was a little over £4 a week, even a humble penny was clearly a precious commodity.
The Melbourne Mint in 1925
Following the end of World War I, gold commanded a significant premium by on the international market, and this resulted in the export of large quantities of Australian gold. At the same time, the amount of gold being produced by the Australian mining industry was steadily dropping - the amount of gold produced by the once fantastically rich state of Victoria dropped by 29.58% during 1925 alone.
This decline in mining production meant that "there was insufficient balance for the carrying on of trade and for the financing of heavy loan operations and large public works in the various states." A further consequence was a fall "in the cost of exchange on London", which resulted in large quantities of gold bullion being imported into Australia throughout 1925. Much of this gold was coined into sovereigns – the number produced at the Melbourne Mint during 1925 was 92% higher than that during 1924.
In June of 1925, the Commonwealth government offered a small bonus to the general public for any worn British silver coins that were returned to the Mint, and large sums were withdrawn from circulation. It was necessary for the Melbourne Mint to strike a large number of Australian (silver) coins to replace them, and staff apparently clocked up a considerable amount of overtime to ensure sufficient coins for the Christmas season were available.
Significant quantities of pennies were produced in years immediately preceding 1925 (some 38 million pennies were struck at all three branch mints between 1920 and 1924), which would indicate then that the Melbourne Mint had neither the demand for or capacity to produce a significant quantity of pennies in 1925. it seems that only just enough were struck to ensure that the wheels of Australia's retail trade were amply oiled over the 1925 Christmas period.
Despite the frenetic activity at the Melbourne Mint in 1925, records show that staff carried out several experiments that year relating to the hardening of dies - whether these experiments led to the minor die varieties that are keenly sought by collectors today is not yet clear.
---
---