1925 Penny - One of Australia's Most Desirable Copper Coins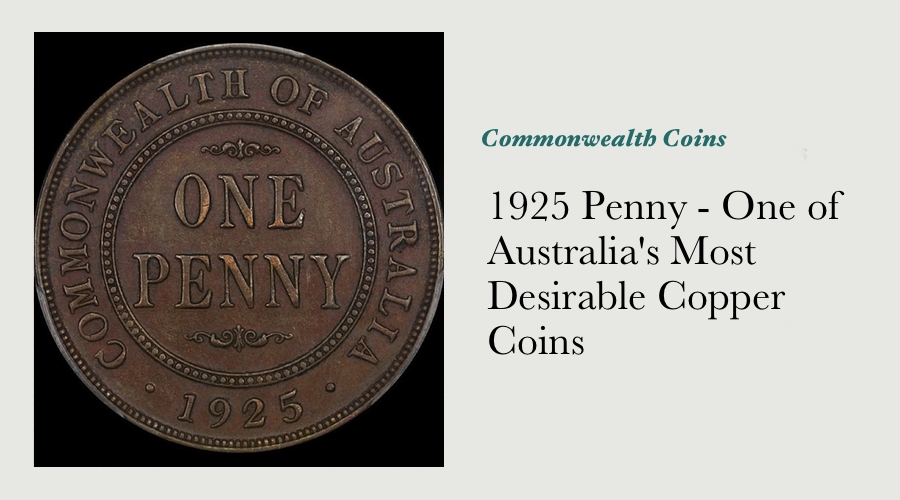 The 1925 penny is Australia's 2nd rarest penny and is one of the most sought after coins in the entire penny set.
Royal Mint records seem to indicate that it was struck quite late in 1925, mainly to make sure there was no chance that Australian shop tills ran short of pennies over the 1925 Christmas break.
The 1925 Penny Is One of the First Scarce Australian Coins Many Collectors Acquire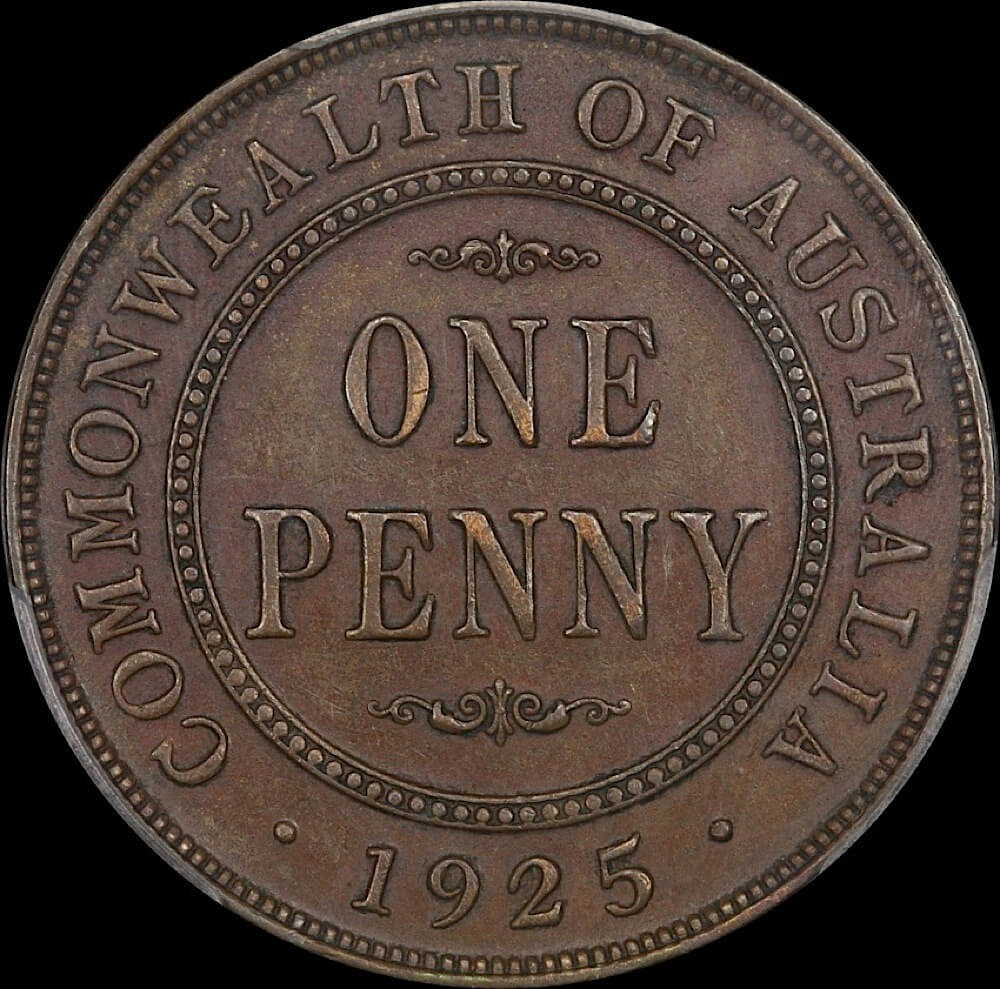 Australia 1925 Penny
Although it isn't anywhere near as rare in average condition as the 1930 Australian penny, the 1925 penny is often the first key date Commonwealth coin that many collectors acquire when starting their journey into Australian numismatics.
Nearly a century after it was struck, it can still be obtained by careful searching through lots of hoarded or accumulated pennies. Despite that availability, it is so rare in superior condition that the finest examples regularly set price records when they become available at auction.
Just One Penny Was Valuable In 1925
More than one prominent historian states that the records show Australia became a nation truly on the world stage during World War I. That independence and international acknowledgement came at a significant cost.
59,258 Australian lives were lost during WWI, the war also cost Australia far more financially than was expected. Inflation rose strongly both during and after WWI, and although there was an economic boom in the United States during "The Roaring Twenties" life in Australia passed at a rather more arduous and conservative pace.
Industrial action between militant unions and large employers was commonplace right throughout the 1920s; the 35-hour workweek was still a dream for the menfolk while in the absence of any of the labour-saving devices that we all take for granted today, a woman's work was never done. In a time when the average wage was a little over £4 a week, even a humble penny was clearly a precious commodity.
Why Is the 1925 Penny So Rare?
Due to the high demand for gold and silver coins, only 117,289 1925 pennies were minted. The Melbourne Mint only had time towards the very end of the year to produce a relatively small number of pennies to satisfy Victoria's shopping tills over the Christmas period.
There are several reasons behind that last-minute rush - the first is that the exchange rate between the Australian Pound and the British Pound shifted meaningfully during 1925, which resulted in unprecedented quantities of gold bullion being imported into Australia. Most of this gold was coined into sovereigns – the Sydney Mint received something in the vicinity of 43 tonnes of gold throughout 1925, the Royal Mint Annual Report for 1925 stated that "By the middle of the year, 200,000 sovereigns were being struck per week."
The Commonwealth government placed an order for silver coins with the Sydney Mint in June of 1925, yet they were unable to start work on it until September. The Sydney Mint's entire capacity between September and December 1925 was devoted to the production of silver and copper coins.
The Melbourne Mint faced a similar workload producing gold coins in 1925 - they produced 92% more than they did during 1924. The Annual Report stated that "One coinage of overseas gold amounting to 5,763,7970 being carried out without overtime in ten weeks."
In June of 1925, the Commonwealth Government offered a small bonus to the general public for any worn British silver coins that were returned to Australia's mints, and large sums were withdrawn from circulation. It was necessary for the Melbourne Mint to strike a large number of Australian (silver) coins to replace them, and staff apparently clocked up a considerable amount of overtime to ensure sufficient coins for the Christmas season were available.
Where And When Was the 1925 Penny Struck?
Although both the Sydney and Melbourne Mints both struck pennies during 1925, research into the die records shows that the pennies struck by the Sydney Mint were actually dated 1924. This means that all of the Australian pennies dated 1925 were struck by the Melbourne Mint.
Melbourne Mint records show they struck 345,600 pennies during 1925, yet research by Dr David Briggs into the Melbourne Mint die records shows that only two reverse dies dated 1925 were used in that production run and both were paired with London obverse dies. In his book titled "Australian Pennies", Briggs advises that "...it states in black and white that these 2 pair produced 117,289 coins."
An interesting comment on the production of the 1925 penny can be found in a book titled "Australian Commonwealth Coinage", written by Bill Mullett and self-published in 1996. Mullett was a former employee of the Melbourne Mint and the Royal Australian Mints, he spent an extended period of time studying the Melbourne Mint's die records in great detail.
In the section of his book titled "1925 Coinage", Mullett stated that "Melbourne appears to have produced pence dated 1924 in 1925 and pence dated 1925 in 1926." Frustratingly, Mullett does not supply any more information on the pennies the Melbourne Mint struck in 1926 in the next section. Just whether Mullett's comment indicates the 1925 penny was in fact struck during 1926 is yet to be determined.
Although some Australian numismatists (both past and present) believe that a number of 1925 pennies were struck with the Indian obverse die, none have ever been sighted and they are very unlikely to have ever existed.
With Australia's mints committed to producing large quantities of gold and silver coins throughout 1925, it is clear that the Melbourne Mint had a very limited capacity to produce a large number of pennies in 1925. It appears that only just enough was struck to ensure the wheels of Australia's retail trade were amply oiled over the 1925 Christmas period.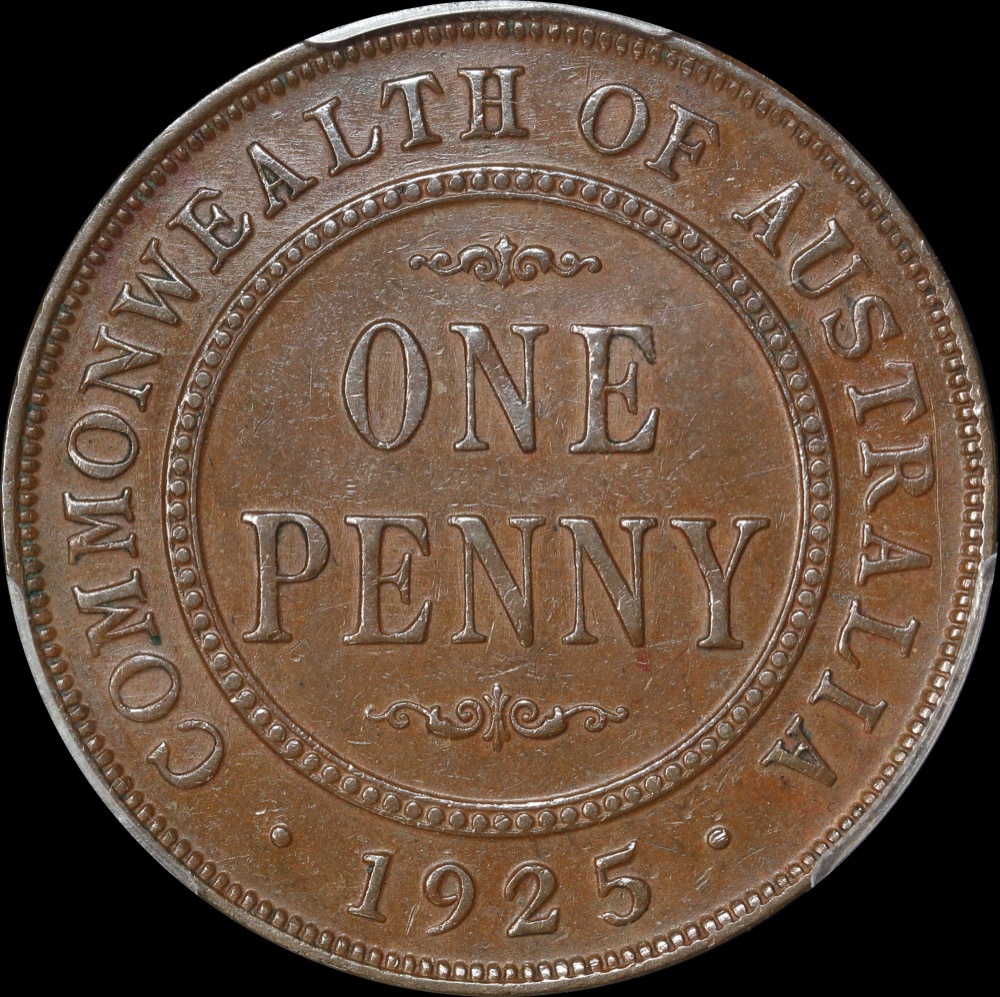 1925 Penny - Dot After A Variety
Did the Experiments Conducted by Melbourne Mint Staff Lead to Several Die Varieties?
Although the Melbourne Mint had a full production calendar right across 1925, records show that staff carried out several experiments that year relating to the hardening of dies. Whether these experiments led to the minor die varieties of the 1925 Penny (listed below) that are keenly sought by collectors today is not yet clear.
Die Varieties of the 1925 Penny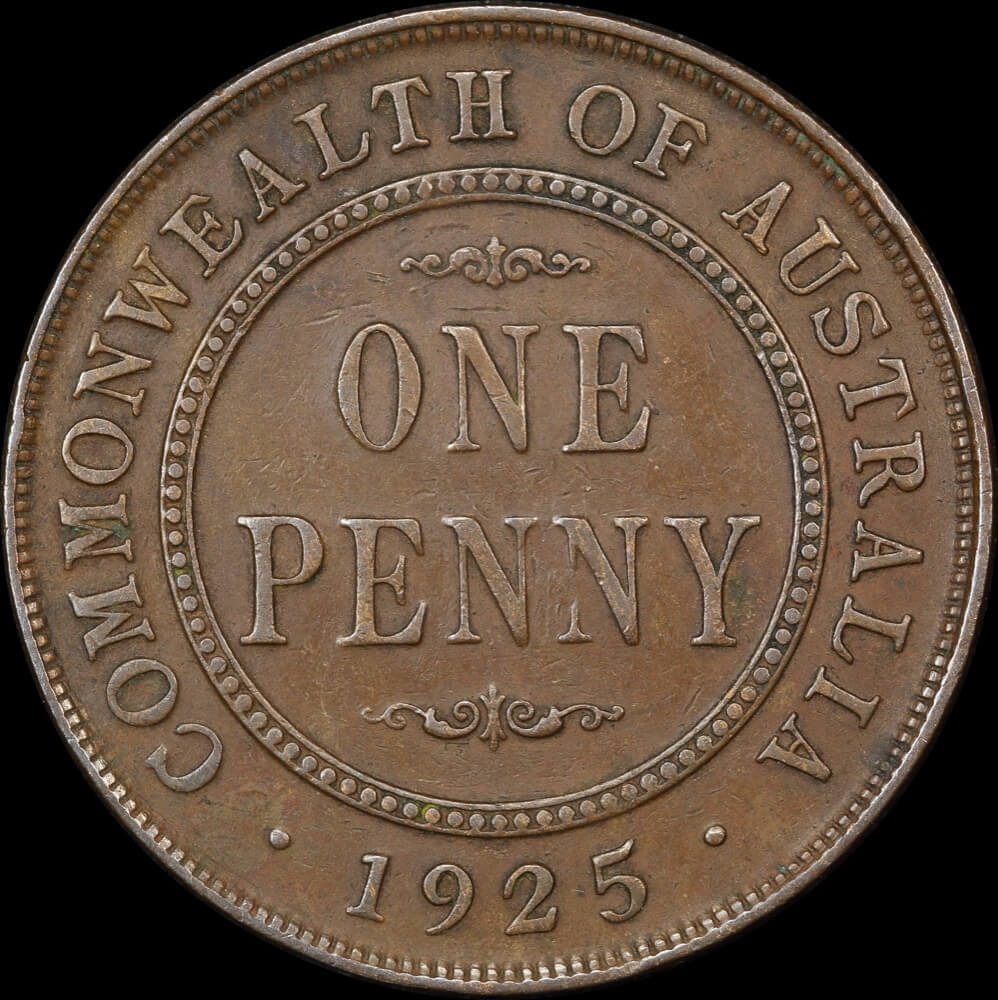 1925 Penny - Broken N Variety
"Broken N" - This die variety shows some weakness in the second N in PENNY on the reverse;
"Q in Commonwealth" - This die variety has a die crack below the first "O" in COMMONWEALTH on the reverse, which to some makes that letter look like a Q;
"Dot After A" - This variety is most often described in current times as having 2 raised blobs on the "E" in "ONE", as well as another on the "Y" in "PENNY", yet the variety catalogues widely used in the heyday of varieties (back in the mid-1960s) describes it as the "Dot After A" variety.
How Much Is A 1925 Penny Worth?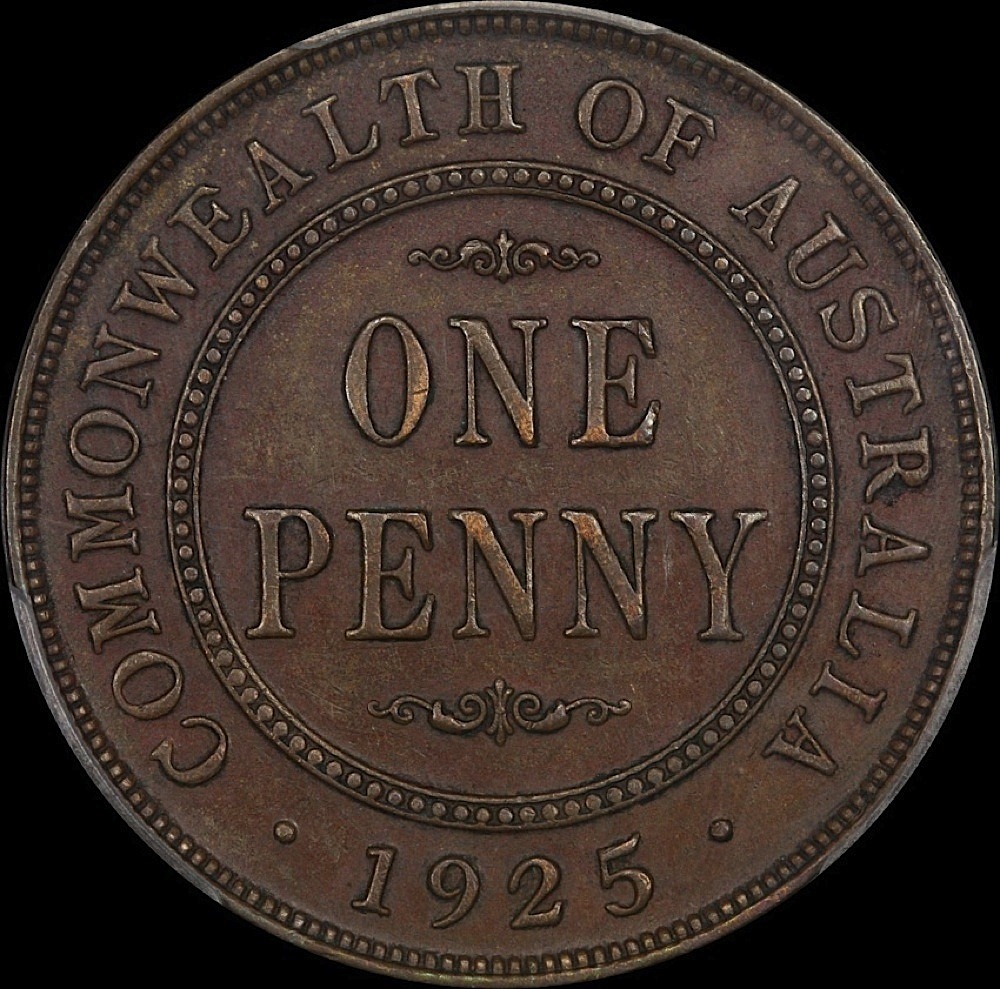 1925 Penny - Q Variety
Most 1925 pennies that are available sell for between $75 and $200. Coins that are in better than average condition can bring up to $40,000.
The finest known example of the 1925 penny (graded by PCGS as MS64RB) is held by the Timbertop Collection and is the Broken N variety.
How To Identify A Fake 1925 Penny?
Before we can identify a fake coin, we need to know how the fakes are generally made. When it comes to some rare Australian pre-decimal coins such as the 1930 penny and the 1923 halfpenny, counterfeiters will often replace one digit in the date of a similar coin (such as a 1936 penny or a 1933 halfpenny) in order to make a counterfeit that will pass as a genuine coin. Date-altered counterfeits of the 1925 penny are not known.
The most commonly seen counterfeits of the 1925 penny are mass-produced in China by what is known as the "spark erosion" manufacturing process. Anyone with a reasonable degree of numismatic knowledge that takes a reasonable look at one of these mass-produced duds of Australian coins coming out of China these days will notice a few things straight away:
- the surfaces of the relief exhibit a rough texture;
- the fine details of each design are often weak when compared to genuine examples; and
- the "style" of the letters, numerals and design elements are different to those of genuine examples.
Top Ways to Spot a Fake 1925 Penny:
Does it have porous or rough surfaces?

Does the level of lustre match the detail on the surface of the coin?

Do the digits in the date look like other pennies?

Is it the correct size and shape?
What Do Diamonds and Pearls Mean on a 1925 Penny?
The term "diamonds and pearls" is often used to describe the quality of a 1925 penny. This is because the highest point on either side of an Australian penny struck during the King George V era (between 1911 and 1936) is the base of the King's crown on the obverse (head's side). That is the first part of the coin to show any friction or wear, which is why collectors and dealers focus on that point - it's an easy way of describing what the overall condition of the coin is like.
The more diamonds and pearls that are on a 1925 penny, the better condition it is in.
How to Grade a 1925 Penny
A range of grading terms are listed below - the comment on the right-hand side is often what is used to explain how much detail is remaining on the coin:
| | |
| --- | --- |
| Grade | Description |
| Extremely Fine | 8 clear pearls |
| about EF | Slight friction on the 7th and 8th pearl |
| good VF | 7th and 8th pearl evident |
| Very Fine | Full centre diamond |
| about VF | nearly complete centre diamond |
| good Fine | part centre diamond |
| Fine | 6 clear pearls |
---
Footnotes and Bibliography :
Mullett; Bill, "Australian Commonwealth Coinage", Self-Published, Canberra (ACT), 1996, p7.
Briggs; David L, "Australian Pennies", Self-published, Hobart (Tasmania), 2017, p 153.
Royal Mint; "Annual Report of the Deputy Master and Comptroller of the Mint"; His Majesty's Stationery Office; London; 1925.
Click here to view the 1925 pennies that we have available right now in our online store.
Click here to view a premium example of the 1925 penny that we have in stock at the moment.
---
---