A Proposed Table Listing the Different Types of Polymer Test Notes Used by CSIRO ca 1972 ~ 1979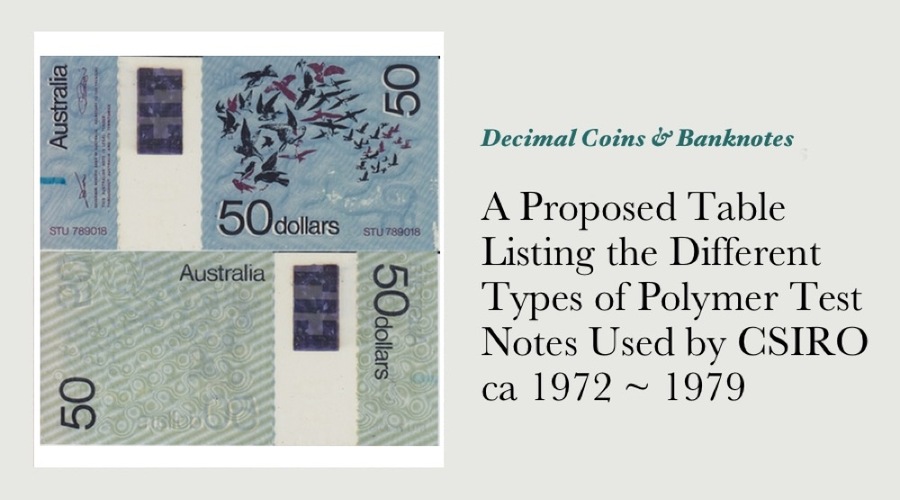 Across 2015, the Australian numismatic community saw a polymer $50 note that was truly unusual - it was violet and green in colour, and had designs vastly different to those we see in circulation.
It turned out that the note was actually used by CSIRO across the 1970's in their testing of different polymer substrates and security devices.
A few more have turned up since then - at first they were so unusual and remarkable that numismatists (myself included) didn't particularly notice that there were in fact more than one different type available.
As time has passed and more have come onto the market, we've had some time to study them and it's apparent that a listing of the different designs and types is necessary.
The information that follows is an attempt at preparing just that - a list of the different test notes prepared by CSIRO across the 1970's, with a summary of the technical characteristics of each note.
Please be advised that very little of the work that is presented below is original it is nowhere near complete, and it is going to take quite a lot of work to get this into an acceptable format.
The most research done in this area so far has been done by Thomas Krause, a specialist in world polymer notes who has put a list of the different types on his website. A number of the images used on this page are credited to him.
I've endeavoured to add some extra technical information to the list Thomas has published so far, and this is where we get into completely new territory.
As this is an emerging field, there is no centralised, official source of information for us to turn to. Information is being brought together from a range of different sources, not all of them as authoritative as we might like them to be.
Before you peruse the table of information below, please understand the following:
The "Type" numbers have been allocated by me based on my current understanding of these notes most likely they are incorrect, however they'll be updated as better information comes to hand.
The dates attributed have been obtained from disparate sources, and are also most likely incorrect. They will also be updated as better information comes to hand.
The reference numbers have been borrowed from Polymer Banknotes of the World (2016 edition), by Stane Straus. My copy of this book is still en route to me from Slovenia, so my attribution of these reference numbers may prove to be incorrect. They will be updated shortly.
The signatories of the "Mark 1" notes are not yet known, and will be added in once we have a definitive answer on who they are.
The other technical characteristics are descriptions put together based on information from disparate sources, and will be corrected as required.
Although it'd be ideal for us to publish information that is 100% correct straight from the outset, it is sometimes necessary to publish incomplete information in order to draw in criticism and and feedback that leads to the finished product.
I am yet to thoroughly work through "The Plastic Banknote" by David Solomon and Tom Spalding, I've seen some very solid technical details on these notes included in that, so will add that information once I've done so.
In the meantime, I'd like to acknowledge Thomas Krause, Marcus Condello and Eric Schuenemann for their work in compiling this information.
Eric's thorough approach to the way these notes are catalogued has been fundamental to the accuracy the list now has.
If you have any feedback that will improve the information in this table, please use the comments functionality below, we will improve this information over time.
Type

Front Image

Back Image

Date

Substrate

Security Device/s In Clear Window

Serials

Front Design

Written Legend

Mark 1

Mark 1

1975

Strand 75

None

STU 789018

Flock of Birds

"This Australian note is legal tender throughout Australia and its Territories"

Mark 2 - Used in the Turbula Tests and Elsewhere

Mark 2a

Feb 76

Strand 76/1

Square hologram with sharp corners near top of clear panel

STU 789018

Flock of Birds

"This Australian note is legal tender throughout Australia and its Territories"

Mark 2a1

N/A

Feb 76

Strand 76/1

Square hologram with sharp corners in lower 3rd. (Thermochromic or photochromic security device and grating)

STU 789018

Flock of Birds

"This Australian note is legal tender throughout Australia and its Territories"

Mark 2a2

N/A

Feb 76

Strand 76/1

2 security devices: 1. Pale OVD in upper 3rd of clear panel; 2. Square hologram with sharp corners in lower 3rd

STU 789018

Flock of Birds

"This Australian note is legal tender throughout Australia and its Territories"

Mark 3 - Used in the Turbula Tests and Elsewhere

Mark 3a

Feb 76

Strand 76/2

Vertical, rectangular, violet-brown translucent element with 3 large letters "CIT"

STU 789018

Flock of Birds

"This Australian note is legal tender throughout Australia and its Territories"

Mark 3a1

N/A

N/A

Feb 76

Strand 76/2

Square, violet-brown translucent element with 2 large letters "CT"

STU 789018

Flock of Birds

"This Australian note is legal tender throughout Australia and its Territories"

Mark 3a2

N/A

N/A

Feb 76

Strand 76/2

3 security devices: 1. CIT moire; 2. grid hologram; 3. QEII hologram

STU 789018

Flock of Birds

"This Australian note is legal tender throughout Australia and its Territories"

Mark 3b

N/A

Feb 76

Strand 76/2

Grid hologram

STU 789018

Flock of Birds

"This Australian note is legal tender throughout Australia and its Territories"

Mark 3c

N/A

Feb 76

Strand 76/2

Queen Hologram

STU 789018

Flock of Birds

"This Australian note is legal tender throughout Australia and its Territories"

Mark 4 - Used in the Official Canteen Trials

Mark 4

1977-78

Likely Strand 77

3 security devices. 1. Hologram; 2. Square moire pattern; 3. Bar closer to the bottom edge

ZZZ 000000

Flock of Birds

"Legal Tender Throughout the Commonwealth of Australia and the Territories of the Commonwealth"

Mark 4a

1977-78

Likely Strand 77

2 small OVD's near the top and bottom edges of the clear panel

ZZZ 000000

Flock of Birds

"Legal Tender Throughout the Commonwealth of Australia and the Territories of the Commonwealth"

Mark 4b

N/A

N/A

1977-78

Likely Strand 77

None

ZZZ 000000

Flock of Birds

Mark 5

1977-78

Likely Strand 77

2 small OVD's near the top and bottom edges of the clear panel

ZZZ 000000

Flock of Birds

"Legal Tender Throughout the Commonwealth of Australia and the Territories of the Commonwealth"
---
---
---
Leave a comment