The 1966 Silver Australian Uniface Obverse Pattern Dollar - One Of Australia's Most Important Numism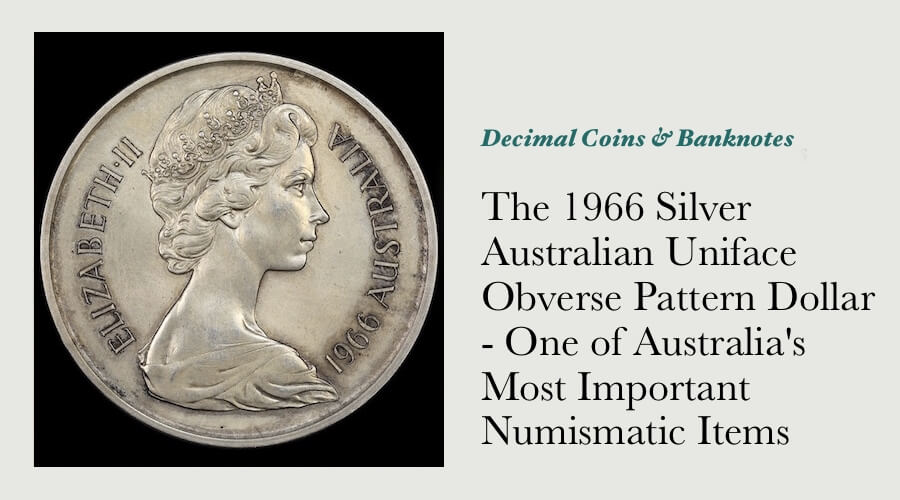 In the middle of 2015, a 1966 silver Australian uniface obverse pattern dollar coin was offered for sale via public auction. This coin had not been seen on the open market since March 1988, so it was an exciting offering. Excitement was building in the collector market as the 50 anniversary of decimal currency approached, however despite the topicality that the coin has, it was passed in without being sold.
Although coins are passed in at auction all the time, I was a little surprised by the result - the little I knew of the coin told me that it was incredibly important. The only other time that I had seen it offered for sale was in an auction conducted by Spink in Sydney in March 1988, their landmark Bicentennial sale. That auction ran across two days, and had a total pre-sale value of $2.5 million. Taking inflation into account, this is equivalent to $5.5 million in today's dollars, and was an auction of unprecedented size back then
The auction contained an incredible array of historic numismatic items - the Mick Vort Ronald collection of Australian banknotes and the Paul Worth collection of Holey Dollars to name just two portions of unparalleled importance. The list of other significant numismatic items in that sale is not short either - it included many pre-decimal pattern and proof coins, numerous proof and pattern gold coins, as well as some of the most important Australian tokens ever struck. Estimated at $15,000, the 1966 uniface obverse pattern dollar was among the most valuable items in the entire sale.
I have since learned that the coin had also been offered in the Spink Auction #20, held in Sydney in November 1986. In that earlier auction, the coin had an estimate that matched the finest known 1855 half sovereign (arguably Australia's rarest circulating coin), and exceeded that of a 1911 silver 4-coin matte proof set - the only known proof set of Australia's first Commonwealth coins.
I couldn't understand how a coin could fall from a position of such prominence to suffering from a complete lack of interest in 2016. This lack of interest told me that collectors simply didn't know what the coin was, much less how important it was.
This lack of knowledge should not be surprising - other than the description in the auction catalogues that it has been included in and a passing reference to the November 1986 auction, absolutely nothing of substance has been published on this coin.
On face value, this coin is incredibly important to Australian decimal coin collectors, and by extension could also be regarded as being among Australia's most important coins. Not only would it have been the highest denomination coin in the Australian decimal currency system, it is the only example in private hands. It is dated 18 years before the first Australian one dollar coins were issued into circulation, and is a unique link to the evolution of decimal currency in Australia.
Despite all of that, it was jarring to me that the coin didn't sell when it was offered at auction. Perhaps it was passed in with good reason? I wanted to clear all my existing assumptions about the coin, which first meant determining whether a one dollar coin was even under consideration leading into 1966.
Australia's Decimal Currency - Just Which Coins Would We Use?
Once it was agreed that Australia would move to a decimal currency system, the Commonwealth Government formed a special taskforce in February 1959 named the Decimal Currency Committee (DCC) to research a number of important issues, with a view to making recommendations to decision makers at the appropriate time.
One of the decisions the DCC was tasked to make was just which coins Australians would use under the decimal currency system - would the pre-decimal coins simply be replaced by decimal equivalents? Would they be the same size and in the same metal? Would completely different denominations be created, and different metals used?
The DCC presented it's final report to the Treasurer on August 18 1960. It recommended …the provision of the following subsidiary coins under a 10s.- cent decimal system: 20 cents (=2s.), 10 cents (=1s.), 5 cents (=6d.), 1 cent (=1.2d.) It is suggested that consideration be given to the minting of 50-cent (=5s.) and 2-cent (=2.4d.) coins, if and when a new range of decimal coins of smaller size than existing coins is minted.
Based on the information that I have seen, at no stage was the idea of a one dollar coin considered by the DCC. On this basis, there may not seem to be a compelling reason for a pattern one dollar coin to have been struck four years after the DCC's final report was tabled.
Why Has This Coin Been Classified As A Dollar?
If a dollar coin had not been considered by the DCC, why then has this coin been classified as a dollar coin for several decades now?
Crown and dollar-sized coins have been issued by many countries for close to five hundred years now - the technical characteristics common to all of them are a diameter ranging between 35 and 40mm, and a composition of silver.
The diameter and alloy of the 1966 uniface obverse pattern dollar both correspond neatly with those criteria, easily passing "The Duck Test" - that is, if a thing looks like a duck, sounds like a duck and swims like a duck, there is quite a good chance it is in fact a duck.
The logic behind "The Duck Test" at least indicates that this coin is most likely a silver dollar.
Same Same, But Different
Despite its general similarity to a crown or dollar, the technical characteristics of this coin differ meaningfully from what I they would be, a one dollar coin was under consideration leading into 1966.
It is the rule rather than the exception that governments ensure there is a uniformity to the alloys used across circulating coins, and also that there is a direct relationship between the size and the face value of each denomination. On this basis, I would expect the coin to be 80% silver and 20% copper, and weigh double the 1966 silver 50¢ coin.
If the coin did not meet those criteria, I would at least expect it to match the characteristics of other crown or dollar-sized coins released elsewhere in the British Commonwealth around the same time.
Auction Lot Description and Stated Technical Specifications:
"ELIZABETH II, Royal Mint London pattern silver dollar, 1966, reverse plain, edge plain (24.42g). Peripheral toning, satin frosted finish, choice uncirculated and excessively rare, the only example in private hands. Ex Spink Australia Sale 24 (lot 1163). There is a single specimen in the National Coin Collection at the Mint in Canberra."
Digital calipers; digital scales and an XRF scan have yielded the following information:
Diameter: 36.20mm
Thickness: 2.8mm
Weight: 26.42g
Purity: 95.4% silver, 4.66% copper
COUNTRY
COIN
WEIGHT
PURITY
ASW
Diameter
Australia
1937 Crown
28.28g
92.50%
0.8410 ozt
38mm
Australia
Pre 1946 Florin
11.31g
92.50%
0.3363 ozt
28.5mm
Australia
Post 1946 Florin
11.31g
50.00%
0.1818 ozt
28.5mm
Australia
1966 Fifty Cent
13.28g
80.00%
0.3416 ozt
31.5mm
United States
50 Cent Pre 1964
12.50g
90.00%
0.3617 ozt
30.6mm
United States
50 Cent 1965-'70
11.50g
40.00%
0.1479 ozt
30.6mm
United States
50 Cent 1971 ~
11.34g
Copper / Nickel
30.6mm
Canada
One Dollar ~ 1966
23.3276g
80.00%
0.6000 ozt
36mm
Canada
One Dollar ~ 1972
23.3276g
50.00%
0.3750 ozt
36mm
New Zealand
One Crown 1949
28.28g
50.00%
0.4546 ozt
38.6mm
South Africa
5 Shillings ~ 1960
28.28g
50.00%
0.4546 ozt
38.8mm
South Africa
50 Cents 1961 ~
28.28g
50.00%
0.4546 ozt
38.8mm
Great Britain
Crown 1935
28.2759g
50.00%
0.4546 ozt
38mm
Great Britain
Crown 1935
28.2759g
92.50%
0.8410 ozt
38mm
The table shows that the weight of the pattern silver dollar is not double that of the 1966 round 50¢ coin, nor is the purity the same. The purity, diameter and weight of the pattern silver dollar is also different to the large dollar and crown sized coins struck for other Commonwealth nations around the same time.
Taxonomy is the term used to describe the practice of classifying things - coins are classified according to their face value, date, mint of manufacture and by the designs seen on them. Standard numismatic taxonomy demands that each and every coin be allocated a denomination, even if one hadn't been considered at the time it was struck.
Similar Patterns Held By The Royal Collection Trust
Several similar British uniface patterns of the Machin obverse are housed in the Royal Collection Trust (RCT), the entity that houses the art collection of the British Royal Family. The RCT is acknowledged as housing the world's largest private collection of art. There are several different types among them - they are variously noted by the RCT as having a diameter ranging between 2.66cm (26.6mm) and 3.60cm (36mm), and as having been struck in both silver and copper-nickel. Although the purity of the silver alloy used in the Machin obverse patterns is not mentioned, it is clear that these technical characteristics correspond very closely with the Australian 1966 uniface obverse pattern dollar.
What is most interesting about the patterns held by the RCT is that they are classified as being either a "Uniface pattern for decimal coinage" or a "Uniface Pattern 20 Decimal Pence". The decimal 20 pence coin was not struck for circulation in England until 1982, so clearly there is a precedent for British Commonwealth coins to be classified as a denomination not in current production.
Just why 20 pence was selected as the denomination to be allocated to the uniface obverse patterns held by the RCT is not yet clear - the weight and diameter of the Machin obverse patterns correspond most closely with the pre-decimal crown (five shilling) struck for Britain, however that denomination converted to 25 pence under decimalisation. 20 "New" pence converted back to 48 "old" pence, or four shillings / double florin. That denomination hadn't been used since 1890, making it a very odd selection for the classification of these patterns.
A New Obverse of the Queen
The obverse design seen on Australia's first decimal coins was chosen following a competition conducted by the Royal Mint in London in 1963. The sculptor Arnold Machin won that competition, his selection was announced in June 1964.
Machin's portrait was well received by the selection committee, and is today considered to be "… possibly the most reproduced image in history It is thought to have been reproduced more than 320 million times across Britain's coins and stamps since it was first designed. The genius of Machin's work was acknowledged in 1965 when he received an OBE.
On June 10 1964, the Australian Commonwealth Treasurer Harold Holt announced that Machin's portrait of Queen Elizabeth II would also be seen on Australia's new decimal coins.
Holt announced another change at the same time, that the Australian Commonwealth Government had decided that the legend around Machin's portrait would convey dignity and simplicity.
To achieve this, the lettering around Machin's portrait was to be in English and significantly shortened. When compared to the relatively long obverse legends on Australia's pre-decimal coins - written in Latin and referring to the Queen's divine right to rule, the new obverse legend was indeed dignified and simple.
Patterns - An Important Role Between Concept and Final Design
Numismatic patterns are stated to "…often play an important role in the often-lengthy numismatic route from conception to final design." In private correspondence with a former RAM staff member, he stated that the 1966 silver uniface obverse pattern dollar was an early prototype struck to tangibly demonstrate the Machin obverse that would appear on Australia's decimal coins. As an aside, he also stated that in the late 1960's, one of Australia's most prominent coin collectors had offered to purchase the Machin uniface obverse pattern dollar held by the Royal Australian Mint for $10,000, but that his offer was rejected without hesitation. Taking inflation into account, this offer is equivalent to $126,000 in today's dollars - a significant sum of money indeed.
Confirmation that patterns of Australia's first decimal coins were struck between 1964 and 1966 can be found in the Commonwealth Hansard, of all places. During Senate Question Time in July 1998, Senator Bill O'Chee posed a question on notice to the Minister representing the Treasurer regarding Australia's first two-cent coins:
Senator O'Chee asked the Minister representing the Treasurer (Senator Kemp), upon notice, Production of coin commenced about March 1965.⁠12"
An Exclusive Group of Key Decision Makers
The existence of the 1966 uniface obverse pattern dollar tells us that it was necessary or desirable for a tangible and three-dimensional model of Machin's proposed portrait to be viewed by a very exclusive group of people involved in the conception, design and production of Australia's decimal coins. It was not seen in Australian print media and was not displayed to the general public.
Harold Holt is the public figure referred to most often in discussions regarding the introduction of decimal currency in Australia, so we can presume that this pattern had been examined and handled by him. It is also conceivable that members of the Decimal Currency Committee and the Decimal Currency Board may also have been given the opportunity to review the pattern. Finally, it is also obvious that the pattern was also used internally within the Canberra and Melbourne mints to guide decision-making regarding the final appearance of the Queen's portrait seen on our circulating coinage.
All of the above information indicates that the 1966 silver obverse pattern dollar was struck as an early prototype of the Machin portrait of Elizabeth II, and was viewed exclusively by key decision makers involved with the introduction of decimal currency to Australia.
High Art Tempered by the Realities of Mass Production
Machin is certainly not the first numismatic artist to have had his initial design reviewed, adjusted and refined numerous times before it entered mass production on a coin, nor will he be the last. The unique characteristics that a coin offers as an artistic medium ensure they must be taken into consideration well before a design enters mass production.
Coins are of course (in the main) small, round and made of metal, which means that many of the tools an artist will normally use to express a design are not available to them. So they can bear up to the rigours of circulation, circulating coins must also have a relatively low relief, which further restricts the way a designer may express themselves.
The Purest Expression of Machin's Celebrated Portrait
When we examine the 1966 silver Australian uniface obverse pattern dollar in detail, we can see that it has a very deep relief, even when compared to the 1966 pattern 50¢. The difference between the relief of the pattern dollar and the proof and circulating 50¢ is even more pronounced.
The pattern dollar exhibits far more detail than the circulation strike - there is much more detail in the eye, nose and mouth. The fine detail of the hair, drapery and crown on the pattern dollar is incredibly sharp when compared to the pattern, proof and circulating 50¢.
Both sections of the obverse legend on the pattern dollar start at 6 o'clock, and then extend upward around the portrait on either side, whereas the obverse legend on the 1966 pattern, 1966 proof and 1966 circulation coins all start at 6, and run continuously clockwise around the entire rim.
It is evident that the lettering in the font was simplified further after the production of the obverse pattern dollar, and that the pellet was also removed from the obverse legend.
The design elements seen on the 1966 proof and circulating 50¢ coins are noticeably much thicker than the fine detail seen on the pattern dollar.
We can see from the above research that the 1966 Australian silver uniface obverse pattern dollar is a dollar coin in name rather than in denomination and that its technical characteristics correspond very closely with the equivalent British uniface obverse patterns held by the Royal Collection Trust. It is clear that it captures the purest expression of Machin's celebrated portrait, that it is unique in private hands, and is the only obverse pattern of any Australian coin available to collectors.
---
1 http://www.rba.gov.au/calculator/
2 http://parlinfo.aph.gov.au/parlInfo/search/display/display.w3p;orderBy=date-eLast;page=0;query=Title%3ADecimal%20Title%3ACurrency%20Title%3ACommittee;rec=0;resCount=Default
3 http://parlinfo.aph.gov.au/parlInfo/search/display/display.w3p;orderBy=date-eLast;page=1;query=Title%3ADecimal%20Title%3ACurrency%20Title%3ACommittee;rec=5;resCount=Default
4 https://www.royalcollection.org.uk/collection/search#/3/collection/443840/elizabeth-ii-uniface-pattern-for-decimal-coinage-undated
5 http://www.royalmint.com/discover/royalty/the-royal-portraits
6 http://www.royalmint.com/discover/royalty/the-royal-portraits
7 http://blog.royalmint.com/the-portraits-of-the-queen/
8 http://parlinfo.aph.gov.au/parlInfo/search/display/display.w3p;adv=yes;orderBy=date-eLast;page=0;query=Content%3AMachin%20Content%3Acoin%20Decade%3A%221960s%22;rec=0;resCount=Default
9 https://www.dnw.co.uk/auctions/catalogue/foreword.php?auction_id=68&specialcollectionpart_id=94
10 http://www.rba.gov.au/calculator/
11 http://parlinfo.aph.gov.au/parlInfo/search/display/display.w3p;db=CHAMBER;id=chamber%2Fhansards%2F1998-07-11%2F0177;query=(Dataset%3Aweblastweek,hansardr,noticer,webthisweek,dailyp,votes,journals,orderofbusiness,hansards,notices,websds)%20ParliamentNumber%3A%2238%22%20Responder_Phrase%3A%22kemp,%20sen%20rod%22;rec=1
12 http://parlinfo.aph.gov.au/parlInfo/search/display/display.w3p;db=CHAMBER;id=chamber%2Fhansards%2F1998-07-11%2F0177;query=(Dataset%3Aweblastweek,hansardr,noticer,webthisweek,dailyp,votes,journals,orderofbusiness,hansards,notices,websds)%20ParliamentNumber%3A%2238%22%20Responder_Phrase%3A%22kemp,%20sen%20rod%22;rec=1
---
---
---
Leave a comment