EBAY & THE ACCC - ROUND 1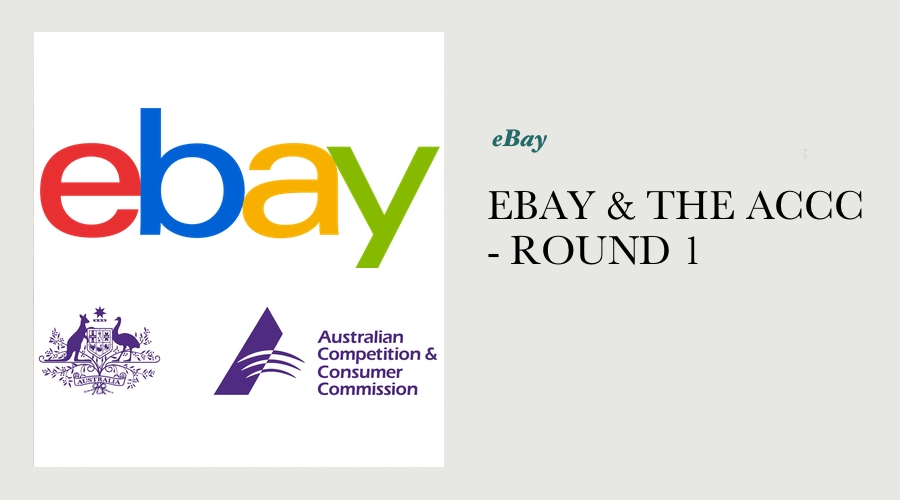 The big news this week in the world of eBay was the ruling made by the Australian Competition and Consumer Commission (ACCC) regarding eBay's proposed policy to allow Paypal as the only method of payment for auctions conducted on the ebay.com.au site. The policy was ostensibly to reduce the level of fraud that many of it's customers suffer as a result of trading on eBay.
The policy was announced by eBay some time ago, and was due to be implemented sometime next week from memory, however the ACCC has tabled a draft ruling that will go some way to prevent eBay from implementing this policy. The head of the ACCC, Mr Graham Samuel, stated that "In light of the serious competition concerns raised in the draft notice and the significant concerns raised by interested parties, I have asked eBay to delay implementation of the second stage of the conduct until a final decision is made by the ACCC."
As a small business that has been trading on eBay for some time, when this proposed policy was announced in April, it struck me as being nothing more than a concerted attempt by eBay to increase the amount of profit it is able to generate from each auction conducted through it's website.
I believe that any business (including my own) has a perfect right, in fact an obligation (to its' owners or shareholders at least) to remain as competitive and profitable as possible. That being said, I don't see the long term value in generating profits at the expense of other obligations that a business may have, or values that it says it stands for. The ACCC at least has viewed this policy by eBay as being one that had the potential to significantly reduce competition in the online payments industry (yes, there is one)! Although it doesn't comment on the morality of eBay's proposed policy, or the broader obligations that the company has, in the opinion of this little eBayer I reckon the decision is just.
eBay would make a perfectly logical argument that if this policy is implemented, customers that don't wish to make use of Paypal for any reason have the freedom to choose to do business elsewhere. Which would be fine if there was a competitive alternative to eBay, but unfortunately at this point in time, there certainly ain't! (Not in the secondary market for coins in Australia anyway). In reality, businesses and consumers that are active on eBay would have the choice of either paying more per auction for the transactions they participated in on eBay (for those transactions that would have otherwise been paid for by cash, EFT, money order or otherwise), or missing out on sales volume or bargains for their collection. Neither of which would be all that palatable!
As would be expected of a multinational corporation, eBay has chosen to challenge the ACCC's draft ruling, so the issue isn't dead just yet. If the ACCC's final ruling is that the policy unfairly restricts competition, I'm not going to hold my breath for eBay to implement a policy that reduces fraud in a manner that doesn't restrict competition.
I don't think its' necessary to deploy too many grey cells to see that the vast majority of fraudulent transactions are either perpetrated on or suffered by eBay participants that have either low or relatively poor feedback. I don't believe anyone that trades on eBay would object to certain measures being put into place that only allowed certain payment methods being made available to those buyers and sellers that had proven themselves to be able to trade in a responsible manner. Just whether that comes to pass is another thing - as I say, don't hold your breath waiting.
---
---