New World Record Price for a Rare Coin - US$10,016,875 for the Carter 1794 Silver Dollar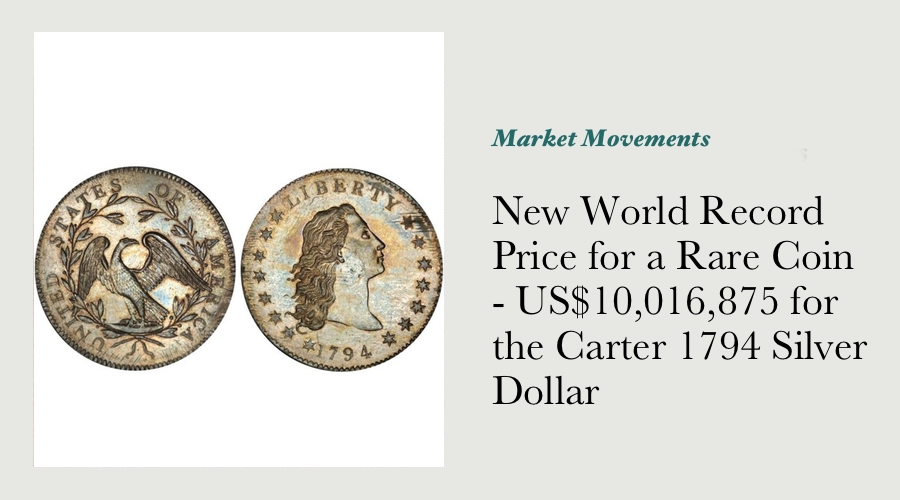 The major news since our last newsletter was the latest world record set for a rare coin sold at auction - $10,016,875 for the Amon Carter 1794 Flowing Hair Silver Dollar from the United States, handled by Stacks Bowers Galleries of New York on January 28th 2013.
As is the way these days, you can watch a video of the actual auction of the coin by clicking on this link:
It's well worth watching, if only for the "shock and awe" tactic Ms Sperber used to coolly ratchet the bid up from US$5.5 million up to US$8.525 million in just one bid. Not only is that more than US$3 million in one bid, it's an increase of no less than 55%, and 43% more than the auctioneer was asking!
I've seen Laura Sperber stoutly defend this bidding tactic in a number of interviews and elsewhere online, she has stated: "We simply cut out the other bidders early on in a calculated risk. Amazingly people all of the sudden don't remember how many times they have seen bidding stop only to return with a vengence and a coin sell for so much more. We made our statement." Some statement indeed.
Not only is this coin widely regarded as the very first silver dollar struck by the United States, it is also regarded as the finest known for it's type, and has a fantastic pedigree. With those three factors in place, we can understand why the Amon Carter 1794 dollar is one of the most desirable coins for US collectors to own.
As you can imagine for a coin of that stature, there are more than a few articles online that explore the rich history of the Amon Carter 1794 silver dollar. If you're interested in learning more about the coin's background, you can follow any of the following links to get up to speed:
Cardinal Collection Educational Foundation
I've been far more interested in the story behind the purchase of the coin though - it was purchased by Laura Sperber of Legend Numismatics, as agent for or in partnership with the well-known US coin collector Bruce Morelan. Bruce Morelan is the President of Power City Electric, Inc, a corporation of electrical contractors in Washington State (USA).
Mr Morelan has owned a number of US numismatic rarities - he is best known as having previously owned two different 1913 Liberty Head Nickels (themselves regarded as incredible numismatic rarities), and assembled what is regarded as the all-time greatest set of business strike Liberty Seated Silver Dollars. Morelan has also apparently owned a number of other important 19th century US numismatic rarities and "super" grade US type coins.
I find it interesting that a collector would focus on seemingly only owning the rarest of the rare in premium condition - his online profile (such as can be gleaned from the internet anyway) shows that he has graduated from less valuable coins right up the scale to the very peak of the market. Clearly Mr Morelan has an increasing appetite for risk and reward!
I'd also say that it isn't often that a collector (high profile or otherwise) enters into partnership (silent or otherwise) with a dealer, whereas this is quite openly the case with Bruce Morelan and Legend Numismatics. I also find it interesting that Sperber has bold stated that "This great coin is NOT for sale. It is our turn to be its custodian and cherish owning it for years to come. This coin and a few others had so much hidden value to be unlocked. We do not regret doing "shock and awe". We are VERY happy with the price paid."
Many dealers are of course collectors to some degree, so it isn't unusual for someone that trades in any item to sequester an attractive, interesting, historic or appealing item from their trading inventory for their personal satisfaction or enjoyment. They must have some resources over at Legend Numismatics however, if they're able to lock up a cool US$10 million in just one item they decline to sell!
---
---