2017 is Rounded Out by Noble Numismatics 116 - $3.25 million Over 4 Days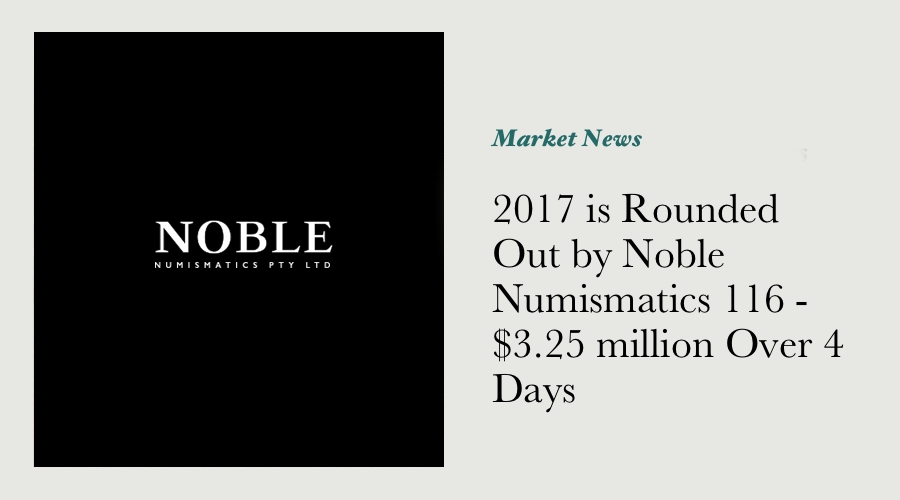 Although a number of fairly short and sweet online numismatic sales have been held over the past week, it's nearly a month since the last major numismatic auction in Australia was held for 2017 - Noble Numismatics 116 from November 21st.
As Noble's are known for, the sale spanned 4 days and nights, which is no small event at all. Due to a few other events competing for my attention, I didn't cover as many of the sessions in this sale as I normally would, however the juggernaut clearly rolled on regardless.
The headline statistics for the sale are a stated turnover of $3.25 million and a clearance rate of 85% - well within the parameters of what we'd expect for a "decent" sale.
To my mind, the early sessions on the first day were highlighted by the inclusion of one of the Perth Mint's premium products from the past few years - a Kimberley Sunset 2015 2oz Pink Gold Proof High Relief Coin.
Coins such as this marked a decided tack by the Perth Mint to tap into the premium market for tangible heirlooms - it had a mintage of just 440 coins, was struck from a very attractive 22 carat "pink" gold, and was highlighted by an Argyle pink diamond set into the reverse design.
It has to be said that everything about this coin is fantastic - the local Australian theme, the balance in the reverse design, the way the innovative alloy and diamond extended the theme and design, as well as the packaging. I have no doubt at all that anyone that bought one of these coins on the primary market would have really enjoyed their "unboxing, however it'll be interesting to see if the price realised for the coin in Noble Numismatics 116 is repeated in future - the coin made no more than 20% above "spot", which means the vendor was only able to recoup about 50% of their purchase price.
The reality of that reception on the secondary market is in sharp contrast to the excitement and frenzy that accompanied the coin's release, however it'll be interesting to see whether that is where future coins will sit, or if there will be some secondary market support for them to a higher level. An innovative and attractive coin such as this has to be worth more than it's metal value, surely?!?!
The very next section of the sale featured a range of silver proof coins struck by the Perth Mint for a network of innovative businesses based in Sydney that commissioned several series of silver proof coins featuring exotic reverse designs such as dragons, dogs and predators. I understand that some of those companies have since entered administration and are under investigation by the ATO for GST fraud, so the sale of the silver coins in this Noble Numismatics sale were no doubt aimed at replenishing the coffers of the liquidators before they wrapped their task up. These companies (the liquidated rather than the liquidators) are also thought to have donated about $120,000 between them to the NSW branch of the Australian Labor Party by the way, a topical subject in itself!
Although the clearance rate for these coins was reasonably high, the prices realised were quite poor, showing that the art of marketing coins at scale is not without risk.
The earlier sessions of the Australian gold coins were quite active - the clearance rate and prices realised reflected the current state of the market, with buyers happy to take up anything that offered value for the grade.
I didn't attend the next few sessions that featured the medals / medallions and the lesser Australian Commonwealth coins, however neither the catalogue nor the prices realised didn't yield any major surprises.
The evening coin session was fairly well attended, and was active as a result. One bidder that had been active earlier in the day seemed to have built up a head of steam, and made himself known in no short order!
The proclamation and colonial coins all moved onto new homes, that action seemed to have arrested when it came to the Adelaide Pound, which was passed in at what I thought was a fairly full reserve.
The rest of the Australian gold coins fared better, with a good clearance rate for coins that were "on the market". A truly affordable 1855 half sovereign sold for more than double the published estimate, and although the cynical among us may well be correct in saying that reflected the obvious gamesmanship inherent in setting such a low reserve for what is Australia's rarest circulating coin, it does show that there is clear support for Australian gold coins, even if they are well worn.
At the other end of the quality scale, an attractive 1892 Melbourne Jubilee Head sovereign made what has to be a record price for that date at auction - $3,697 nett. I understasnd that has since made a solid grade with PCGS, so the determined bidder clearly had determination and good fortune on their side.
The 1926 Sydney sovereign on offer made a higher price than what comparable examples have trade for in recent years, which was a solid result for this key date that has a wonderful social history.
That same determined bidder went onto push competition aside to acquire the first four pre-decimal proof coins on offer, with mixed levels of value gained. A number of those coins had been offered previously without success, so it may be that some depth is returning to this area of the market.
Although the attendance in the room for the Commonwealth coins didn't indicate that a whole lot of exciting coins were to be offered, when it came to it there was some spirited bidding on certain coins.
A 1916 penny with a lot of original red colour across both sides was knocked down for just shy of $5,000, which certainly woke the room up. A 1925 penny graded MS62BN by PCGS made just shy of $6,000, which seemed quite low by comparison!
Demand for 1930 pennies remains within their current range, there was also some keen interest in the 1931 dropped 1 Indian pennies, showing there are more than a few collectors that appreciate the history and rarity of that variety.
The rest of that session passed without much fanfare - it surprises me where this area of the market is at right now, there is still keen competition for condition rarities, however a lot of the puff has clearly come out of the level of the market just below that, and further. This is of course great news for collectors that are looking to build a collection of attractive coins on a budget.
The evening note session opened to some expectation - attendees have been turning up with their cards close to their chest in recent sales, only for spradic bedlam to break out when really key items are offered up.
There weren't too many pre-federation notes in this sale, however nearly all of those that were included sold. I know more than a few collectors that are now active in buildinng specialised collections of Austalia's paper money pre 1910, each with their own historic or geographical theme. Activity is picking up as a result.
The pre-decimal notes that followed had some real quality throughout - the Superscribed note was far better quality than most we've seen over the past decade, I was disappointed to miss out on it but we can't buy everything eh? Demand remains solid for good pre-decimal notes, the £50 that rounded out this section made a strong price relative to the current book value, which is saying something!
The pre-decimal and decimal specimen notes followed, which is an area of the market that used to be tightly controlled by a few wholesale hands, and is now open to all and sundry. Prices have indeed come back, however this auction confirms that liquidity is back, albeit at low levels. The two pre-decimal specimens that were included were a very seldom-seen Cerutty Collins 5/- dating to 1916, and a gold-bearing £10 from 1925. Both sold, which was great to see.
The decimal specimens were patchy - I haven't seen a 1966 presentation set sell for $20,000 hammer for many, many years, so I hope the buyer was stoked with their purchase. The remaining results for the decimal specimen notes reflected their availability and desirability.
I didn't attend the remaining sessions for the world coins, ancient coins or militaria, but I understand they went according to plan.
The Australian numismatic market seems to be progressing well at the moment - we've certainly moved on from the doldrums and despair evident from a few short years ago, I expect we've cleared the decks ready for the next phase of growth - just whether that will happen at some stage in 2018 remains to be seen.
---
---